Kat Von D's 2018 Labor Day Sale Includes Lipstick For $13 & Foundation For $25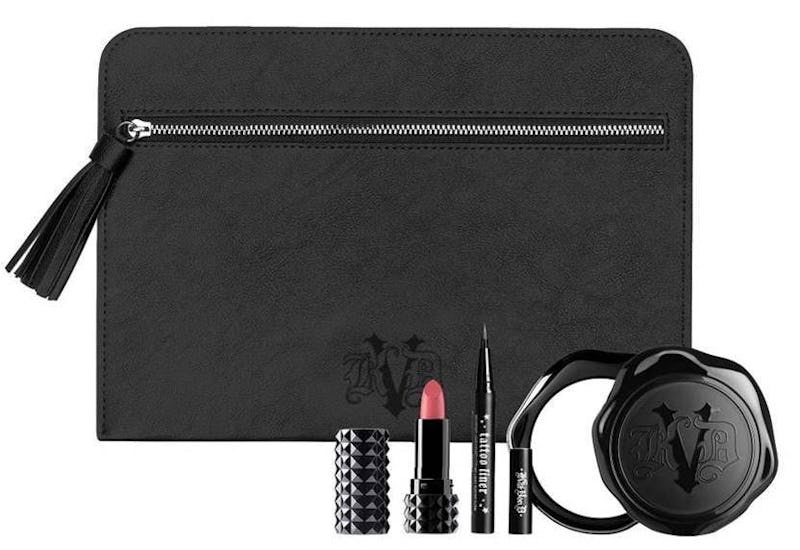 Labor Day Weekend is the last vestige of summer — the final pre-fall hurrah. But if you are a Kat Von D-evotee, the weekend will be a primo shopping experience. Kat Von D's Labor Day beauty sales are so epic that you'll be emptying your wallet while scooping up $13 lipsticks — in addition to BBQing and lounging by the pool, of course.
Kat Von D's Labor Day promotions — plural!— kick off on Thursday, Aug. 30 and run through Monday, Sept. 3. So if you are in the market for some makeup upgrades or simply wish to refresh your fall beauty wardrobe, this is certainly an excellent option for doing so.
The Labor Day deals include things like a swaggy gift with purchase and sweet discounts on core products.
The crown jewel of the weekend is the Kat Von D Beauty Travel Set. It is free with any purchase of $75 and you don't need to input a code at checkout in order to receive it. The set comes with super cute, side zip vegan leather makeup bag, a mini version of the brand's mega popular Trooper Tattoo Liner, a pocket-sized tube of the Lovecraft Studded Creme Lipstick, and a branded compact. It's basically all of the essentials for creating a "Kat" eye flick and pinky nude lip.
Of course the totable and tiny versions of core KVD products are terrific. But who else is living for that clutch and the compact? You can repurpose the bag for a night out, too!
In addition to the travel set, limited time discounts can be applied to full-sized versions of your fave Kat Von D Beauty products. You don't need to enter a code at check out for these items, either. Shop 'n' go, baby!
1. Lock-It Powder Foundation
2. Everlasting Lip Liner
3. Everlasting Glimmer Veil Liquid Lip Toppers
4. Studded Kiss Crème Lipsticks
5. Shade + Light Crème Contour Palette
6. Edge Crème Contour Brush
It's perfectly acceptable to spend your Labor Day scooping up these Kat Von D essentials and taking advantage of the deals and steals.