Kate Hudson Is Growing Out Her Shaved Hair & Wants To Try This Polarizing Style Next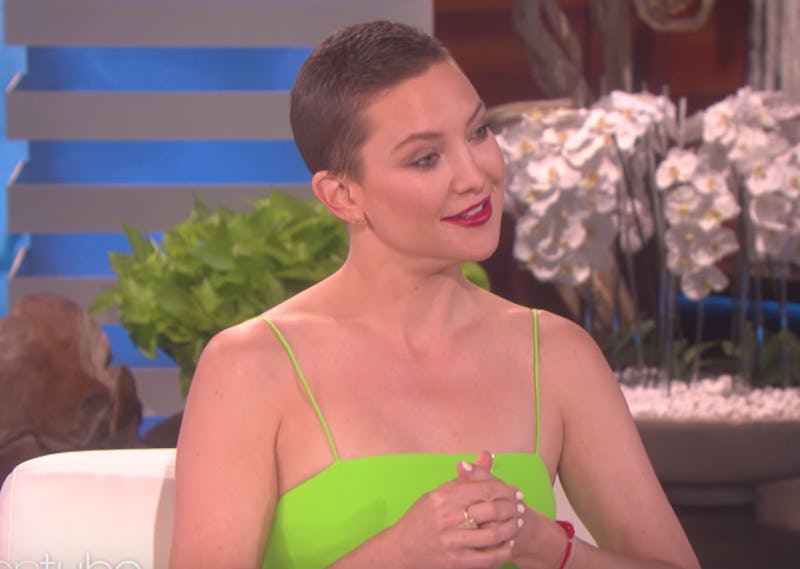 Courtesy of YouTube
It was bound to happen. Kate Hudson famously shaved her head this past summer for her role in a musical directed by Sia. Even without her signature, golden, and beachy waves, Hudson remains a No. 1 stunna. While she was initially fully buzzed, Hudson wants to resurrect the mullet. That's because her hair is officially entering the awkward stage as she grows out the temporary buzz cut. She is totally ready for a coif that is longer and more manageable.
During an interview with Ellen DeGeneres on her namesake show, Hudson, looking sexy AF in a lime green tank top and white skirt, rocking a slick of berry lipstick, good-naturedly bemoaned the growing out process, noting that "I have't gotten itchy, but I'm starting to go through the first awkward stage of growing out."
Anyone that's ever had a super short cut or even bangs can relate to hassle that is the "awkward phase."
Hudson also acknowledged dealing with short hair styling frustrations, namely those pesky, errant pieces that stick out and can only be tamed with product. Of course this growing out phase is going to get worse before it gets better and as it gets longer. But Hudson is ready for it and has the perfect solution, saying, "I was thinking [of] bringing the mullet back."
Yep, she's mulling the mullet.
The mullet is a decidedly '80s, asymmetrical haircut that is short on top, long in the back, and best left as a relic of that decade... unless, of course, it's Kate Hudson dragging it into the modern era, updating it, and making it look cool.
Just like Hudson had a solid reason for shaving her head — her work — she had an equally relatable reason for wanting to replace her buzz cut with a mullet. She joked to Ellen, "I've been kinda off my Snapchat game, but I think if I had a mullet, I'd be really on my Snapchat game, so it'd be good for my social media presence."
Spoken as though you were a true millennial, Kate.
But her strand statements have us wondering exactly what sort of mullet she would rock. Extra long in the back? Extra short on top? Extra shaggy all over? The mullet is much more versatile than you may have previously given it credit for.
Perhaps K. Hud can take inspo from fellow blonde actor Scarlett Johansson, who once rocked the textured '80s 'do. Scar Jo slayed the mullet and made an uncool cut, well, cool again.
The mullet had the briefest of moments back in 2003 but it didn't take off.
That's because it was still a mullet. The style is super dated, and seemingly can't decide which length it would prefer to be. It's such a "What were they thinking?"! style move.
Billy Ray Cyrus — AKA Miley's dad — rocked an epic mullet in his heyday.
During her interview, Hudson had quite a refreshing answer to DeGeneres' question about how her musician BF Danny Fujikawa feels about her super shorn look. She said, "I hope our relationship can transcend hair." This! Everything about this.
She makes an incredibly important point. It's just hair that can and will grow back. While many people view their hair as a protective shield a la Blake Lively, Hudson is confident in her own skin and with a pixie cut. She is not defined by her hair. It doesn't hurt that the close-cropped coif is striking on her. It shows off her features — like her amazing bone structure, her eyes, and that room-illuminating smile.
We'll be watching to see if Hudson exhumes the mullet in 2018.