Sorry Haters, This Is The *Truth* About Kate's Thoughts On Meghan's Pregnancy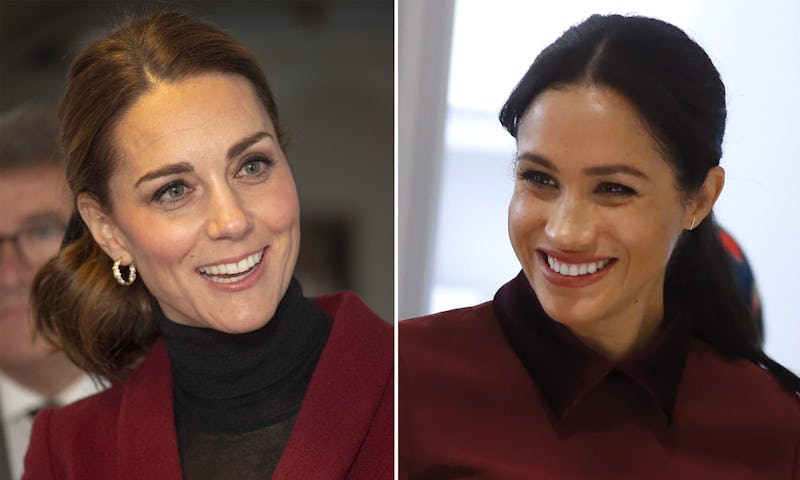 WPA Pool/Chris Jackson/Getty Images Entertainment/Getty Images
I don't know about you, but I didn't think I'd be this enthusiastic about a royal pregnancy. Even though Meghan Markle and Prince Harry won't be welcoming their first child until next spring, it's most likely that their relatives will be super excited to welcome a new addition to the family. And thanks to a recent public event, royal fans were given a rare insight into the Duchess of Cambridge's feelings towards her future niece or nephew. So prepare for cuteness overload, because Kate Middleton's comments on Meghan Markle's pregnancy are beyond adorable.
After spending time Leicester City Football Club on Wednesday (Nov. 28) to pay their respects and remember those that lost their lives in the helicopter crash last month, the the Duke and Duchess of Cambridge visited the University of Leicester where they learned of three important educational programs that operated in tandem with the football club, as Town & Country reported.
It was here that Prince William and Kate were able to meet and speak with students and residents of the city, and answer all manner of questions. With the nation admittedly swept up in baby fever, it was no surprise that Meghan's pregnancy would be a topic of conversation.
After reminiscing about her time with William at university, Instagram user @2cool_4school_2lame-4_fan asked how her kids were doing in a video she shared to her feed. "They're doing well thank you, getting excited for Christmastime," Kate said. "They've started all their Christmas songs and Christmas trees are going up and all that. And Louis is getting bigger, it's been 7 months now — I can't believe it," she added.
The user also asked whether she was excited for Meghan and the baby, to which Kate replied: "Yeah, absolutely. It's such a special time to have little kiddies and a cousin for George and Charlotte and Louis! It's really special." Talk about precious.
Thankfully, these comments contradict the rumours that have been ridiculously spreading around as of late regarding a rift or feud of some kind between Kate and Meghan. From what I can gather, it seems to all be centred around the Duke and Duchess of Sussex moving out of Kensington Palace to Windsor. Sigh.
There's a baby on the way and like many parents-to-be, with that comes thoughts of the perfect place to raise your family. For Harry and Meghan, that place will be Frogmore Cottage, as Kensington Palace mentioned in a statement, as "Windsor is a very special place for Their Royal Highnesses and they are grateful that their official residence will be on the estate."
The statement also confirmed that their office "will continue to be based at Kensington Palace," so it's not like they've completely exiled themselves or anything. Also, cast your mind back to when Will and Kate first had children. Where did they move to? Anmer Hall in Norfolk, as Vanity Fair reports, where they were afforded more privacy.
Personally, I think it's time for everyone to chill. Kate seems perfectly happy and supportive of her sister-in-law, and Harry and Meghan are beginning an important and special chapter of their lives that should be absolutely stress — and rumour — free.