Kate Middleton Talked About Mental Health At An Elementary School — Here's Why That Matters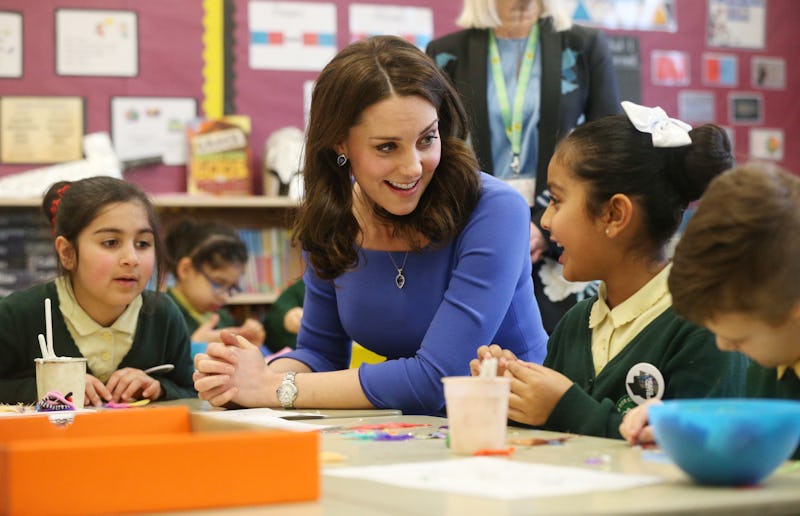 WPA Pool/Getty Images Entertainment/Getty Images
Earlier today, elementary schoolers in London got a visit from Princess Kate Middleton, who gave a speech about mental health to teachers and students about an important topic that she and Prince William are passionate about — mental health. Middleton also announced the launch of Mentally Healthy Schools, an online resource designed to help teachers support students who are experiencing mental health challenges.
The Mentally Healthy Schools websites is funded by a £800,000 grant provided by the Royal Foundation. Fifty schools were used in its trial period, and now the program is expanding, meaning more teachers will have access to information from mental health experts and charities to help their students. These experts cited the fact that more than half of all adult mental health problems start before age 14 when deciding to create an online resource to be used in schools.
"When we intervene early in life, we help avoid problems that are much more challenging to address in adulthood," Middleton reportedly said to the group. "My own commitment is to the youngest and most vulnerable in their early years — babies, toddlers and primary school-age pupils — and to support all those who care for them, including teachers."
This new initiative isn't Middleton's first time getting involved with the issue of mental health. Two years ago Middleton, Prince William, and Prince Harry started the Heads Together Campaign, which is a partnership with eight mental health charities that are tackling stigma, raising awareness, and providing help for people with mental health problems.
Middleton spoke about what she has learned from the Heads Together Campaign during her speech at Roe Green Junior School. "Over the last two years, William and Harry and I have been honored to take part in a national conversation on mental health through our Heads Together campaign. What we have seen firsthand is that the simple act of having a conversation about mental health — that initial breaking of the silence — can make a real difference."
Middleton, who is pregnant with her third child, spoke about the importance of paying attention to the mental health of young children and that of new parents, a topic she has first-hand experience in. Last year, she spoke about sometimes lacking confidence in being a new mother.
"Personally, becoming a mother has been such a rewarding and wonderful experience," she said. "However, at times it has also been a huge challenge. Even for me who has support at home that most mothers do not." It's great that Middleton is acknowledging her privilege and using her influence to be an ally.
During her visit to the school, Middleton also sat down with students and helped them with a project that encouraged them to be introspective about their own mental health. "What does is mean to be resilient?" she asked the students.
The website will be available later this year, and it's been highly anticipated. Melissa Loosemore, headteacher at Roe Green Junior School, said to People, "I seriously hope that this wonderful initiative will take our children into a better place." A former headteacher, Claire Thomson, added, "I can see this website becoming a favorite go-to site for information about the many aspects of mental health."
When discussing mental health, small children are often left out of the conversation. Some believe that mental health issues only arise once a child enters adolescence, but that's not the case. Addressing mental health early can help young children understand that it's an important aspect of their overall health just as they understand that physical health is essential to their well-being. Eliminating the stigma surrounding mental health is the first step in ensuring people of all ages feel comfortable when discussing their experience.