Here's The Weird Reason You'll Never See Kate Middleton With Painted Nails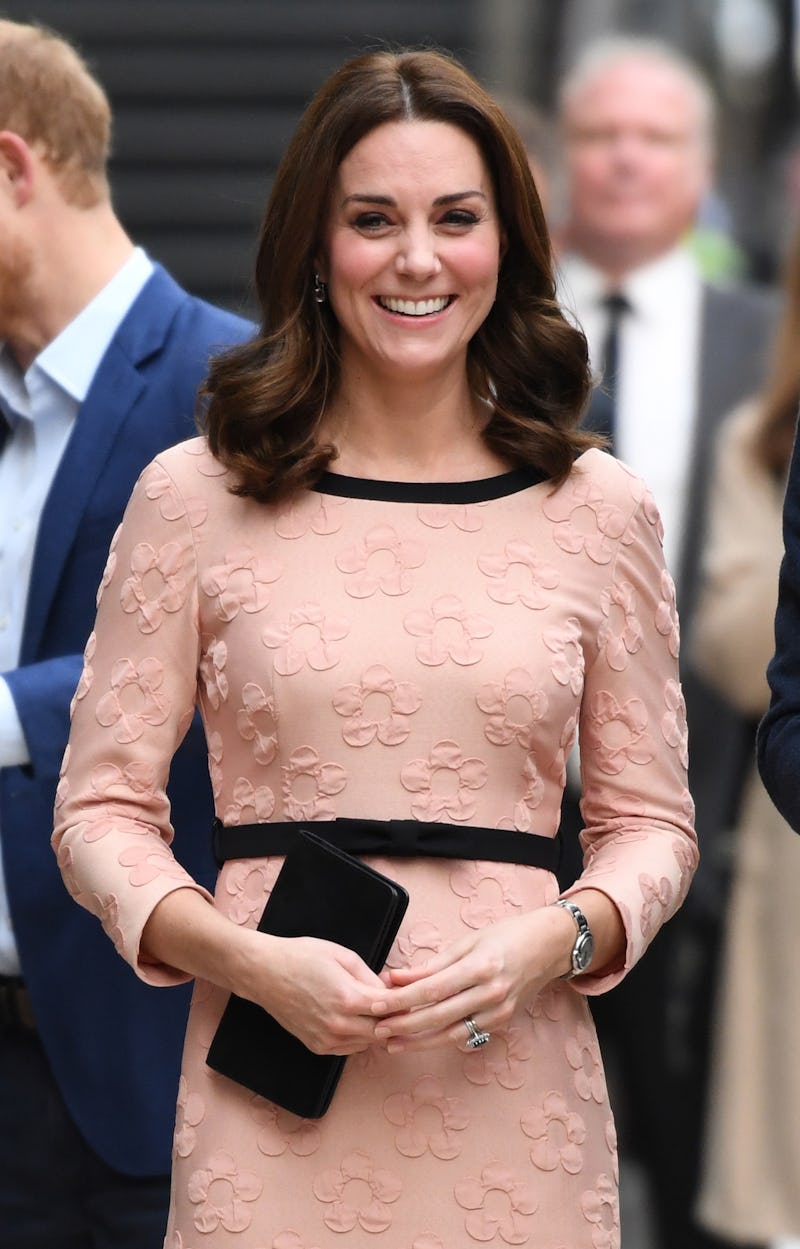 CHRIS J RATCLIFFE/AFP/Getty Images
Kate Middleton might inspire our minimalist fashion choices and our monthly salon appointments, but it appears she'll never inspire our nail salon game. As HelloGiggles found, Kate Middleton doesn't wear nail polish, but that's not because she's against seasonal color trends or out-there nail art. Being the ever elegant woman that she is, she could totally rock a modest burgundy during the fall or a cheerful pink during the summer. But, as it turns out, royals aren't allowed to dabble in nail polish like us regular plebs.
That's right. Royals have their nails regulated. They're not allowed to wear non-natural nail polish, and even Queen Elizabeth has been wearing the same nail polish shade since 1989. That color, which she's been wearing for the past 28 years, is "Ballet Slippers" by Essie, which sells for a cool nine dollars. It's a light shade of pink, and fits into the royal decree on nails.
Middleton is rarely seen with any sort of nail polish, though she did wear a sheer shade of pink when she wed Prince William in 2011.
That's not to say the Duchess can never experience the amazing-ness that is red nails. She can still paint them at home; she just can't show up anywhere official in them. Only natural-looking nails are permitted at official royal events, which is usually the only place she gets photographed, making it seem like she never paints her nails. And she's not the only one.
Prince Harry's girlfriend Meghan Markle has only been spotted wearing natural nail shades when she's out with Harry. Royals have to behave and dress according to proper, traditional rules (for example, they can't eat shellfish or sign autographs,) and nail polish is just a part of it. As proof, here are all the royals and their subtle nail game:
1. Kate Middleton
Just like her grandmother-in-law, Middleton paints her nails in a nude pink if she wants to dress up her hands. But seeing how her outfits are always on point and fashion-forward, one doesn't even notice her hands. The powder-blue lacy dress definitely distracts you with all of its glory.
2. Queen Elizabeth
We know the Queen loves her Essie nail polish, but she often times skips the trouble of a manicure all together and just wears fancy gloves instead. There she's allowed to express her love of color (loophole?) by rocking all different kinds of flamboyant colors, from electric blue to a dusty rose.
3. Pippa Middleton
Even Pippa, who's Kate's socialite sister, has to adhere to these royal rules, seeing how she's technically a sister-in-law. If you peek at her photos, you will notice that she also doesn't wear loud or in-season nail hues, but rather keeps it neutral.
4. Camilla Parker Bowles
Being the Duchess of Cornwall and Prince Charles' wife means that Camilla Parker Bowles also has a bathroom cabinet full of nude and barely-there-pink polishes. (Side note: Do royalty have bathroom cabinets or is there something fancier?) Everyone is keeping up with tradition.
5. Meghan Markle
While she's not officially part of the royal family, Meghan Markle seems to be rocking that subdued nail polish look as well. That could be complete coincidence, though — you know how quickly people change their varnish color, and she could simply be in the mood to rock a neutral shade now and then.
So there you have it! If you want to get a mani like a royal, you have to skip the polish entirely. It will save you some bucks and make you feel like you are next in line to the crown. That's all the glam you need.