Kate Middleton Had A Major BFF Moment With Your Fave BAFTA Winner & It's BEYOND Cute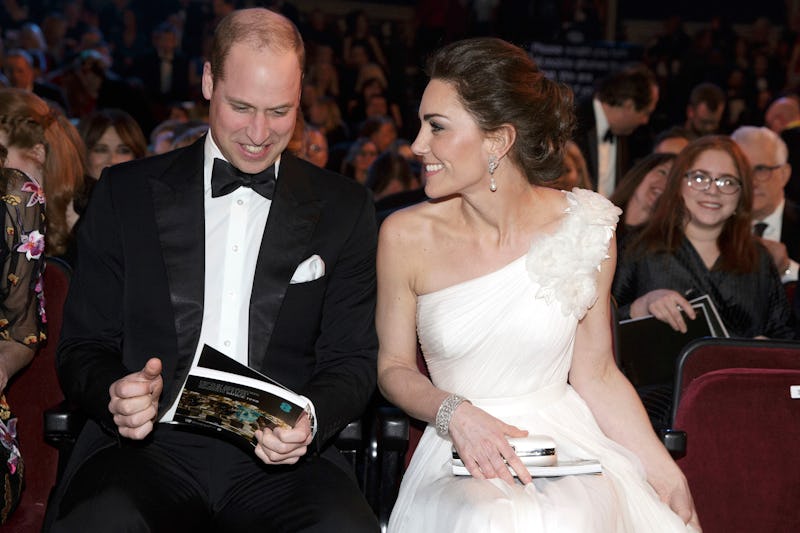 Shutterstock
When it comes to the BAFTAs, it's all about honouring the best British and international contributions to film in the past year. But if there's one thing I look forward to most about this ceremony, it's seeing the Duke and Duchess of Cambridge interact with actors and performers. And, boy, did they deliver this year. As reported by The Sun, there was noticeable excitement when Kate Middleton and Olivia Colman met at the BAFTAs ceremony on Sunday (Feb. 10), and they looked like total BFFs.
Colman, who won Best Actress for her role as Queen Anne in The Favourite, looked absolutely delighted to meet the royal couple, as The Sun's video clip revealed. While not much can be heard in the video, it seems as though Middleton and Colman had quite the animated chat.
The Duke and Duchess of Cambridge have been attending the BAFTAs for nearly a decade, The Sun reports, as William became President of the British Academy Film Awards in 2010. The royal family has a long history with BAFTA that dates back to 1952, when Prince Philip became the first president of the academy. The Earl of Mountbatten, Prince Philip's uncle, became the second in 1966 and Princess Anne was the third in 1972.
As Marie Claire reports, while William presented film editor Thelma Schoonmaker with the esteemed Fellowship Award, he also shared his admiration and appreciation for the Film Academy. The prince said:
"Catherine and I are delighted again to join you this evening as we part with another amazing year in film. BAFTA is known for achieving excellence and championing creativity, but at its heart it is an organisation that inspires and nurtures exceptional talent. I am a passionate supporter of BAFTA and I couldn't be more proud of its ambitious plans to dramatically increase the support for new talent over the coming years."
This includes "completely developing its flagship headquarters" in order for the Academy to ensure "that creative talent from all backgrounds [has] the opportunity to shine," William explained.
Anyway, back to Colman. The actor's encounter with the royal couple wasn't the first time the three have met. In an interview with Vanity Fair last October, Colman spoke of her invite to a reception at Buckingham Palace earlier in 2018, which was hosted by Prince William. Colman described how William has a "magical quality" about him, and that "he made you feel like you were the most exciting person he'd met," which you can definitely see in their BAFTA encounter, for sure.
What's also worth noting is that, at the time of her visit to the palace, Colman had just begun rehearsals for season three and four of The Crown, which became a talking point between the actress and William. "He just went, 'What are you doing... Oh, no. I know what you're doing here,'" Colman told Vanity Fair. She then asked William if he had actually watched The Crown, to which he said no. "But maybe he can't say that he watches it," Colman said.
It has been reported that some members of the royal family do watch The Crown — including the Queen herself, according to Woman's Own — so there's a good possibility that Williams and Middleton have seen at least a couple of episodes, right?