Kate Middleton & Prince William Have Ikea Furniture In Kensington Palace And Literally Same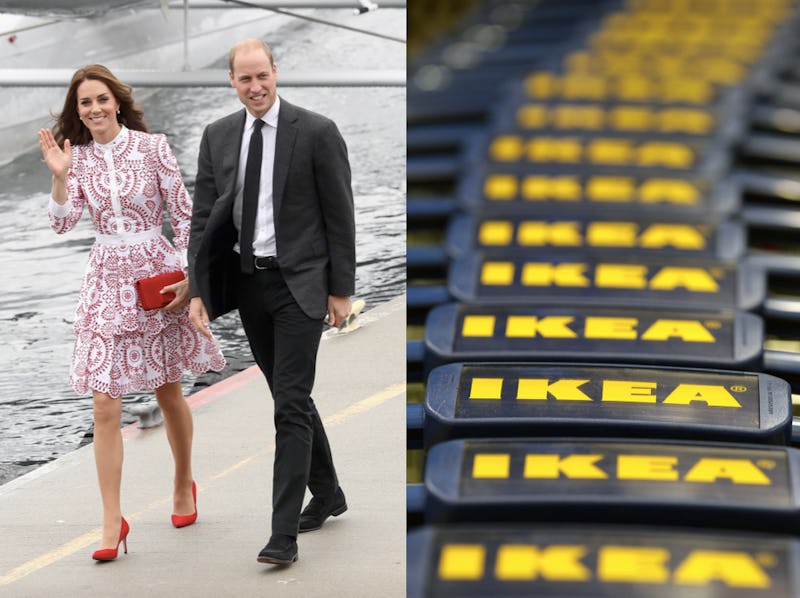 Chris Jackson/Getty Images Entertainment/Getty Images / Andreas Rentz/Getty Images News/Getty Images
It may be hard to remember that under those frankly incredible wedding hats, royals are people too, but it's all G: The Duke and Duchess of Cambridge are here to remind us once again that royals are just like us. And in this case, that means, yes, Kate Middleton and Prince William reportedly own Ikea furniture, and we're frykken out.
According to Vogue, the world has Marcus Engman, Ikea's head of design, to thank for this news. Engman spoke with the royal couple at ArkDes, Sweden's national museum for art and design, and later told reporters Middleton and Prince William purchased some Ikea pieces for their kiddos. Rebecca English, royal correspondent for Daily Mail London, tweeted about the reveal, saying, "Well, well well - even William and Kate can't resist a bit of flat-pack - they revealed today they have some @IKEAUK at home for Prince George and Princess Charlotte!"
While it's a little hard to imagine the royal couple struggling to put together Ikea Lätt or Färgglad, that is in fact an elemental part of buying Ikea products, so feel free to let that play out in your mind's eye. We also don't know which pieces Middleton and Prince William picked out for the prince and princess, but obviously Ikea has quite a few options that would look right at home in a kid's room — even if that room is in Kensington Palace.
1. Stuva/Följa
Stuva/Följa, $317.98, ikea.com
According to Ikea, this super cute storage and desk combo is built for the fact that "every day is filled with activity" for kids — and that's extra true for the royal kiddos. And, well, the whole royal family. Cosmopolitan reported that the "Royal Family [sic] [...] is to undertake official duties, including over 2,000 official engagements, entertaining 70,000 people and replying to 100,000 letters a year."
2. Mammut
Mammut, $39.99, ikea.com
This incredibly cute table can be paired with various colors of this incredibly cute stool. They're just so tiny!!!!
3. Spöka
Spöka, $16.99, ikea.com
I don't even care if this sweet little nightlight kind of has an element of "It watches you while you sleep." Imagining them adorning Kensington Palace is incredible.
4. Minnen
Minnen, $119, ikea.com
Princess Charlotte is only two years old, so she may not have moved to a bed like this quite yet, but if I were her, I'd put it on my furniture wishlist.
5. Resö
Resö, $39.99, ikea.com
A picnic table inside? You may ask. Yes, obviously, a picnic table inside. If the royal couple could only pick one thing for the petit Prince and Princess, I hope it's an inside picnic table for the sheer novelty of it.
The royal couple being relatable AF is cause for joy, but they definitely aren't the first celebrities to reveal their fondness for extremely affordable Swedish household items. Kanye West, Jennifer Lawrence, Anna Kendrick, and Vanessa Hudgens have all shown Ikea some love, according to Refinery29. And though we don't know if Middleton and Prince William experienced assembly challenges, Ryan Reynolds filled that gap for us all by filming a video for GQ showing his utter inability to put together Ikea's Hensvik crib.
Of course, Ikea is popular with us commoners, too. As soon as my grandmother found out I was going to transition to dorm living for my last three years of college, she hiked to Ikea and set me up with a giant box full of pretty much every kitchen supply Ikea offers. Ikea has become The Place for dorm shopping, and also The Place for furnishing your first home, and The Place for furnishing in general if you don't have a lot of cash, and apparently The Place for furnishing Kensington Palace because why not. According to The Economist, Ikea's popularity isn't hard to understand (even if its furniture can be just a little hard to put together): "[Ikea's] products are stylish and they are very, very cheap."
Apparently that is just as appealing to the royal couple as it is to everyone else.