Kate Middleton Wore The Biggest Headband You've EVER Seen To Prince Louis' Christening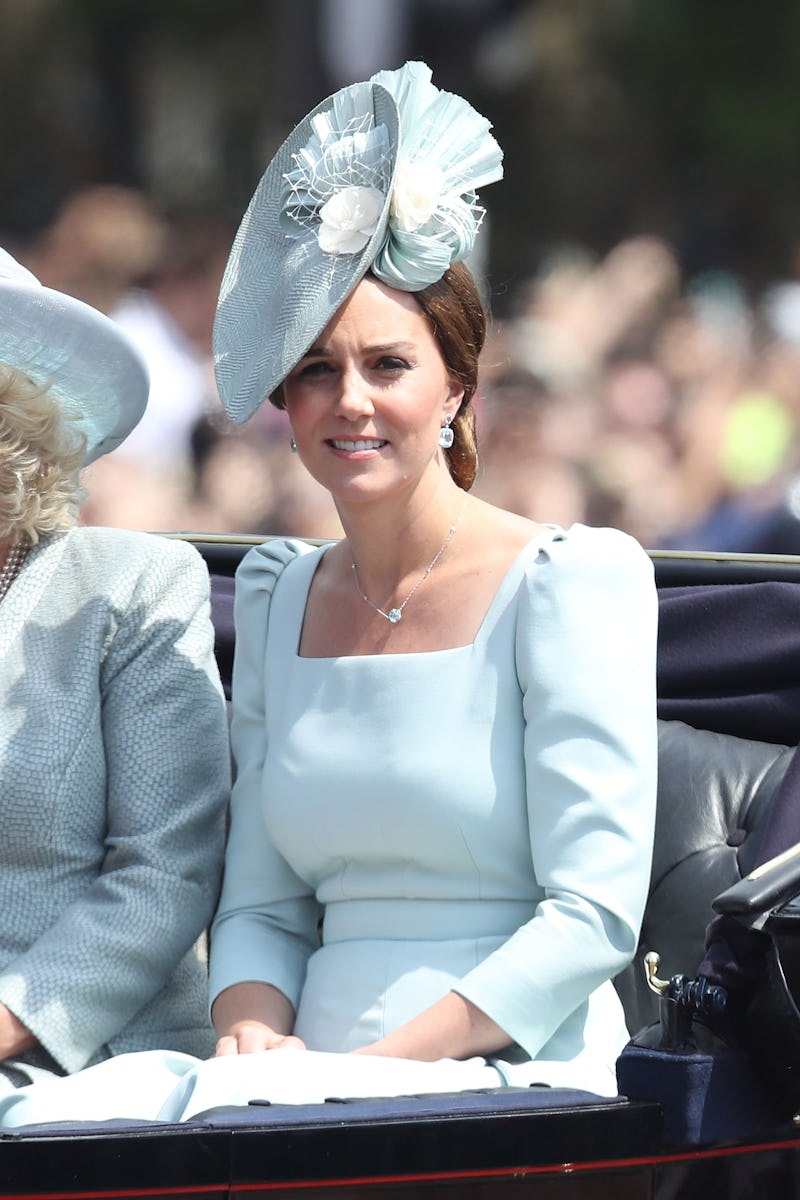 Chris Jackson/Getty Images Entertainment/Getty Images
When it comes to royal events, things are usually kept very dignified and traditional. Pantyhose is worn, hems don't extend far above the knee, and the silhouettes are time-honored and conservative. But hats are where the Brits come out to play, and Kate Middleton's headband at Prince Louis' christening was a memorable one. Prince Louis was just baptized on July 6 at the Chapel Royal in St. James's Palace, and the royals came out dressed in their finest to celebrate his introduction into the Church of England. For the special occasion, the Duchess of Cambridge chose to wore Alexander McQueen, who is her go-to designer for all important events. Not only did the label design her wedding dress in 2011 — custom made by Sarah Burton, the creative director of Alexander McQueen — but Middleton also wore the designer to all three of her children's christenings.
At each baptism she wore a conservative, knee-length white dress or skirt suit with long sleeves, and a playful hat to top off the outfit. The British are known for their love of quirky fascinators during big occasions — wearing them to everything from weddings to the Royal Ascot horse races — and Middleton has a penchant for choosing understated and minimalist versions.
But this time around she went with a huge headband, because why not?
Looking kind of Cinderella's own headband, the accessory in question had a wicker-like texture with small and tasteful embellishments, topped off by a big bouquet of flowers on the side. It simultaneously looked vintage and modern, and one could wonder if the Duchess just sparked a new trend of chunky headbands going forward.
The headpiece was designed by Jane Taylor, who has been creating bespoke styles since 2008. Her story is an interesting one, where after college she trained with Marie O'Regan, the Queen's Milliner. But having that connection didn't prove to give immediate fame and fortune, and when Taylor first moved to London to start her business, she had to live on a narrow boat near Kew to make ends meet. But just a mere 10 years later, and not only does she have a boutique on the coveted Kings Road, but her designs have made it onto the heads of both Royals and elite social circles alike — including Beyoncé's wardrobe.
But this Russian-tiara-like headband isn't the first piece that Middleton has collaborated on with the designer. Taylor has created many of the Duchess's previous hats, including the pillbox hat she wore for Princess Charlotte's christening in 2015. The hat sat at a jaunty angle on her head, where its side was decorated in minimalist blooms and a single ribbon extended out like a feather.
Not only that, but Middleton also wore a piece designed by Taylor at Prince George's christening in 2013, where that particular fascinator was reported to cost more than $1,200. This means that the Duchess wore the same designers — both dress and millinery — for all three baptisms. She is a traditionalist, through and through.
Interestingly enough, the Duchess recycled that whole 2013 outfit and wore it again three years later, attending one of the Queen's famous garden parties in Buckingham Palace in 2016. She attended the event wearing the same McQueen ruffled skirt and jacket, and Taylor's netted fascinator.
And remember the blush pink decorative hat Middleton wore to her sister, Pippa's, wedding? That was also a Taylor creation, where the designer matched the mauve-rose fabric of her Alexander McQueen dress perfectly to her hat, and topped off the jaunty fascinator with a rose. (Are you seeing this McQueen and Taylor formula, by the way?)
The headband she wore to Prince Louis' christening is a step away from what Middleton usually veers towards, and it's an interesting and playful way to accessorize a formal outfit. Fans will be taking notes for sure.