Kate Middleton's Engagement Dress Is Back In Stock — And It's Under $150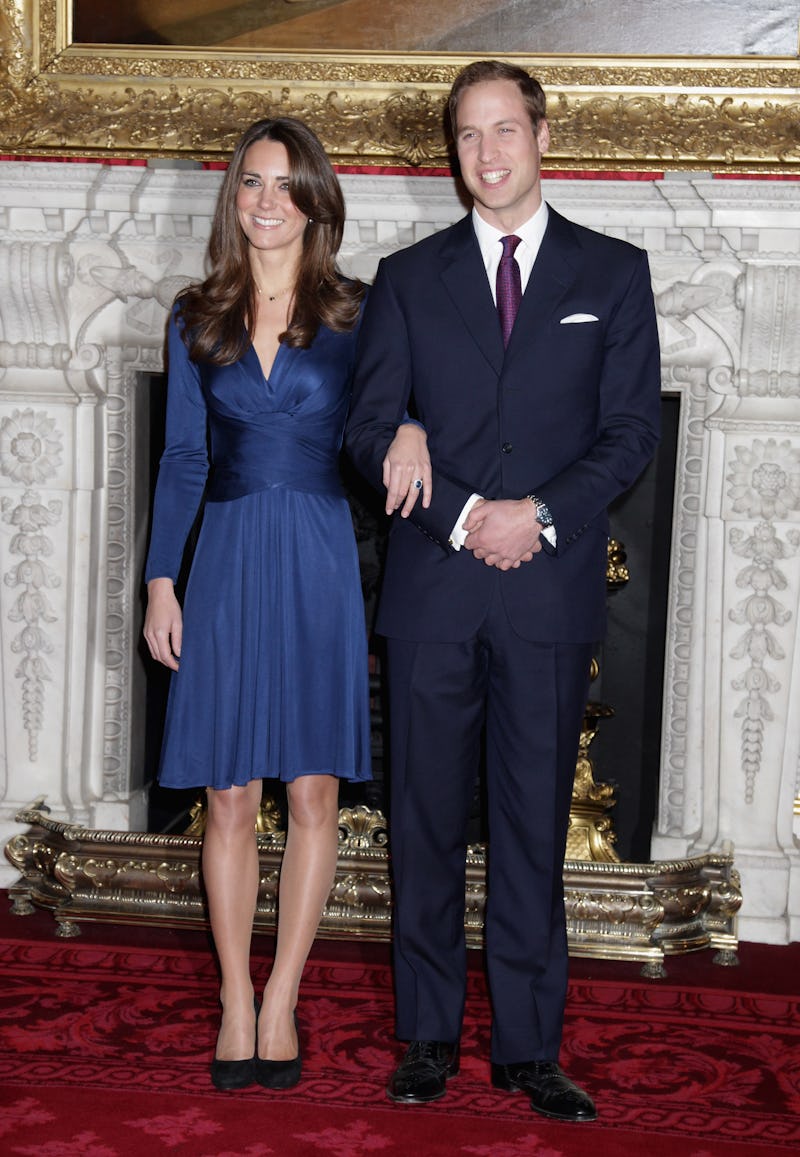 Chris Jackson/Getty Images News/Getty Images
When Prince William and Kate Middleton got engaged, the entire world noticed — the ring and the dress included. Now you can recreate your own royal moment. As Cosmopolitan found, Kate Middleton's engagement announcement dress is now available in more colors. Oh, and it's also more affordable than ever. Whether you're engaged or just looking for a great outfit, you won't want to miss this shopping opportunity.
The "Kate Effect" is a real thing. When Middleton wears something, the world notices and it almost always sells out instantly. It's such a real thing that eight years late, people still want the items that she wears. Middleton wore a navy blue Issa London dress to announce her engagement to Prince Harry in November of 2010. As soon as she did, the dress flew off the virtual shelves and the brand couldn't keep it in stock.
Now it's back in more colors and there's been a price drop. This is not a drill. The Kate Tie Wrap Dress is available in emerald green right now on the House of Fraser website. If you shop fast enough, you can get it right now for $121.65. Unfortunately, the dress is only available in sizes 12, 14, and 16 though.
Issa London Kate Tie Wrap Dress, $121.65, House of Fraser
The brand does offer international shipping as well. That means that you can rock this royal look wherever you live. Although it worth mentioning that the extra shipping will cost you. The dress is also no longer available in the navy shade, but, according to Cosmo, the brand has plans to restock the dress in even more shades.
If this look is a little too plain for you, there are tons of other options. As of Mar. 16, there are eight different Kate Tie Wrap Dresses on the brand's website. That includes the navy design and three different colors that have a fitted skirt instead of the the flared design. It's much more modern than the original style and a great way to have to play on the royal look.
The dress is also available in four different patterns. There an almost camo-looking, a star-esque, and two multi-patterned designs. While they don't exactly scream "this is royal," they are still gorgeous options for the workplace. The colorful looks will cost you a little more than the solid colors though. They $133.95, which isn't a ton more, considering how much more style you get.
The first dress retailed for $600, according to Today.com. So it makes complete sense that this more affordable version of the exact same dress is flying off the shelves. Bustle reached out to see why they decided to drop the price of the Middleton-famous design, but no one's complaining.
The price drop comes just months after Prince Harry and Meghan Markle announced their engagement. Instead of having an indoor setting, the newly engaged couple chose an outdoor setting. Markle wore a white, Line The Label tie jacket to announce the big news to the public.
Markle's outfit was just as instantly iconic, but it wasn't as easy to shop as Middleton's dress. According to previous Bustle coverage, the brand originally said that the coat was available at Saks, but it never showed up on the website. There are plenty of look-a-likes, but don't expect to see an affordable version of the $799 outerwear any time soon.
Issa London Kate Tie Printed Wrap Dress, $133.95, House of Fraser
If there's one thing that never goes out of style, it's royal fashion. The pieces that the women in the family wear aren't necessarily timeless themselves, but the Middleton and Markle sure know how to leave their sartorial mark in history.