Kate Middleton Just Wore An Outfit That Looks Exactly Like An Iconic Princess Diana Look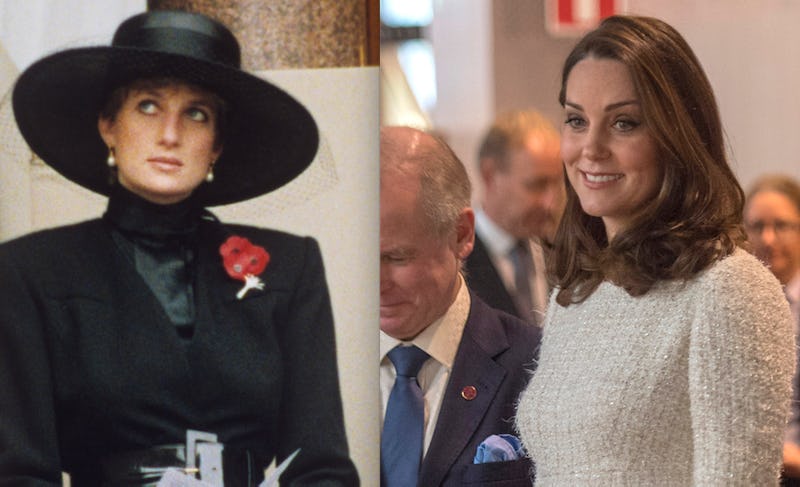 News Group/Shutterstock; Pool/Getty
When it comes to the Duchess of Cambridge, her wardrobe is supreme. From patterned dresses to chic hats to so-sharp-they'll-give-you-a-paper-cut coats, Kate Middleton's style has a fan base all of its own. But when the Duchess's outfits mimic those of her late mother-in-law, Princess Diana's, then people take notice even more. Middleton's red houndstooth coat looks exactly like an iconic Princess Diana look, and you can't help but be overwhelmed with nostalgia when you look at it.
When Middleton stepped out in Stockholm, Sweden on the second day of her royal tour of Scandinavia, she wore a cherry-red coat to battle the chill. And fashion lovers and royal enthusiasts were instantly reminded of a Moschino suit Princess Di wore in 1990.
On her way to her niece's christening at Sandringham Church — a church members of the British Royal Family also attend for Christmas services — Diana wore a pencil skirt suit in competing black and red houndstooth patterns, accented with a rope of blue and white stripes piping down the lapels of the jacket. Following British tradition, she topped off the look with a sassy wide-brimmed hat with black netting, smiling out at her fans from underneath the designer look. While maybe she skipped the look-at-me hat, Kate's look was wonderfully similar.
Wearing a double-breasted houndstooth coat in the same cherry red color, Middleton's version was created not by Moschino but by London-based designer Catherine Walker. But while they might not have worn the same exact label, there is still a surprising connection between Kate's coat and her late mother-in-law.
Interestingly enough, Walker is known for having supplied over 1,000 outfits for Princess Diana, who was also buried in a black dress designed by Walker. So there is that extra layer to their twinning outfits. She was one of Princess Di's favorite designers, and their professional relationship started three months after her marriage to Prince Charles, and lasted 16 years right up to her death. She dressed her in some of her most iconic outfits, like the gown dubbed the "Elvis Dress" that was an all-white, pearl-studded shift with a dramatic popped collar, and was the gown that would later be featured on People magazine's tribute covers following her passing.
Middleton wore her Catherine Walker coat to visit the Karolinska Institute in Stockholm, where she and Prince William went to learn about Sweden's work in mental health and, specifically, children's mental well-being and suicide prevention. Once inside, Middleton took off her red and white coat to reveal a white Alexander McQueen dress, accented with a plum colored quilted hand bag.
This isn't the first time that the Duchess had mimicked Princess Diana's outfits, much to the delight of fashion fans everywhere.
Both have a similar aesthetic when it comes to their outerwear, where both favor clean and unfussy lines. For example, Kate stepped out in Manchester in 2017 wearing a plaid belted coat similar to Princess Diana's lapel jacket in 1984.
Another eerily similar coat situation happened on Britain's Remembrance Sunday Service, which honors those who have suffered or died in war. In 1991, Princess Diana wore a wide brimmed hat and a patent leather-belted coat. Middleton wore a similar hat and a Diane Von Furstenberg coat to the same service in 2016.
They also sported similar looks when dressed in all white. Princess Di wore a double-breasted, white pinstripe dress to her first visit to the Isle of Wight in May of 1985, looking elegant and well-tailored. Middleton wore something similar to her daughter, Charlotte's, christening, drawing a likeness between the two. Middleton's dress was designed by Alexander McQueen, and it had the same knee-length hem, long sleeves, and even a subtle lapel design.
Whether intentional or not, it's always exciting to see the Duchess exude the same style and excellent taste as Princess Di.