There Was Just A Major Sign That Kate Middleton's Third Child Will Be Here Before You Know It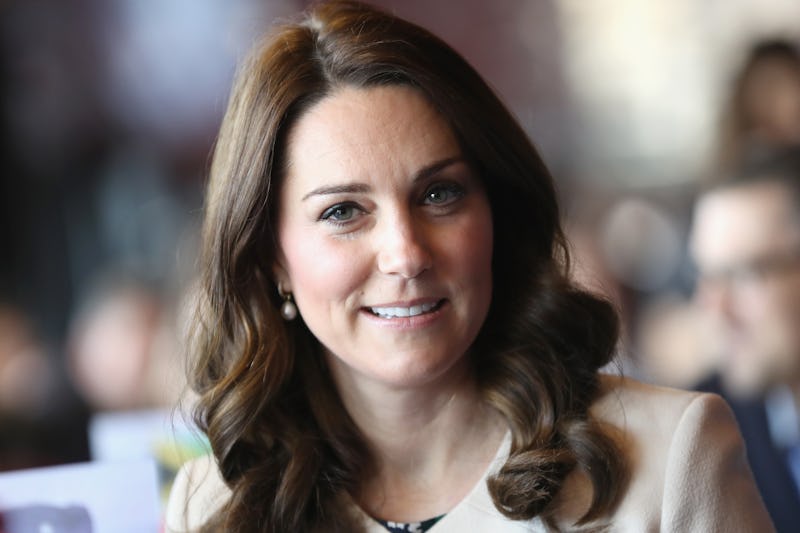 Chris Jackson/Getty Images Entertainment/Getty Images
Attention royal watchers, the Duchess of Cambridge just reached a pregnancy-related milestone. Kate Middleton made her last official public outing before she welcomes her third child, as reported by People. This means that the next time the world sees her could be when Kensington Palace has some happy new baby news to announce.
During her last outing, the royal attended a variety of events in celebration of the upcoming 2018 Commonwealth Games that will be held in Australia. She first visited SportsAid, a charity which support's Britain's Paralympic athletes, with her husband, Prince William. While the duchess unfortunately couldn't join in on the more physical activities, William was able to take part in a wheelchair basketball game with Paralympic athletes during the couple's visit.
Middleton did get to show off her cooking skills, alongside her husband, elsewhere during the outing. According to the Kensington Palace Twitter account, the couple went to St. Luke's Community Centre where they helped prepare the Commonwealth Big Lunch and they looked like they had a lot of fun getting their cook on.
The couple also had some fun and participated in a Commonwealth Quiz where they were placed on teams and asked various questions about the different countries that make up the British Commonwealth. There's no telling which team won, but it's a good bet that both the Duke and Duchess of Cambridge probably fared pretty well during the quiz.
Middleton's latest and last event for a while comes after a string of public outings she's participated in throughout her pregnancy. Whether she's was going to the Commonwealth Day celebration in early March or the inaugural Royal Foundation Forum in February with her future sister-in-law Meghan Markle, she's been incredibly active in supporting a wide variety of positive causes.
In January, she participated in an event in order to support a cause that she's passionate about: mental health awareness. According to E! News, she went to the Mother and Baby Unit at the Bethlem Royal Hospital, which is a unit that specializes in post-natal mental health issues. The duchess' visit ties back to her previous comments highlighting how important it is to address mental health issues, especially for new parents.
In March 2017, she spoke about the challenges that come with parenting, as People reported. "Personally, becoming a mother has been such a rewarding and wonderful experience," she said. "However, at times it has also been a huge challenge. Even for me who has support at home that most mothers do not." She then stressed that it's important to destigmatize mental health and for parents and people everywhere to seek the help that they need in order to be healthy.
Now, Middleton is taking a bit of a break from supporting all of these causes in person, as it's possible that she could give birth to the newest prince or princess any day now, at least according to William. Ringo Starr, who was knighted by the prince on March 20, revealed to Hello! Magazine that the royal had told him a very important update about Middleton's pregnancy. According to Starr, William told him that the duchess is due "any minute now." So, it's probably a good thing that she's be taking a break from attending any official royal outings.
The royal family already set up a a webpage for the duke and duchess' third child as of March 19, which you can visit on the family's official site. There obviously aren't any details on the page just yet, other than a previous announcement that the pair will welcome the child in April 2018. But, this move, along with the news that Middleton went on her last official outing before welcoming her third child, are major signs that royal watchers could be in store for a baby announcement sometime soon.