Kate & Pippa Middleton Just Wore The Same Exact Polka Dot Dress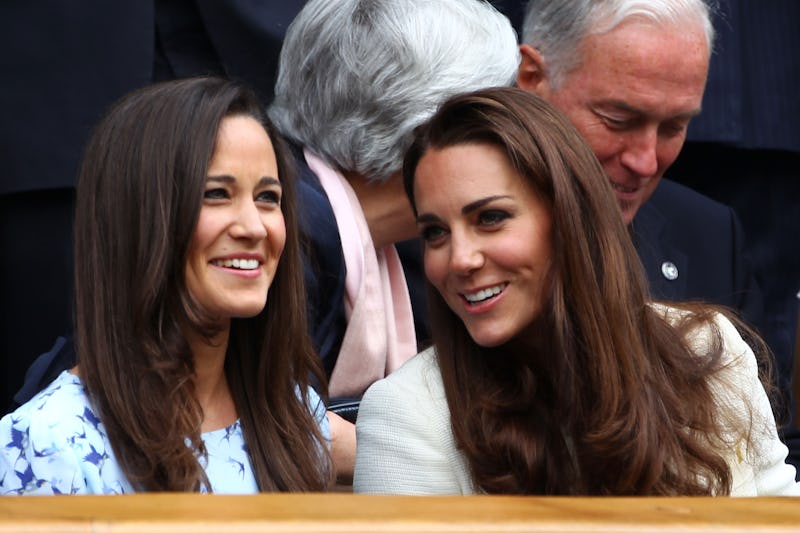 Clive Brunskill/Getty Images Sport/Getty Images
If you grew up with a sister, then you probably have a bevvy of photos of the two of you wearing matching dresses and pigtail bows, because everyone around you thought twinning sisters were adorable. Well, that doesn't have to end just because you're older. Kate and Pippa Middleton wore the same dress, proving you can still dress like your older sister even though you're no longer five.
And if you can no longer steal your sister's dresses from her closet, then you might as well buy the exact same ones. Pippa was seen last Friday strolling in London with her newborn, catching some mommy-and-me time. On this casual stroll she wore a burgundy, polka dot shirt dress, accented with white sneakers and a scarf to beat away the chill. While a cute off-duty outfit on its own, its currently making waves in the fashion world because Kate wore the same exact dress just a week prior.
On October 19, Kate and Prince William hosted a reception for a group of BBC Radio 1 Teen Award finalists at Kensington Palace, and she wore the same polka dot dress, but gave it a more black-tie spin by pairing it with nude pumps.
The dress in question was a $200 midi from the brand Whistles (carries sizes 4-16), which is a popular contemporary fashion store in the UK. The tie-waist dress sold out almost immediately after seeing the Duchess don it (as per usual,) which brings up an interesting question. Did Pippa raid her sister's closet and take the dress for herself? Or did Kate pawn it off to her sister, not really wanting to wear it anymore? Or did the two go shopping and decide to both nab it, just made a pact never to wear it at the same time? Whichever scenario happened, it's all wonderfully sister-like, from stealing pieces from each other's wardrobes to copying each other's style.
And if you love the dress and are bummed that it sold out, Whistles still has a few lookalike contenders that can tide you over. Shop them below.
Join in with the sisters and become the third one to own a cute polka dot dress!