Kate Spade Just Brought Back The Bag You Wanted So Bad In The '90s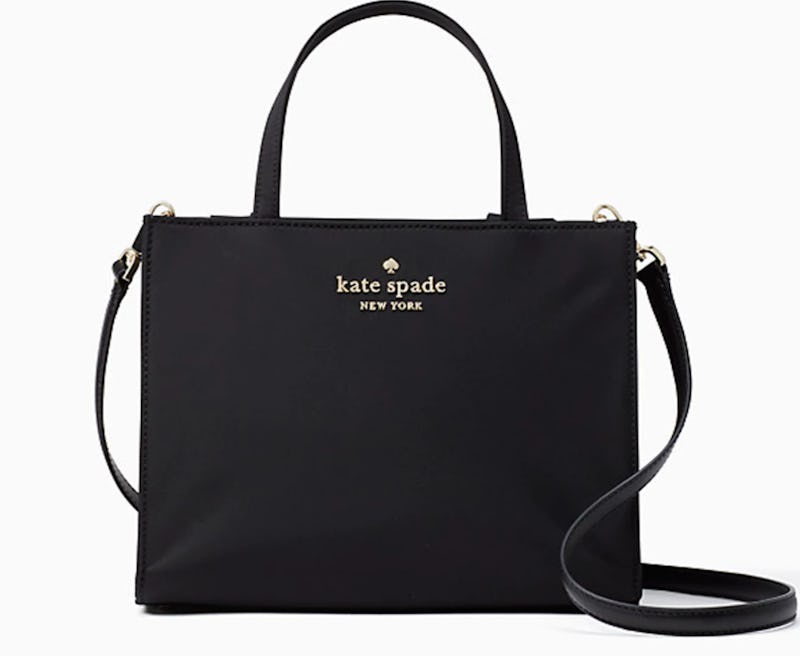 Courtesy of Kate Spade
One of the most universal fashion truths is that style is cyclical. What's old will eventually be new again, with some modernized tweaks here and there. Children of the '90s will be pleased to know that Kate Spade has resurrected the Sam Bag in honor of its 25 birthday.
The unassuming and wildly popular bag first arrived on the scene in 1993. The original was boxy, classic, and incredibly basic. But it got the job done. It fit a ton of stuff inside and the nylon fabric survived whatever you put it through.
For its re-release, the brand has made a few upgrades to the design, yet the new version remains timeless. The 2018 version of Kate Spade's Sam Bag boasts new materials and is available in nylon with leather trim, denim, and canvas constructions. It's also offered in several sizes. There are solid color versions, as well as those with graphics.
If you owned a Sam during its original run, you will want to revisit the new incarnation. If you merely coveted this bag from afar during its heyday, it's time to finally cop one.
The first drop of the latest generation of the Sam is available via the Kate Spade site. Most options are $198; there is one option that clocks in at $228 and another at $358, due to embellishments and additional detail.
So Sam is certainly affordable. It can serve as your everyday tote. The monochromatic versions will go with everything already in you closet. Dress it up with an LBD or dress it down with a hoodie, leggings, and kicks. It literally fits every fashion occasion.
Black Watson Lane Sam, $198, Kate Spade
The brand lovingly recalled the origins of the bag in the product description on the site, saying, "Our story begins in 1993 with a boxy, black nylon handbag called Sam. We wanted something utilitarian and timeless — a bag that could go with everything from jeans to a cocktail dress. Sam did, and women and fashion editors alike swooned. This year for our 25 anniversary, we brought back Sam in a bevy of colors and sizes you'll want to lovingly hold and gaze at for years to come."
Prepare to fall back in love with Sam. The bag is crafted to hold all of your essentials, without sacrificing an ounce of simple chicness.
The roomy and reliable satchel has a zipper closure, an interior zipper pocket, and dual interior slide pockets.
It's a renewable style, since you can carry it in a variety of ways. You can hold it by the straps or let it dangle from your wrist.
It also comes with attachable straps, so you can turn it into a shoulder bag! You gotta love a bag with a built-in, additional styling option.
Sweetheart Pink Watson Lane Sam, $198, Kate Spade
Sam also comes in a hot pink option. The splash of color softens the bag's signature, structured shape.
Black + Clotted Cream Watson Lane Sam, $198, Kate Spade
If you prefer a print over a monochromatic bag, this black and white striped option is as elegant as it is sturdy.
Watson Lane Botanical Sam, $228, Kate Spade
This floral and butterfly print version is rooted in nature. The graphics make it pop.
Swamped Magnolia Sam, $358, Kate Spade
The floral applique on this upscaled, millennial pink edition of the Sam is lovely. The design balances out the shape a little, too.
Swamped Alligator Canvas Mega Sam, $198, Kate Spade
Sam got a mega makeover with this tote version. It's bigger, it's softer, and it features the cutest 'gator in all the land on the front. You can totally use this bag for lunch or instead of plastic bags at the grocery store.
It's time to reconnect with the back and better-than-ever Sam.