Kate Spade's Family Just Released A Heartbreaking Statement About Her Death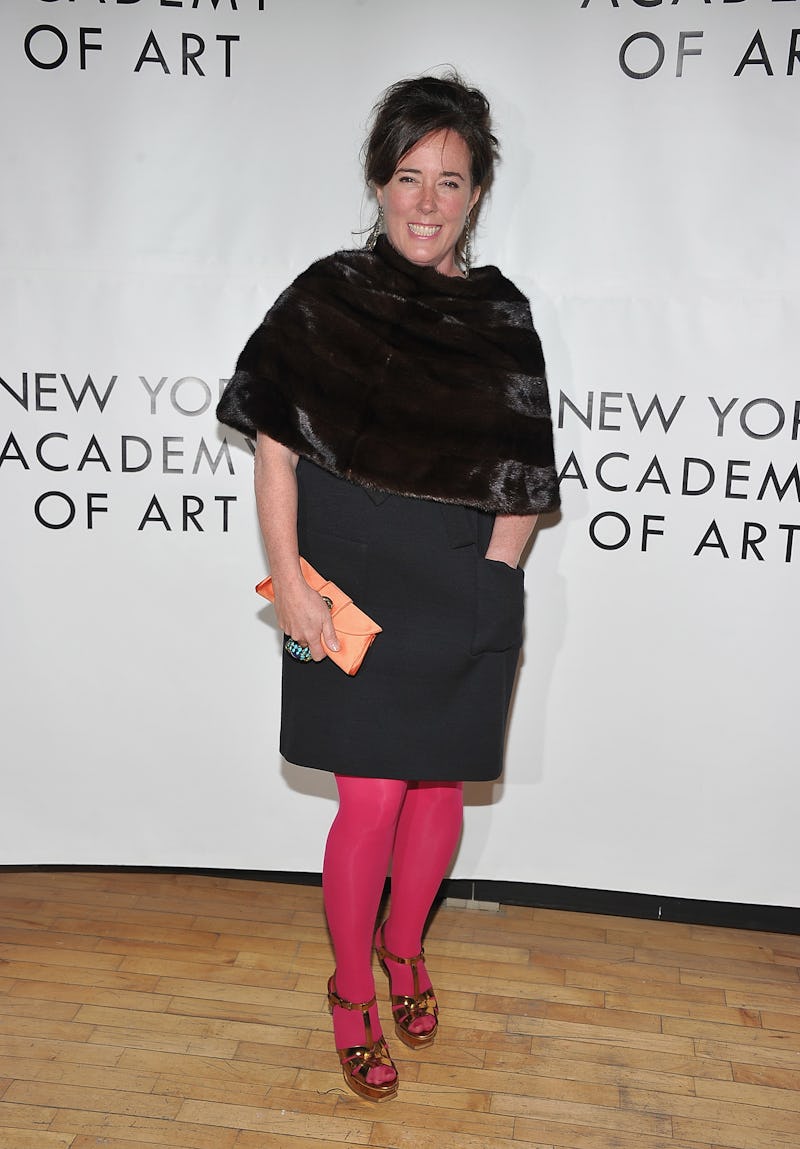 Theo Wargo/Getty Images Entertainment/Getty Images
Fashion designer Kate Spade has reportedly died of suicide at the age of 55, according to the Associated Press. The creator of colorful handbags, feminine frocks, and a plethora of goods outside of strictly fashionable forays, Spade's name was one of the most recognizable in the world of fashion for her approachable designs and accessible goods. Her empire expanded well beyond her original decision to begin designing handbags.
Regarding her death, Spade's family issued the following statement:
We are all devastated by today's tragedy. We loved Kate dearly and will miss her terribly. We would ask that our privacy be respected as we grieve during this very difficult time.
Spade, who went by the name Kate Valentine, is survived by her husband Andy Spade and her daughter, Frances Beatrix Spade.
Regarding the passing of Spade, the brand also issues a statement via social media which reads, "Kate Spade, the visionary founder of our brand, has passed. Our thoughts are with her family at this incredibly heartbreaking time. We honor all the beauty she brought into this world."
Spade's mark on this world is clearly meaningful to the brand despite her no longer being involved in its direction, and her image and design work will always be what the colorful, quirky label is most known for.
Spade began her eponymous brand in 1993 with her future husband Andy and a close friend. According to an interview with the New York Times in 1999, Spade wanted to begin her brand by designing a handbag that was functional and sophisticated and unlike the bags she considered to be too over the top.
Soon, Spade's bags were being worn by celebrities, and what began as six prototype bags in she and her husband's apartment became a must-have item for many women. She and her husband eventually opened a store for the brand in New York City's SoHo neighborhood in 1996. That original store has now ballooned into over 140 stores in the United States, 175 stores internationally, plus the brand's position in other department stores.
In 1999, however, Spade and her husband sold the brand to the Neiman Marcus group. During this time, the brand did a bit of bouncing around other companies, until it eventually become Kate Spade & Co after Liz Claiborne purchased it and took on the moniker. Spade herself sold the remaining portion of her company in 2006 allegedly to spend more time with her daughter according to Variety. Spade's brand eventually landed at Coach — known as Tapestry — in 2017.
Despite Spade no longer being directly involved with the brand that held her name, she was still a working designer before her death. In 2016, she and her husband began a new handbag venture named after two of Spade's grandfathers. The new line, named Frances Valentine, features both shoe and handbag designs, but it's on a much smaller scale than their former work. According to Fast Company, Spade and her husband knew that there would be more pressure with this line coming off their success with Kate Spade. They intentionally chose to keep the brand smaller, selling it only online, and in Nordstrom and Bloomingdale's.
While Spade may have started a new venture, the cultural significance of her eponymous brand will always be part of her legacy. Celebrities and the fashion community have already begun to issue an outpouring of support for Spade's family and praise for her legacy.
For many, Spade and her bags were markers of meaningful moments in their lives.
For her colleagues, she was a talented member of their family.
Celebrities and the fashion world aren't the only people mourning Spade, though. Social media is filled with everyday people who loved the designer and her quirky, colorful styles. Her appeal spanned beyond the strictly fashionable and into the world of the every day woman. Her talent will surely be one of the most beloved and well remembered in the world of fashion.
If you or someone you know are experiencing suicidal thoughts, call 911 or call the National Suicide Prevention Hotline at 1-800-273-8255. You can also text the Crisis Text Line at 741-741. For international resources, here is a good place to begin.