Kathy Griffin Calls Trump A "Bully" Trying To Keep Her Down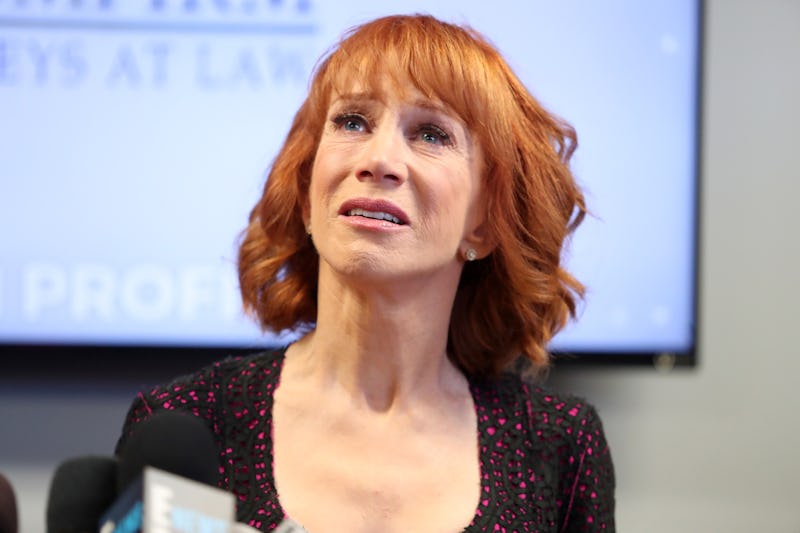 Frederick M. Brown/Getty Images Entertainment/Getty Images
Earlier in the week, comedian Kathy Griffin sparked outrage and criticism when she released controversial images of herself posing with a likeness of President Donald Trump's bloody, severed head. While apologizing to those she offended in a press conference held Friday in Los Angeles, Griffin accused Trump of bullying her — much like the "older white guys" she claimed have tried to keep her down throughout her career.
"I'm not afraid of Trump. He's a bully," Griffin told reporters at the emotional press conference in which she sought to explain her "true motivation" for posing with a severed Trump head for celebrity photographer Tyler Shields. "I've dealt with older white guys trying to keep me down my whole career."
After making another apology for the controversial images, Griffin said she'd been fired by CNN, had shows canceled, was receiving death threats from Trump supporters, and had been contacted by the Secret Service. She accused the president and his family of personally targeting her after having what she called a disproportionate response to the images.
"What's happening to me has never happened in this great country," the comedian said. "A sitting president of the U.S. ... is personally trying to ruin my life forever. ... Today it's me. Tomorrow it could be you."
Multiple members of the Trump family have publicly criticized Griffin for the photos. First Lady Melania Trump has called the photo "very disturbing" and said it "makes you wonder about the mental health of the person who did it." Donald Trump Jr. said Griffin's stunt was "disgusting but not surprising" and urged CNN to fire her. President Trump said Griffin should be "ashamed of herself" and noted his youngest son was "having a hard time with this."
On Friday, a tearful Griffin told reporters she didn't think she'd have a career after this as she didn't think Trump would ever let it go. "I'm going to be honest, he broke me," she said. The comedian also accused the president of using her to try and distract voters and the press from his own controversies. "They are using me as the shiny object so that no one is taking about this FBI investigation," Griffin said.
But while the future of Griffin's career may be up in the air, the comedian told reporters she wouldn't be bullied into silence.
"I'm going to make fun of the president. And I'm going to do it more now," she said.