Kathy Griffin Speaks Out About Her Controversial Trump Photo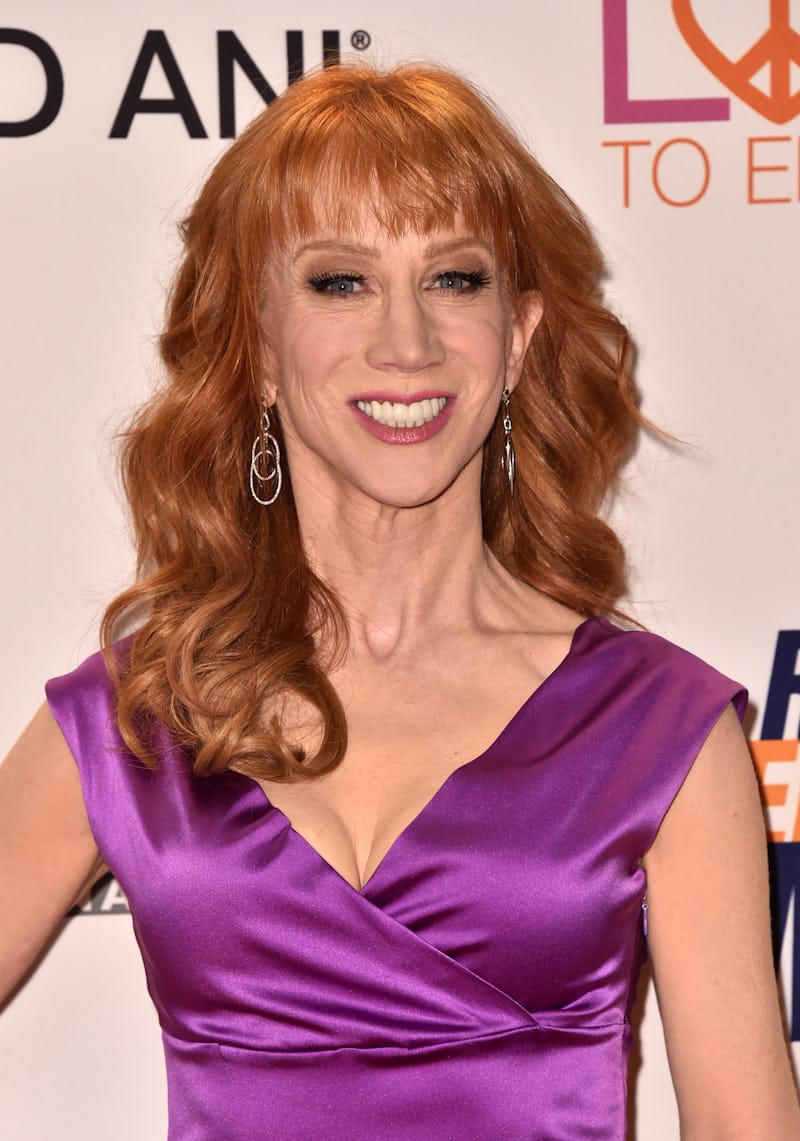 Alberto E. Rodriguez/Getty Images Entertainment/Getty Images
This is one photo that can't be unseen. On Tuesday, thanks to TMZ, controversial photos were leaked of Kathy Griffin holding a bloody severed head of Donald Trump. The photo is part of a project shot by famed celebrity photography Tyler Shields and ever since the images were released, well, there have been a lot of negative responses. Now, Kathy Griffin has reacted to her photo with Trump's head and as one might expect, the comedian sees no issue with what she and Shields did.
First, she tweeted Monday, "1/ I caption this 'there was blood coming out of his eyes, blood coming out of his...wherever' Also @tylershields great Photog/film maker." Cleraly, Griffin is referring to the time Trump said about Megyn Kelly, "There was blood coming out of her eyes... Blood coming out of her wherever" when speaking about her after a Republican primary debate.
Then, Griffin wrote, "2/ OBVIOUSLY, I do not condone ANY violence by my fans or others to anyone, ever! I'm merely mocking the Mocker in Chief."
As can be seen on Twitter, there are many individuals who feel that these photos are promoting violence and spreading a message of hate. There are even many people who don't support Trump taking a stand against Griffin and Shields. Someone tweeted, "It's time to take violence out of politics, not to normalize it or suggest it is amusing. Shame on her." Another Twitter user wrote, "I am as anti-trump as they come but this is disgusting & vile. You do not represent liberals or the resistance with this trash." Chelsea Clinton also got in on the discussion and tweeted, "This is vile and wrong. It is never funny to joke about killing a president."
However, there are some who consider it art. In response to Clinton, one user tweeted, "It's also 'art,' it doesn't hurt anyone. And to call it wrong is condemning it. Total disagreement. It's not my style, but not wrong." To that, Clinton responded, "I can both respect her right to freedom of speech, which I do, and think it's not funny and not ok."
In an interview with BuzzFeed shared on Monday, Shields commented on his photos and said, "Trump is the social media president. He is the most polarizing president we've ever had. With any type of person like that, art is going to be made about them." He continued, "I like to make things and let people make up their own minds about it, but I understand with this that some people will praise it and some people will absolutely hate it." He's not wrong about that.