Katy Perry Is So Over Her Feud With Taylor Swift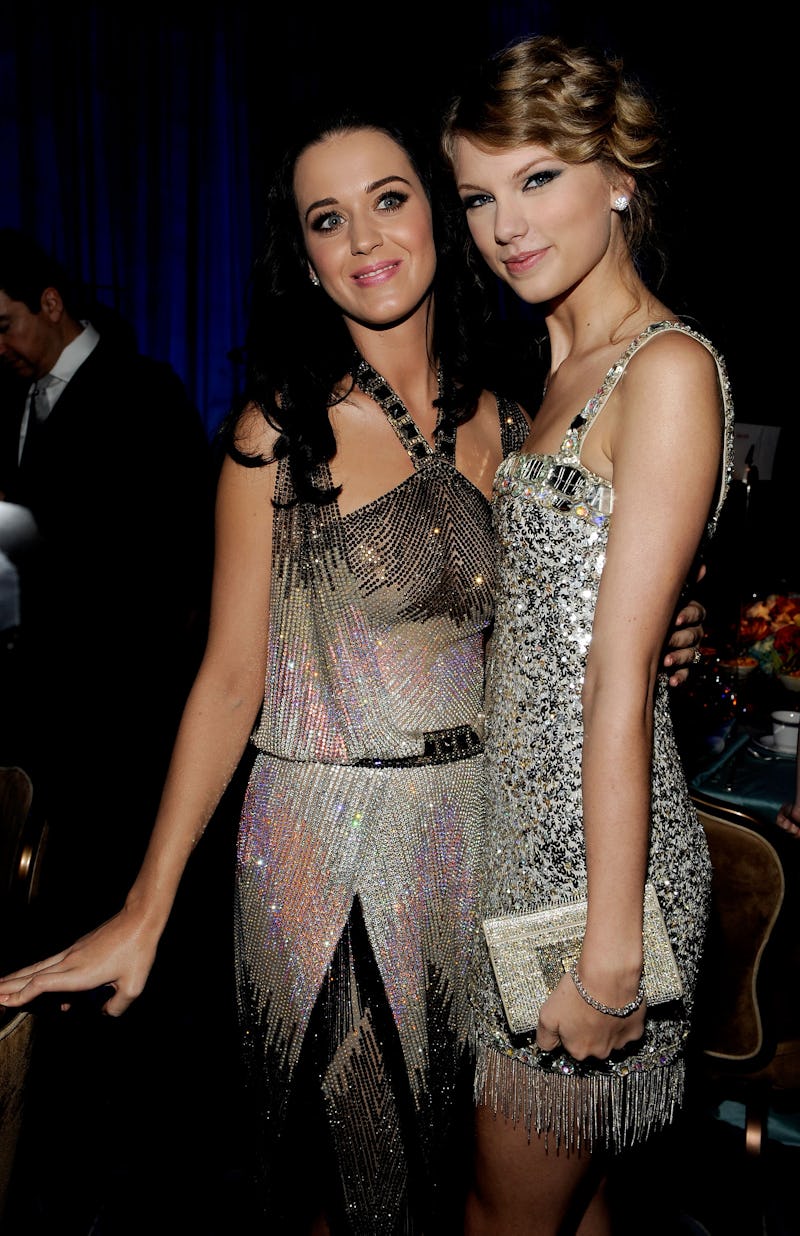 Larry Busacca/Getty Images Entertainment/Getty Images
Well, this celebrity feud just took a shocking turn. During Monday's Late Late Show With James Corden Katy Perry confirmed her feud with Taylor Swift during Carpool Karaoke. Really, everyone should thank late-night host James Corden for coming out and asking the "Chained to the Rhythm" singer about the feud. "There's no denying it. There's Taylor beef," he said. "And when are we going to clear that beef up?" "Clear that beef up" is exactly what Perry did and she didn't hold back on her side of things, whatsoever. Yes, she finally confirmed there is an actual ongoing disagreement between herself and the 1989 artist.
"Honestly, it's really like, she started it, and it's time for her to finish it," Perry said to Corden. Then, the "Swish Swish" artist finally explained what started the beef between the two in the first place. She said,
"It's about backing dancers. It's so crazy! OK, so there are three backing dancers that went on tour with her tour, right? And they asked me before they went on tour if they could go, and I was like, 'Yeah of course! I'm not on a record cycle! Get the work! She's great!...But I will be on a record cycle in about a year, so be sure to put a 30-day contingency in your contract so you can get out if you want to join me when I say I'm going back on.'"
Perry went onto tell Corden that when the time arrived for her 2013 Prism album tour, she reached out to these same backup dancers. "So that year came up, right?" she said. "And I texted all of them, because I'm very close with them, and I said, 'Look, just FYI, I'm about to start, I want to put the word out there.' And they said, 'OK, we're going to talk to management about it.' And they did. And they got fired. And I tried to talk to her about it, and she wouldn't speak to me."
Bustle reached out to a rep for Swift for comment on Perry's words, but did not receive a response at the time of publication.
This is pretty much what anyone who has been paying attention to the Perry/Swift feud suspected, since there have been rumors that their falling out started because of backup dancers.
Swift opened up to Rolling Stone in September 2014 about her song "Bad Blood," which many believe she wrote about Perry after their downfall. Swift never confirmed to the music magazine that the song is about Perry, but she did say about an anonymous artist, "For years, I was never sure if we were friends or not. She would come up to me at awards shows and say something and walk away, and I would think, 'Are we friends, or did she just give me the harshest insult of my life?'"
Swift then alleged that this person tried ruin her tour. As she explained,
"She did something so horrible. I was like, 'Oh, we're just straight-up enemies.' And it wasn't even about a guy! It had to do with business. She basically tried to sabotage an entire arena tour. She tried to hire a bunch of people out from under me. And I'm surprisingly non-confrontational — you would not believe how much I hate conflict. So now I have to avoid her. It's awkward, and I don't like it."
After the Rolling Stone interview, Perry tweeted, "Watch out for the Regina George in sheep's clothing." This further fueled their feud rumors.
Thanks to Perry opening up on late-night TV, things are somewhat clearer. For her, this whole situation is one huge example of "karma." As the 32-year-old said, "I do the right thing anytime it feels like a fumble, and it was a full shutdown. And then she writes a song about me! And I'm like, 'OK, cool, cool, cool. That's how you wanna deal with it? Karma.'"
Perry even said that she's "ready for that B.S. to be done." She also added that she's a strong believer of women supporting women. "I think personally that women together, not divided, and none of this petty bullsh*t, women together will heal the world."
Similar to Perry, Swift has always credited herself as a believer in women uplifting other women. While chatting with Vanity Fair in March 2013, she responded to Amy Poehler and Tina Fey joking about her love life at the 2013 Golden Globes by using the quote: "There's a special place in hell for women who don't help other women."
Will these two ever be able to move on? Corden asked Perry if Swift were to reach out to her and say something along the lines of, "The beef is off the grill," would Perry accept that and put the feud to bed? To that, Perry responded, "100 percent."
Like Perry, I am ready for this feud to be done. Maybe if the two actually sat down and explained their sides of the situation, everything could be resolved. That's not to say they would go back to being friends or collaborate on music, but it would just be nice to have this no longer be a discussion. Who else is sick of talking about Perry and Swift feuding? I mean, if the tour Perry was talking about is Swift's Red tour, this all started in 2012. It has been five long years. Yeah, it's time to move on.
Plus, I agree with Perry in the belief that women are so much stronger together. So, let's keep those fingers crossed that Perry and Swift can eventually find some common ground.
It's unclear if Swift is going to exclude herself from this narrative by not commenting on Perry's remarks (she hasn't yet). Or, maybe she'll one day hop in the car with Corden to explain her side. Either way, I'm glad there's at least a little bit of clarity — and maybe it's enough to to squash what sounds like unnecessary bad blood.