Katy Perry Has A Weird Night At Paris Hilton's House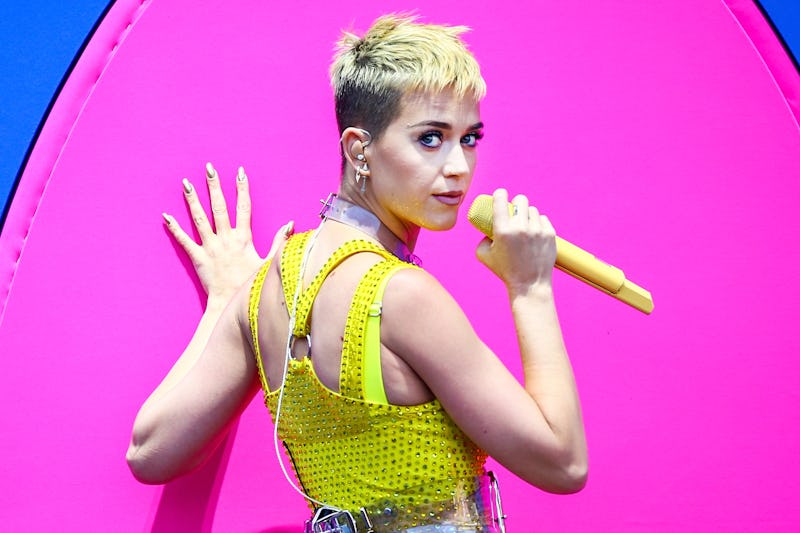 Rich Fury/Getty Images Entertainment/Getty Images
Ever wonder what it's like to visit the home of the one and only Paris Hilton? Well, lucky for us Katy Perry toured Hilton's house over the weekend and documented it on her Instagram story for fans to see. And boy, did it look like she had a bizarrely epic time, especially when she spent some time hanging out in a glamorous giant dog house.
But let me set up the story for you, Hilton hosted a party at her home on Saturday, May 13. In addition to Perry, other stars in attendance included Bella Thorne, Sofia Richie, Chiara Ferragni, and Iggy Azalea. Earlier in the day Perry had performed at KIIS-FM's Wango Tango music festival, and with the release of her new music video for Bon Appétit earlier in the week, it seems like Perry has been keeping herself quite busy. So it's nice to see that she was able to spend some time hanging out with friends. And no, I'm not entirely sure if Perry and Hilton are BFFs or not, but wouldn't it be fun to think that the two of them regularly hang out?
In one video, re-shared by Hilton on Instagram, Perry posed with a gigantic mosaic of Hilton's face. Perry referred to Hilton as "the realest queen in the game."
In another video, Hilton posed with a few other guests at the party, then showed Perry posing with a cardboard cutout of Hilton. Can you imagine having a cardboard cutout of yourself for guests of a party to take pictures with?
Perry also shared a shot of a framed copy of Hilton's single, "Stars Are Blind," which remains one of my favorite songs from the mid 2000s.
And the best part of Perry's Insta coverage was when she visited Hilton's giant dog house.
Talk about a truly strange, but undoubtedly epic night. I, for one, am super jealous of Perry and all of the rest of the party attendees. Hilton lives a pretty ridiculous and glamorous life, and she seems to have a good sense of humor about herself. Who knows, maybe one day she'll convert her house into a museum so that us fans can get a chance to pose with Hilton's cardboard cutout and mosaic paintings of herself, too.