Katy Perry Went To Taco Bell For A Reason That Indecisive Eaters Will Find So Relatable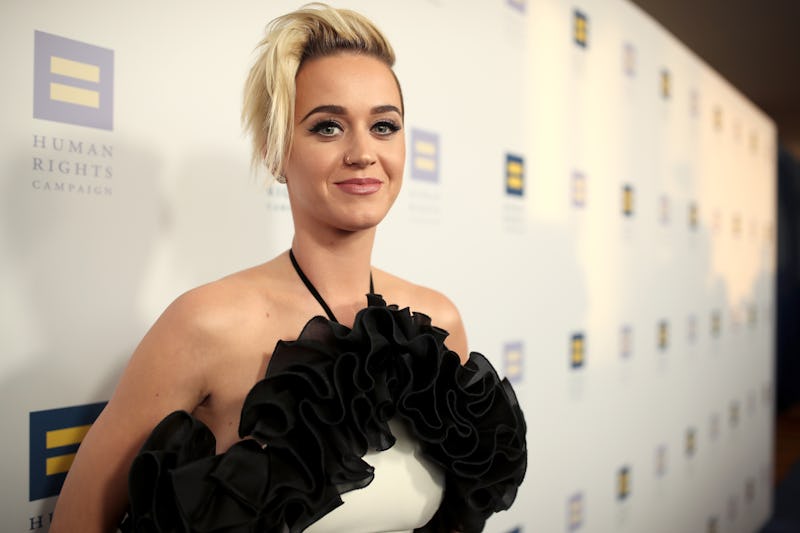 Christopher Polk/Getty Images Entertainment/Getty Images
Do you constantly have multiple tabs open when trying to decide on delivery? Do you scroll through countless Yelp reviews and best-of lists before making a restaurant reservation? Well, Katy Perry does too, apparently. After several unsuccessful attempts to find a place to dine in Scotland, Perry went to Taco Bell, according to The Scottish Sun, and like, wow, definitely have been there before. So, so relatable.
For the last several months, Perry's been traveling all over the globe on her Witness World Tour. On June 25, the singer performed at the SSE Hydro in Glasgow, Scotland, where she told the crowd how she ended up eating fast food instead of fine dining.
"I was on the internet looking up the top 25 places for dinner," Perry revealed, according to The Sun. "Some are really fancy, some only sit like 10 people. I called a couple of places and couldn't get in anywhere. On the list at the very end it said Taco Bell, so I went there — and then I went to your movie theatre." Sounds like a solid night, not going to lie.
Some outlets are assuming that Perry was implying she got "snubbed" by several Glasgow-area restaurants. It's unclear how she said what she did to the crowd — like, did she sound angry? Was she scowling or something? — but, according to a quote from one restaurant owner, it kind of just seems like maybe she was rolling too deep to make a last-minute reservation.
"We would have loved to have had Katy Perry to come dine with us," Liz Reitz — who runs Bilson Eleven, one of the places Perry reportedly tried to get into — told The Sun. "Unfortunately 24 hours notice for ten people is just not possible as we only sit 20 and we like to honor the bookings of our current customers." Plenty of stars are likely used to getting special treatment, but honestly, Reitz's explanation sounds pretty reasonable.
Besides, Perry's love for Taco Bell is pretty well-documented. Maybe she called a few places, gave up, and then decided to fall back on ol' faithful. After snagging the cover of Forbes in June 2015, Perry wrote on Instagram that she'd celebrated the occasion "by going straight to Taco Bell and getting my crunch wrap supreme." Could she have celebrated her cover at a fancy restaurant? Sure. But she chose Taco Bell instead.
Not only that, but this wouldn't be the first time that Perry's opted for fast-food tacos while visiting a foreign country. The singer spent some time in Tokyo back in April 2015, and reportedly waited in line for an hour to get into the grand opening of the city's very first Taco Bell location.
"You can take the girl out of America but you can't take the Taco Bell out of the girl, okuurrrr! (also there was an hour wait fer it...Tokyo knows what's up!)," Perry captioned a photo of herself while waiting in line in front of her favorite taco chain.
Look, Perry was probably bummed that she couldn't get into one of Glasgow's local hotspots, for sure. She really does love her some low-key casual places though, too. In October 2015, Perry opted to have her birthday dinner at Olive Garden, and she straight-up acknowledged the fact that going there was a conscious choice.
"When you could go anywhere for your bday dinner but you're so OG that you go to OG with all your OG's," Perry wrote alongside a photo of her and her crew in front of the Olive Garden logo. She also added the hashtag "#thosebreadstickstho," and, yet again, same. Perry gets it.
The important details of this Glasgow drama are these: 1. Perry loves Taco Bell. 2. Taco Bell is good. 3. Crunch Wrap Supremes are especially bomb. 4. Perry also loves Crunch Wrap Supremes, probably got one, ate it, and walked away satisfied. The end.