Twitter Is Freaking Out Over Katy Perry's Dress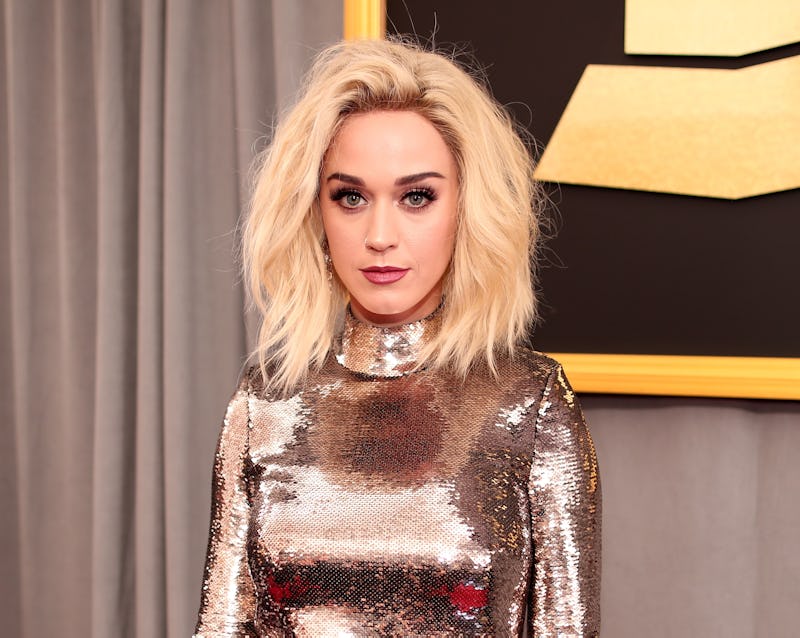 Christopher Polk/Getty Images Entertainment/Getty Images
The Grammys is an event most fashion lovers look forward to, not just because some of the hottest stars in music show up, but because there are no rules when it comes to the red carpet. Case in point: Katy Perry's 2017 Grammys dress, which is as fabulous as it is confusing. Fans of tonight's performer certainly have opinions about the singer's look, and just like any other awards show, they are taking to Twitter to express their thoughts.
In case you missed it, Katy Perry arrived to the 2017 Grammys red carpet dressed in a Tom Ford number that was half lame, half feathers. The top of the dress was a glittering gold long-sleeved turtleneck that ran all the way down to her hips until it decided to switch into another fabric — feathers. Yes, you read that right. It's definitely receiving mixed reviews among her fans, but everyone can at least agree on the fact that her beauty game is super strong and amazing as usual.
Perry's messy platinum lob looks particularly fabulous on the red carpet, especially when it frames her gorgeous makeup look — a rose gold eyeshadow and a berry pink lip (which was created with her Katy Kat Pearl CoverGirl collection). Oh, and you can't miss her highlight either — Perry is unofficially the highlighter queen.
So yes, while viewers are swooning over Perry's gorgeous beauty game, they are not quite sure what to make of her outfit.
Shrug, right?
Let's take a look and see what Twitter had to say.
Yes, accurate.
Same.
Worst is a strong word, but I see where Elise is coming from.
Oh, but I bet she did.
Another Beauty & the Beast reference.
And now, Pokemon.
Dang.
I think everyone is asking themselves the same question, Charlie.
Interesting dress aside, Perry will definitely kill her performance later this evening and isn't that all that matters? It is the Grammys, everyone.