How Trump's SCOTUS Pick Defended His Decision To Deny An Immigrant Teen An Abortion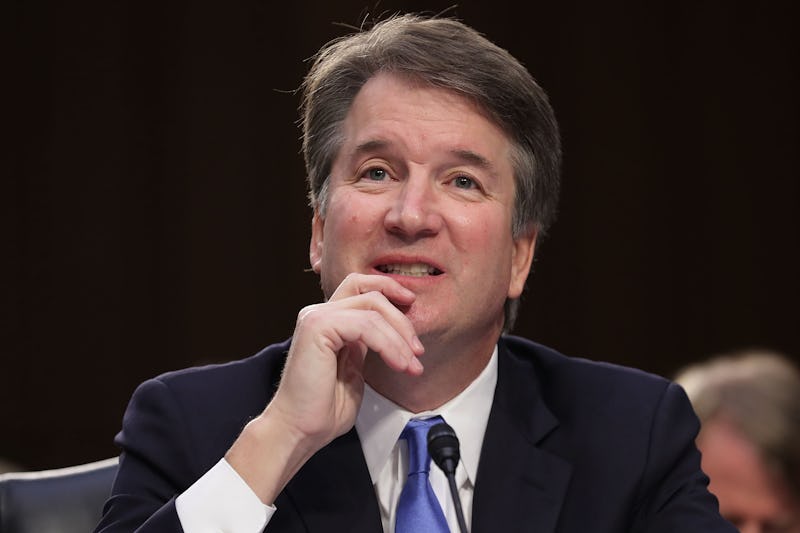 Chip Somodevilla/Getty Images News/Getty Images
Brett Kavanaugh has only ever dealt with one case involving abortion rights in his whole career as a judge — so it was expected that at least one senator would bring up that case at the confirmation hearing for his Supreme Court nomination. In response to a line of questioning from Sen. Dick Durbin, Kavanaugh explained his Garza decision, which would have denied an immigrant teen from getting an abortion.
The case in question was Garza v. Hargan, in which the Trump administration was attempting to prevent a migrant teenager from getting an abortion that she desired, and the ACLU sued to help her go forward with the abortion.
"This young woman complied with every legal requirement, including Texas state requirements so she could move forward with her decision, a decision affecting her body and her life," Durbin said to Kavanaugh. And yet Kavanaugh wrote in his dissent, as the New York Times explained, would have allowed the government to further delay her abortion, thereby moving her ever closer to the 20-week deadline at which point it would have been inadmissible by Texas law.
"It's important to emphasize she's a minor. If she had been an adult, she'd have a right to obtain an abortion immediately," Kavanaugh told Durbin at the hearing. "As a minor, the government argued it was proper or appropriate to transfer her quickly to an immigration sponsor."
A sponsor, Kavanaugh explained, is a friend of family member with whom Jane Doe, the teenager in question, could consult on the abortion issue if she wanted to. This, he continued, was in line with the Supreme Court precedent of deferring to parental consent laws.
Durbin then pointed out that, as an unaccompanied minor, Jane Doe had already requested, and received, a judicial bypass from the state of Texas that allowed her to get an abortion without parental consent.
"The government is arguing that placing her with an immigration sponsor would allow her, if she wished, to consult with someone about the decision," Kavanaugh said in response. "That is not the purpose of the state bypass procedure."
When Durbin continued to press Kavanaugh on his view that Kavanaugh had attempted to delay the abortion in the knowledge that a delay could prevent it from happening, Kavanaugh repeatedly fell back on the issue of precedent. In addition to mentioning the issue of consent, he also brought up a line from Planned Parenthood v. Casey saying that minors benefit from parental consent on the issue of abortion.
"You are adding a requirement here," Durbin said to Kavanaugh.
"I'm not adding. I'm a judge; the policies are being made by others," Kavanaugh responded, referring back to the government's effort to delay the abortion. His job, he said, was only to look at the difficult situation and decide whether the government's policies were in line with judicial precedent.
"I did my level best in an emergency posture," Kavanaugh told Durbin.
Planned Parenthood's Vice President of Public Policy Litigation & Law, Helene Krasnoff, argued in a statement issued to Bustle that Kavanaugh was actually taking a far more radical position than his comments suggested. In Garza, Krasnoff explained, Kavanaugh was siding with the Trump administration in indefinitely blocking a woman from receiving an abortion even though state law would have allowed her to get it.
"He insisted that this indefinite delay did not constitute an 'undue burden' on the young woman's ability to access abortion," Krasnoff wrote. "If barring a woman who has met all of the requirements of state law from getting one until she must seek a riskier procedure — if she can get one at all — is not an 'undue burden,' what would?"