Kavanaugh's First Supreme Court Cases Will Deal With A Wide Range Of Issues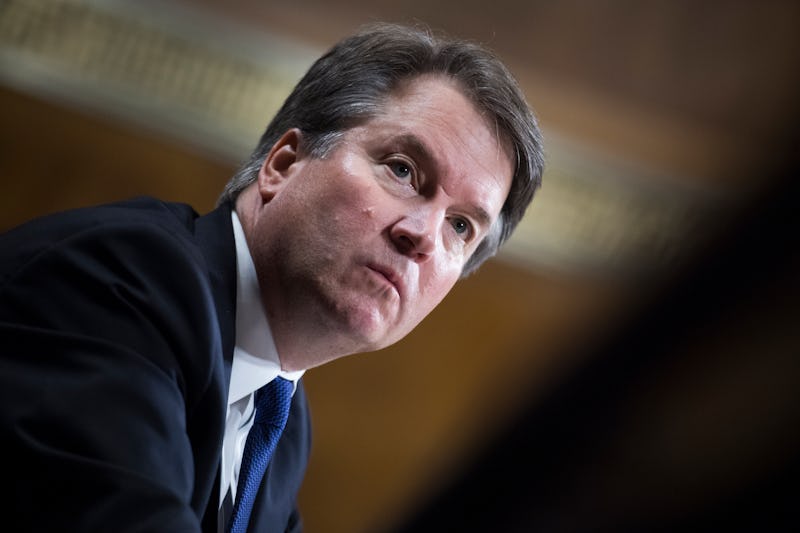 Pool/Getty Images News/Getty Images
Justice Brett Kavanaugh has been sworn in and is slated to jump into work on the Supreme Court on Tuesday morning. Kavanaugh's first Supreme Court cases will deal with a range of issues, which means his influence on the court will be almost immediate.
Because the new Supreme Court term began a week before Kavanaugh was confirmed and sworn in, he missed hearing several cases and will therefore not be involved in handing down those deliberations. However, that doesn't mean he won't be getting right to work. The Supreme Court is set to hear four different cases between Tuesday and Wednesday, according to its calendar, and barring any illness or last minute emergency, these cases will mark the official beginning of Kavanaugh's tenure as a Supreme Court justice. While Americans will no doubt watch Kavanaugh closely as he begins his new position, USA Today reports that the cases on deck for the new term are not expected to produce highly-contentious landmark decisions.
The first case scheduled is Stokeling v. United States, which deals with the 1984 Armed Career Criminal Act, according to SCOTUS Blog. The law sets a 15-year minimum sentence for crimes involving firearms if the offender has three "serious" prior drug or "violent felony" convictions. The case calls into question what qualifies as a "violent felony" because different states classify crimes in different ways.
The second case on deck for Tuesday also deals with the Armed Career Criminal Act. United States v. Stitt considers what kind of structures can technically be "burgled," particularly if they are temporary or mobile, per SCOTUS Blog.
Wednesday will feature two separate cases — Nielsen v. Preap and Air and Liquid Systems Corp. v. DeVries — according to the Supreme Court's public calendar. Nielsen v. Preap, according to the ACLU, concerns the legality of keeping an undocumented immigrant in holding without a hearing for the length of his or her deportation proceedings, because of their criminal background. The case is also particularly interested in situations where an individual isn't currently in custody.
In turn, Liquid Systems Corp. v. DeVries involves products liabilities. The lawsuit was filed by two Navy widows who argue that late spouses developed cancer because of asbestos exposure on Navy ships and naval yards, per Oyez. The company being sued did manufacture the equipment, but is not the party that added asbestos-containing insulation. The case questions whether the defendant "can be held liable under maritime law for injuries caused by products that they did not make, sell or distribute," according to SCOTUS blog.
There is also a slight possibility that Kavanaugh will vote on an issue concerning executive branch authority, but according to Politico, his weighing in on such a decision within his first several days on the job could be so controversial that Chief Justice John Roberts may preemptively fend off Kavanaugh's participation. The Trump administration is attempting to block depositions collected from Commerce Secretary Wilbur Ross and Justice Department civil rights chief John Gore as part of lawsuits against citizenship status inquiries included on the 2020 census.
Though their initial request to block the depositions was rejected, the administration may try again. If the court is split on the issue, Kavanaugh may have to cast the tie-breaking vote, but as explained by Politico, Justice Roberts might consider changing his own vote just to prevent that tie. However, that isn't yet a guarantee. For now, the only cases which Kavanaugh will participate in are those that are already scheduled.