Kazuo Ishiguro Wins The Nobel Prize In Literature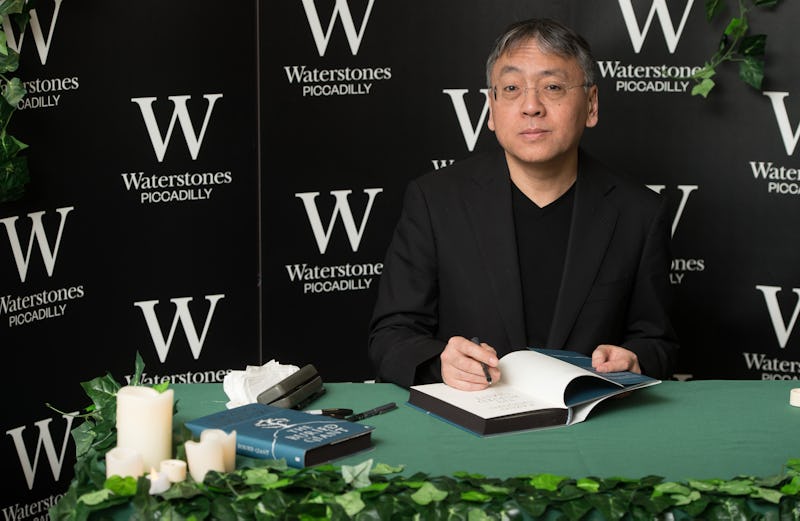 Ian Gavan/Getty Images Entertainment/Getty Images
On Thursday, the Swedish Academy announced that Never Let Me Go author Kazuo Ishiguro won the Nobel Prize for Literature for 2017. The Japanese-born English author's win follows a controversial year when the Swedish Academy bestowed the $1.2 million prize upon American songwriter Bob Dylan. The win was a surprise for many who were expecting the Swedish Academy to give the prize to perennial favorites like Haruki Murakami or Margaret Atwood, who always fare well in the pre-announcement betting on Ladbrokes.
Kazuo Ishiguro also bucks tradition for the Swedish Academy, who have a tendency to award global authors who don't have a large fanbase in the United States. Ishiguro — though born in Nagasaki in 1954 — has lived in Britain since 1960, and writes in English. Additionally, the novelist already has a great deal of international acclaim. He has written several books, many of which are recognizable titles, including The Remains of the Day, for which he won the Man Booker Prize in 1989, When We Were Orphans, The Buried Giant and Never Let Me Go. Three of his films — The Remains of the Day, The White Countess, and Never Let Me Go — have been adapted into films, with stars such as Anthony Hopkins, Emma Thompson, Keira Knightley, and Andrew Garfield attached.
As the Swedish Academy notes, Ishiguro is most associated with themes of memory, time, and self-delusion, and many of his novels take place in the past.
Alfred Nobel — who provided for the five Nobel prizes (Physics, Chemistry, Medicine, Peace, and Literature) in his will in 1895 — left fairly vague instructions for the selection of a literary honoree. According to the Nobel Prize's official site, he said only that the winner should have produced "the most outstanding work in an ideal direction." What an ideal direction means was left to the discretion of the Swedish Academy, though they also adhere to the direction Nobel specified for all five prizes — that the work should have bestowed "the greatest benefit on mankind."
Peter Englund, the Permanent Secretary of the Swedish Academy, had a much more detailed answer on the question of how they choose a Nobel Prize in Literature winner. He says the Nobel Committee — which has 18 members, seven of whom comprise the Nobel Committee on Literature — review the nominations in February. They narrow them down to a shortlist of 20 names, then they narrow it down to just five names. Those finalists are approved in May, and the committee members spend the summer learning about the authors. When the Academy meets again in September, they begin discussing the winner. They usually decide by early October.
Nobel Laureate TK will present a lecture and receive their prize at an awards ceremony in Oslo on December 10, the 121st anniversary of Alfred Nobel's death.
More to come....