Keira Knightley Says Kate Middleton's Post-Birth Appearances Are Problematic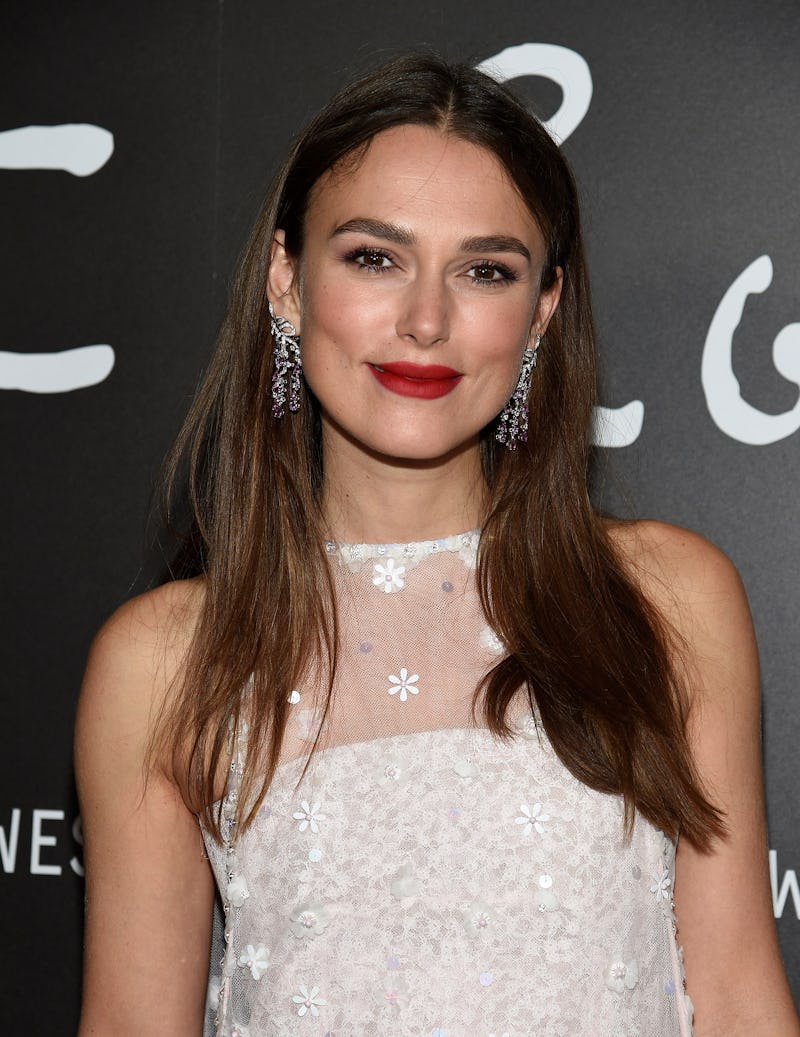 Kevork Djansezian/Getty Images Entertainment/Getty Images
Keira Knightley gave birth to her daughter, Edie, in May 2015 — the day before Kate Middleton gave birth to Princess Charlotte. That proximity forms a central theme of the actor's searing new essay in feminist collection Feminists Don't Wear Pink (And Other Lies), compiled by The Pink Protest co-founder Scarlett Curtis. As Refinery29 reports, Keira Knightley confronts Kate Middleton's post-childbirth public appearance, contrasting it with the bloody, brutal reality of her own experience of giving birth.
Knightley opens the essay frankly: "My vagina split," she writes, as if to her daughter. "You came out with your eyes open. Arms up in the air. Screaming. They put you on to me, covered in blood, vernix, your head misshapen from the birth canal. Pulsating, gasping, screaming." She describes her waters breaking, leaving her favourite shoes "crusted and sticky," and the first time she breastfed her daughter. "You latched on to my breast immediately, hungrily, I remember the pain," Knightley writes. "The mouth clenched tight around my nipple, light sucking on and sucking out."
The day after giving birth, the actor watched Kate Middleton's first public appearance with Princess Charlotte. "We stand and watch the TV screen. She [Middleton] was out of hospital seven hours later with her face made up and high heels on. The face the world wants to see," Knightley recalls.
"Hide. Hide our pain, our bodies splitting, our breasts leaking, our hormones raging. Look beautiful. Look stylish, don't show your battleground, Kate. Seven hours after your fight with life and death, seven hours after your body breaks open, and bloody, screaming life comes out. Don't show. Don't tell. Stand there with your girl and be shot by a pack of male photographers."
Knightley goes on to address the differing expectations of male and female parents in Hollywood, and the exhaustion of being a working mother. "I turn up on time, word perfect, with ideas and an opinion. I am up with you [her daughter] all night if you need me. Sometimes I cry I'm so tired. Up with you all night and work all day." Male actors, she says, "can be late, can not know their lines. They can shout and scream and throw things. They can turn up drunk or not turn up at all. They don't see their children. They're working. They need to concentrate."
Men she's worked with, Knightley says, have treated her with disdain. "They belittle me, they try not to listen to me, they don't talk to me, they don't want to hear my voice, my experience, my opinion," she writes.
Knightley also recently addressed the impact of fame on her mental health, during an appearance on the Hollywood Reporter's "Awards Chatter" podcast. "It's amazing looking back at it from the outside," she said of the breakout years of her career, from 2002's Bend It Like Beckham, to Pirates of the Caribbean and Love Actually in 2003. "But, from the inside, all you're hearing is the criticism, really."
By the time she received her BAFTA nomination for 2007's Atonement, Knightley hadn't left her house in three months. "I remember having conversations with my agent and going, 'I can't get there,' and everyone going, 'If you don't get to the BAFTAs, the heat on you is going to be ten times more.' So I actually did hypnotherapy so that I could stand on the red carpet at the BAFTAs and not have a panic attack," she said.
"I did have a mental breakdown at 22, so I did take a year off there and was diagnosed with post-traumatic stress disorder because of all of that stuff," Knightley continued. "I went deep into therapy and all of that, and she [the therapist] said, 'It's amazing — I normally come in here and have people that think people are talking about them and they think that they're being followed, but actually they're not. You're the first person that actually that is happening to!'"
Knightley's latest performance, as writer Sidonie-Gabrielle Colette in period biopic Colette, debuted at Sundance 2018 to effusive praise, and the actor said that she's overcome both the pressures of public opinion and her own self-doubt. "I'm in a good place where I feel pretty confident about what I can do," she said. And if the reviews of Colette are anything to go by, Keira Knightley can do something pretty remarkable.