Sing Along To Urban & Underwood's "The Fighter"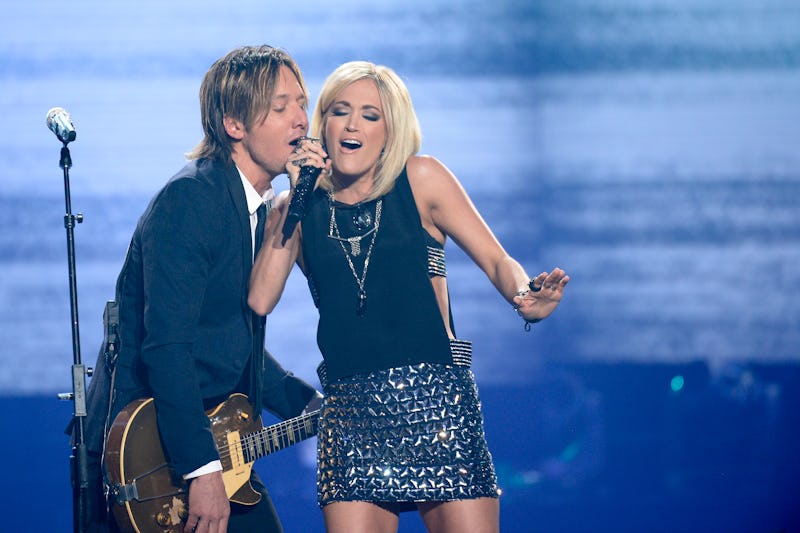 Kevork Djansezian/Getty Images Entertainment/Getty Images
The best in today's music will be honored by the 2017 Grammy Awards on Sunday, Feb. 12, and the show will also showcase some of the hottest — and unexpected — collaborations. Lady Gaga is set to perform with Metallica at the awards show, while Keith Urban and Carrie Underwood will debut their own duet. The lyrics to "The Fighter" by Keith Urban featuring Carrie Underwood prove that the new single is so much more than a country song — this catchy pop track could be a big crossover hit.
"The Fighter" was officially released as a single on Feb. 6 and the duo will bring the tune to center stage as they perform it at the Grammys on Sunday night. The song comes from Urban's hit album Ripcord, which was released last year and is nominated for Best Country Album at the Grammys. Around the same time of the album's release, Urban released a playful "Carpool Karaoke"-style video of himself and wife Nicole Kidman singing along to "The Fighter" in their car. The couple looked very much in love as Urban seemed to serenade her and she sang Underwood's parts in the chorus. Urban told HITS Magazine that the lyrics to the song were actually inspired by the beginning of his and Kidman's relationship, which makes the couple's video very sweet — and it should make for a lovely Grammy duet by Urban and Underwood.
"A lot of those really simple, tough lines in 'The Fighter' are straight from early in my relationship with Nic," Urban told HITS. "What she needs, and it's in the song, is for me to stay, to be close, to hear her." He also told CMT that he wanted to reflect open communication in the track: "I was thinking about how long it'd been since I heard a song with a guy and girl actually speaking back and forth to each other."
The song begins with the main singer (Urban) expressing his love and devotion to his lover, despite the lover's fear of taking a chance on him.
I know he hurt you
Made you scared of love, too scared to love
He didn't deserve you
Cause your precious heart is a precious heart
He didn't know what he had and I thank God, oh, oh, oh
And it's gonna take just a little time
But you're gonna see that I was born to love you
The featured singer (Underwood) is presumably the lover and voices concern in a sweet call-and-response chorus.
UNDERWOOD: What if I fall?
URBAN: I won't let you fall
What if I cry?
I'll never make you cry
And if I get scared?
I'll hold you tighter
When they're trying to get to you baby, I'll be the fighter
In the second verse, the main singer offers compliments, reassurance, and his willingness to help his lover heal. Cue the swooning.
Look in the mirror
You're beautiful, so beautiful
I'm here to remind you
You're my only one, let me be the one
To heal all the pain that he put you through
It's a love like you never knew
Just let me show you
The chorus repeats two more times before Urban and Underwood combine for the song's bridge.
UNDERWOOD: I wanna believe that you got me baby
URBAN: I swear I do from now until the next life
I wanna love, wanna give you all my heart
Last week, Urban tweeted a video with Underwood, teasing the release of the song's music video soon, so in the meantime, get to know the lyrics and check out their Grammys duet on Sunday night.