This Is The Most Inclusive Street Style Account You'll Find On Instagram Right Now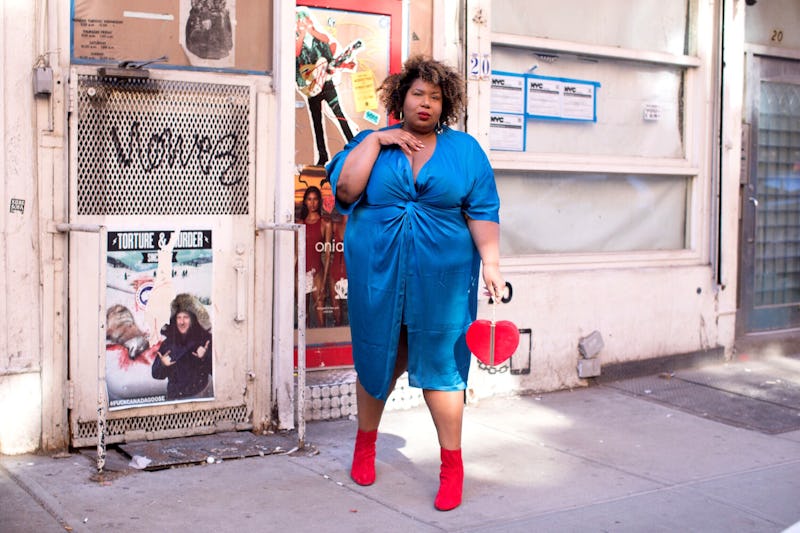 For plus size fashion enthusiasts, Kellie Brown is a social media mainstay, a blog that you've got to check at least once per week. First posting on her personal Instagram, @itsmekellieb, Brown's vibe is a combination of lifestyle, beauty, travel, and style inspiration. In addition to creating beautiful, well-curated content, Brown's influence also comes with a message, one that encourages women to get out, get dressed, and enjoy the world — regardless of their size. That fearlessness is definitely reflected in her own personal style: Brown's outfits, which she posts almost daily, are always surprising, always creative, and always push the boundary of what plus size women are "supposed" to wear.
And it's not just about her, either. To push the conversation one step further — and to continue to push the boundaries of her own closet — Brown started @andigetdressed, an Instagram destination for inclusive, elevated size street style. It's incredible to see the images she curates as a collection: The subjects she chooses to showcase are all diverse in size and race, and all have their own unique perspective on fashion and a very strong sense of personal style, and all feel like they could be on the pages of a magazine. To see elevated plus size fashion alongside straight size fashion is still far too rare in the industry, and that's why Brown's @andigetdressed is such an important social media fashion destination.
Below, Brown discuses her hopes for the future of plus size fashion, the trends she's looking forward to seeing in 2018 and beyond, and which brands are already doing it right.