Kelly Clarkson Is Hosting The 2018 Billboard Music Awards & She Is SUCH A Perfect Choice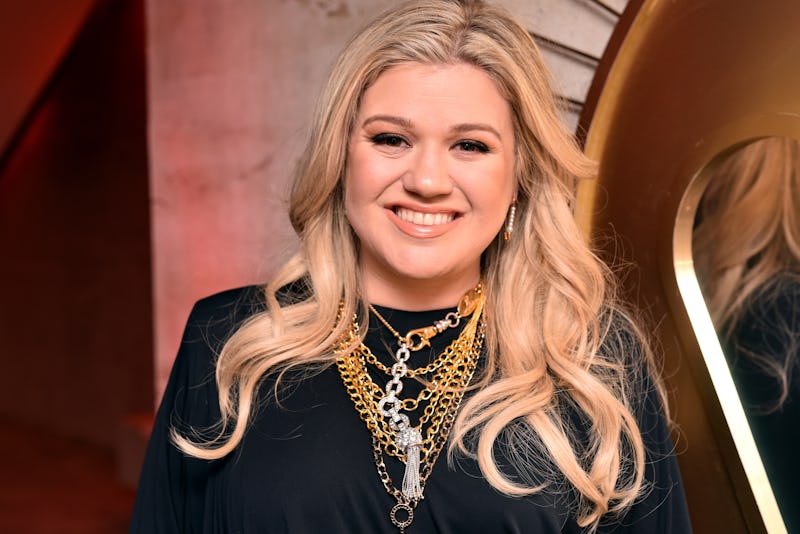 Jared Siskin/Getty Images Entertainment/Getty Images
Kelly Clarkson has ruled the Billboard charts with her hit songs and now, she's set to take the stage in a different way. On Tuesday, April 17, NBC announced that Kelly Clarkson is hosting the 2018 Billboard Music Awards on Sunday, May 20. According to Billboard, this will be the first year that the BBMAs will be aired on NBC.
Clarkson said the following in an enthusiastic statement to Billboard about the hosting gig:
"To prepare for hosting the Billboard Music Awards, I already have 20 costume changes planned. I will be flying in like my girl P!nk, and calling Amy Schumer and Sarah Silverman for jokes. Well, or I'm just gonna show up and celebrate my favorite artists and get to know a few more. Yeah, maybe I'll go with that plan."
NBC Entertainment President, Alternative and Reality Group Paul Telegdy praised Clarkson's enthusiasm in his own statement via an NBC press release: "Kelly Clarkson has long been a Billboard chart phenomenon and has a first-hand understanding of what matters most in music today. Her enthusiasm for all genres of music and her innate sense of humor will make for a truly memorable night."
Clarkson herself is a veteran of the Billboard Hot 100 charts with 27 hits, including her No. 1 debut single, "A Moment Like This" in 2002, which was released after she was crowned as the first winner of American Idol. The singer's singles "My Life Would Suck Without You" and "Stronger" also reached No. 1 on the Billboard chart. Her latest album Meaning of Life reached No. 2 on the charts upon release in 2017. And Clarkson isn't a stranger to accolades from Billboard, either. Last year, the Billboard Women in Music Awards awarded her the Powerhouse prize.
Past hosts of the BBMAs include Ludacris and Vanessa Hudgens, Ludacris and Ciara, Ludacris and Chrissy Teigen, and Ludacris solo. Clarkson is the first solo female host for the award show and she's the perfect person to do it. According to Vulture, this is Clarkson's first hosting gig — and it might not be the last.
Currently, Clarkson is a coach on the NBC music competition series The Voice. She is also a mom to two young children with her husband, talent manager Brandon Blackstock.
On The Voice, Clarkson has been working with many talented singers during her first season on the NBC series, including the 15-year-old singer Brynn Cartelli. According to the Boston Globe, Clarkson declared in the April 3 episode that "Brynn will be the youngest person ever to win this show. I didn't say 'could' — I said 'will.'"
Cartelli told the publication that Clarkson has been sharing her music industry wisdom as her coach. "[Kelly's] really able to understand what we're going to feel like and what it's going to be like," Cartelli told the Boston Globe. "She has advice for how to keep control and how to put the best performance out there and show all those sides of my voice within, like, a minute and 50 seconds."
Next, Clarkson will take on the hosting gig at the 2018 Billboard Music Awards on May 20. The awards ceremony will take place at the MGM Grand Garden Arena in Las Vegas, according to Billboard. Earlier on April 17, Billboard announced the award nominees; Kendrick Lamar, Ed Sheeran and Bruno Mars led nominations with 15 BBMA nominations each. The nominees for the Top Artist award include Taylor Swift, Drake, Pulitzer Prize winner Kendrick Lamar, Bruno Mars, and Ed Sheeran.
To see who wins and Clarkson take the stage as host, tune into the BBMAs on May 20 on NBC.