Kellyanne Conway Calls Out Sexism When It's Convenient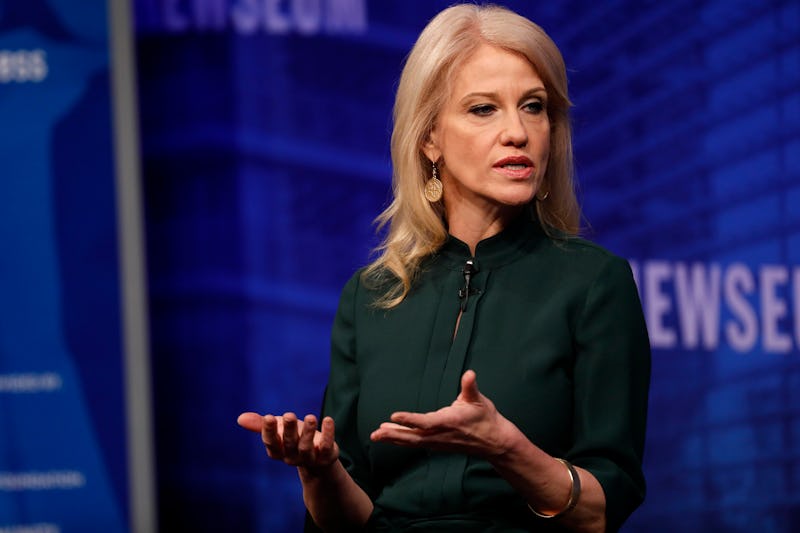 Aaron P. Bernstein/Getty Images News/Getty Images
Anderson Cooper received a lot of virtual applause on Twitter when he rolled his eyes during an on-air interview with Kellyanne Conway, but Conway thought Cooper's behavior was far from amusing. In fact, Conway accused Cooper of sexism during her Thursday appearance on Fox & Friends, and then went one step further to argue that he wouldn't have dared to roll his eyes at Hillary Clinton or a spokeswoman for a Democratic president.
In criticizing Cooper, Conway also tried to draw a contrast between her own experiences with sexism and those faced by Clinton. "Hillary Clinton is in search of sexism as a lame excuse for why her disastrous candidacy and campaign lost six months ago," she said. "I face sexism a lot of times when I show up for interviews like that."
So, was Cooper's eye-roll sexist? Conway believes so. But that being said, it is one thing for Conway to call out Cooper for his unprofessional behavior toward her, and it is another thing entirely for her to invalidate the sexism faced by other women. Her refusal to acknowledge universal sexism does not negate the fact that she can experience it herself, but she should have acknowledged that Clinton and other women have also had similar experiences rather than trying to distance herself from them.
There is no doubt Clinton experienced sexism during her campaign, and while there were numerous other reasons for her loss in the election, it would be willfully ignorant to argue that sexism did not play its part. But Conway's reaction to Cooper's eye-roll is about more than that. If we look at the facts, Conway has not exactly been a well-known advocate for women's rights. It seems that she only tries to combat sexism when it's convenient and when it directly concerns her.
Her accusation against Cooper isn't the first example of this. Back in November, Conway called an MSNBC clip sexist because it reported that Trump was furious with her comments about Mitt Romney. Then, earlier this year, Donald Trump aide Sebastian Gorka described Jake Tapper's treatment of Conway during an interview as sexist — despite the fact that Tapper was grilling Conway because she occupies a powerful position in the Trump administration.
This is an important discussion to have. Being a Republican does not mean that Conway deserves to be treated in a sexist manner. For example, a photo circulated back in February that seemed to show Conway with her feet up on a couch in the Oval Office. Critics immediately slammed Conway for her disrespect, but she said she was just trying to capture a photo from a certain angle. That was a sexist critique that she did not deserve.
What really should be a cause for concern is when Conway uses allegations of sexism specifically to avoid accountability — either personally or on the president's behalf. Conway could call out sexism in other cases, too, and not just when it happens to her. She should acknowledge that anyone can be the recipient of sexist remarks or actions — even if they are happening to women on the other side of the political aisle.
Conway tried to turn a conversation about Trump's hypocrisy into a celebration of his campaign's success in Michigan. She veered completely off topic, and it was absurd. But Cooper's response was unprofessional, and Conway felt that he was being sexist.
Conway seems to believe that sexism is only real when it is happening to her, and not when it happens to other women; that is what is truly dangerous here. In perpetuating this narrative, she is making it more and more difficult for other women to come forward and report their encounters with sexism, because she has invalidated their experiences before they have even opened their mouths.