Kellyanne Conway Suggested Women Actually See "Our Husbands, Our Sons" In Kavanaugh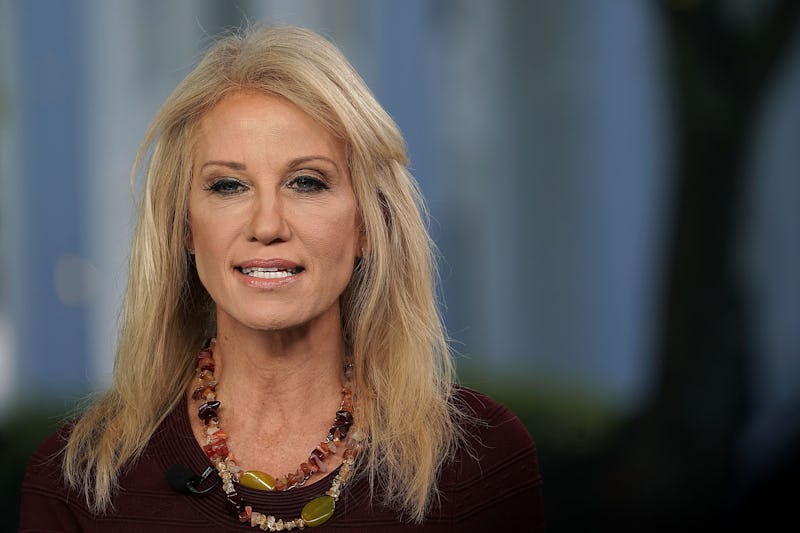 Alex Wong/Getty Images News/Getty Images
Though Brett Kavanaugh has officially been confirmed to the Supreme Court, both Republicans and Democrats are still trying to make sense of how his contentious nomination played out. One such person is Kellyanne Conway, who says Kavanaugh actually reminds women of "our husbands, our sons."
Speaking with ABC on Sunday, Conway said that many women in America viewed sexual misconduct allegations against Kavanaugh as a "political character assassination." Kavanaugh has repeatedly denied all allegations against him. "I've never sexually assaulted anyone," Kavanaugh said before the Senate Judiciary Committee in September. "Not in high school, not in college, not ever. Sexual assault is horrific."
"And, also," Conway continued, according to footage of the interview posted by ABC, "we looked up and saw in him possibly our husbands, our sons, our cousins, our co-workers, our brothers."
Conway said that the events surrounding Kavanaugh's nomination were "a very low point" for those advising the president on judicial nominations, and expressed frustration that Democrats relentlessly scrutinized the allegations against Kavanaugh. She suggested that his critics were primarily interested in portraying him in a negative light. "They wanted America to look up and see Brett Kavanaugh as a gang rapist," she said.
Conway referenced a part of Kavanaugh's testimony wherein he said his young daughter had suggested praying for his first accuser, Christine Blasey Ford. "And this was — this was unfair. Had they shown Brett Kavanaugh the grace and dignity that his 10-year-old daughter showed Dr. Ford, that we all showed her in her testimony and in the FBI supplemental investigation... " she trailed off, adding, "And I think there should be some soul-searching, but it's not the Supreme Court."
That Conway would continue to defend Kavanaugh is not out of character. For more than two years now, she has gone on television to defend President Trump and the vast majority of his decisions, including his decisions about whom to nominate to the Supreme Court.
On Saturday, following Kavanaugh's successful confirmation vote, Conway praised the justice on Twitter. "Your refusal to quit amidst the bullying, harassment, insults and lies is a great lesson to our children," she wrote. "Millions of women are thrilled you are on the Court. #metoo."
Kavanaugh's confirmation marked a significant win for Republicans, who have now approved two new justices to the Supreme Court under President Trump. Typically, presidents nominate justices whose political ideologies are similar to their own, and President Donald Trump has done precisely that. Because Supreme Court justices serve for life, unless they opt to retire, this means that Kavanaugh could impact the court's decisions for the next three or four decades. In many ways, Trump has established a legacy in Washington that will far exceed his own presidential term.
President Trump also took a victory lap over the weekend, praising the Senate for confirming Kavanaugh. "I applaud and congratulate the U.S. Senate for confirming our GREAT NOMINEE, Judge Brett Kavanaugh, to the United States Supreme Court," he wrote on Twitter. "Later today, I will sign his Commission of Appointment, and he will be officially sworn in. Very exciting!"
Many of Kavanaugh's critics have pivoted their attention to the upcoming midterm elections. Though they cannot vote Kavanaugh off the court, they're focused on impacting who voted to put him there in the first place.