Kellyanne Conway Admitted The Family Separation Policy Doesn't Sit Well With Her Either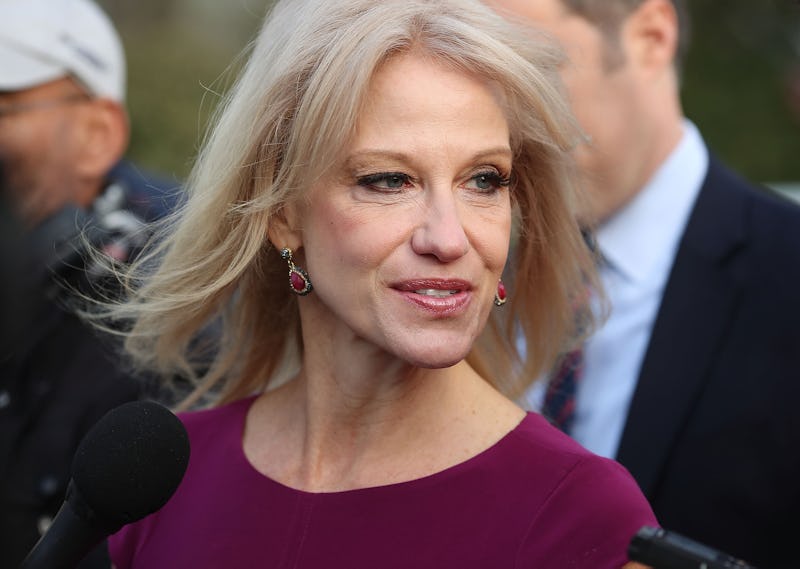 Mark Wilson/Getty Images News/Getty Images
The Trump administration's policy of separating children from their parents at the southern border has dominated headlines all week. Now, it turns out the policy isn't exactly popular inside the White House either. On Sunday during an appearance on Meet the Press, Trump counselor Kellyanne Conway commented on the immigration policy, admitting "nobody likes" to see children and parents separated.
"Let me just tell you, that nobody likes seeing babies ripped from their mothers' arms, from their mothers' wombs frankly," Conway said, with a possibly veiled allusion to abortion. "But we have to make sure that DHS's laws are understood through the soundbite culture that we live in."
Conway joined a chorus of administration officials who are not fully backing it, but who also don't seem to be advocating for a change to the zero-tolerance policy. House Speaker Paul Ryan said on Friday that he's uncomfortable with the separation policy. "We don't want kids to be separated from their parents," Ryan said, according to CNBC.
First Lady Melania Trump also voiced her discomfort with the policy on Sunday. "Mrs. Trump hates to see children separated from their families and hopes both sides of the aisle can finally come together to achieve successful immigration reform," Melania said through a statement issued by her communications director, Stephanie Grisham.
Conway also said during her interview that the president is "ready to get meaningful immigration reform" passed, but failed to mention that Trump still blames his administration's zero-tolerance policy on the Democratic Party.
Conway elaborated on the specifics of the policy later in the interview. "There are three circumstances by which DHS evaluates a child at the border. One is: Does this child actually have a custodial familiar relationship with the adult? And number two: Is the child in any danger?" Conway said. "And number three: Is the adult subject to criminal prosecution?"
She also suggested that adults are using children as a reason for migration. "Some adults are using children to gain access at the border," Conway said without providing evidence.
"This is a perilous journey for many of these children, and if people really cared about them we would figure out a way to get the funding to expand the centers and to close the loopholes," Conway said. "These loopholes are allowing open border policies."
If Democrats are "serious" about immigration reform, she went on to suggest, they will come to the table. "I think what the president is saying is if the Democrats are serious, they'll come together again and try to close these loopholes and get real immigration reform."
When pressed by Meet The Press host Chuck Todd about supporting the administration's policy, Conway said she did not want the kids to be used "as leverage" for immigration reform.
Then Todd and Conway went back and forth about if such a policy of separation was even necessary. Conway said the children are being provided for. "They have the necessary medications, obviously food and shelter. They have exercise. They have education during the day," she said.
But for Todd, that was beside the main point. "Nobody's doubting they they're getting that they're reasonable care there," he pointed out. "The question is the most traumatic thing to do is taking them away in the first place [and] you don't have to. You don't have to be doing this."
Conway went on to suggest that children are separated from parents who commit crimes across the country. "But that happens in our country as well. In other words, if I commit a crime and I am put in jail, my four children are separated from their mother," Conway said, adding, "Why would you want the children in jail with their parents?"