Ken Jeong Put His Real-Life Doctor Skills To Excellent Use By Helping A Woman At His Show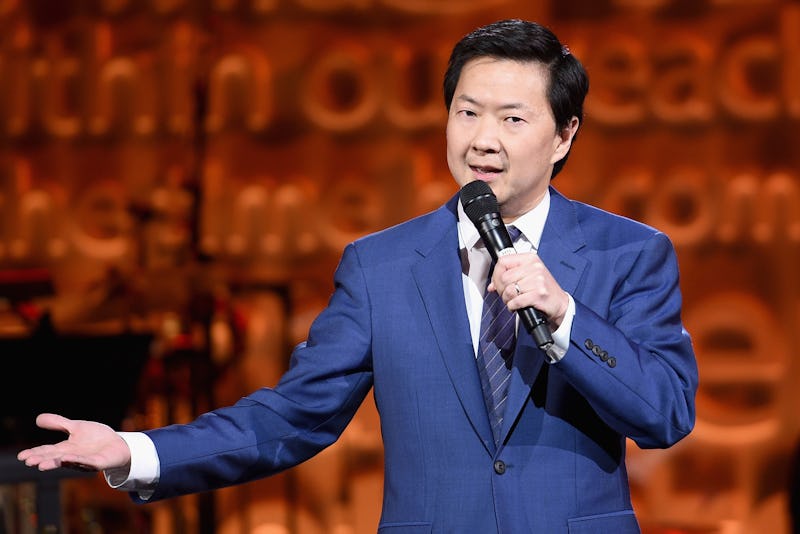 Dimitrios Kambouris/Getty Images Entertainment/Getty Images
This may just be the most wild, yet incredible, news you hear all day. According to TMZ, Ken Jeong helped a woman who was having a seizure, and he did it while in the midst of one of his stand-up sets. Jeong, who is still a licensed physician and surgeon in California, per Entertainment Tonight, got to put on his doctor cap once again to help one of the women in the audience of his Phoenix, Arizona show on May 5. TMZ reported that the woman, who was in the third row of the audience, began seizing towards the beginning of the comedian's set.
At first, Jeong thought that it was possibly a heckling situation. However, the other members of the audience signaled to him that it wasn't and sought out his help. It was then that Jeong left the stage and went to the woman's side. The comedian, along with an EMT in the audience who also assisted, stayed by her side until paramedics eventually arrived at the theater. TMZ also reported that while the actor was looking after the woman, she regained consciousness and was able to get to her feet before leaving with the paramedics to head to the hospital.
After the ordeal, Jeong took to the stage yet again to head right back into his set. It really just goes to show you that he's a professional through and through. Before he could fully resume the show, though, the audience, rightly, gave him a round of applause.
As previously mentioned, Jeong is a licensed doctor, which is why the audience members sought out his help during the emergency. According to People, the Hangover actor received his medical degree from the University of North Carolina at Chapel Hill. While he doesn't currently practice medicine, as he's a bit busy with his entertainment career, he was still able to put those skills to use when someone needed it most.
Jeong was able to incorporate his medical background in the ABC series Dr. Ken, which he created. In the series, which ran from 2015 to 2017, he starred as the title character who was, you guessed it, a licensed physician just like him. Jeong offered a little insight into his real-life "Dr. Ken" past in an interview with People. He explained that the medical community is still a big part of his life, as his wife and many of his friends still work in the field.
The actor also told the publication that even when he was a doctor, his love for all things comedy was still there. "I was so intense as a doctor, and I was always stressed out, patients were surprised I did stand-up comedy on the side," Jeong said. Ever since his breakout role in the 2007 comedy Knocked Up, the former doctor has been totally all-in on his comedy career.
In a guest column for The Hollywood Reporter, Jeong explained that he has his wife, Tran, to thank for his newfound entertainment career. After his appearance in Knocked Up, she implored him to pursue a full-time acting career. According to Jeong, she said, "If you don't pursue acting full-time now, you never will. You just did a Judd Apatow movie!" He took her advice and it has definitely paid off. Since starring in the 2007 film, the actor's appeared in three popular Hangover films, was on the show Community for six seasons, and, of course, had his own ABC series Dr. Ken.
In the same THR piece, Jeong also said that he renews his medical license every year "just in case." Given this recent emergency situation, it's great that he does keep up-to-date with his medical past, as his training and expertise really came in handy.