Kendall Jenner Stood Up For Herself In A Series Of Tweets About The Importance Of Privacy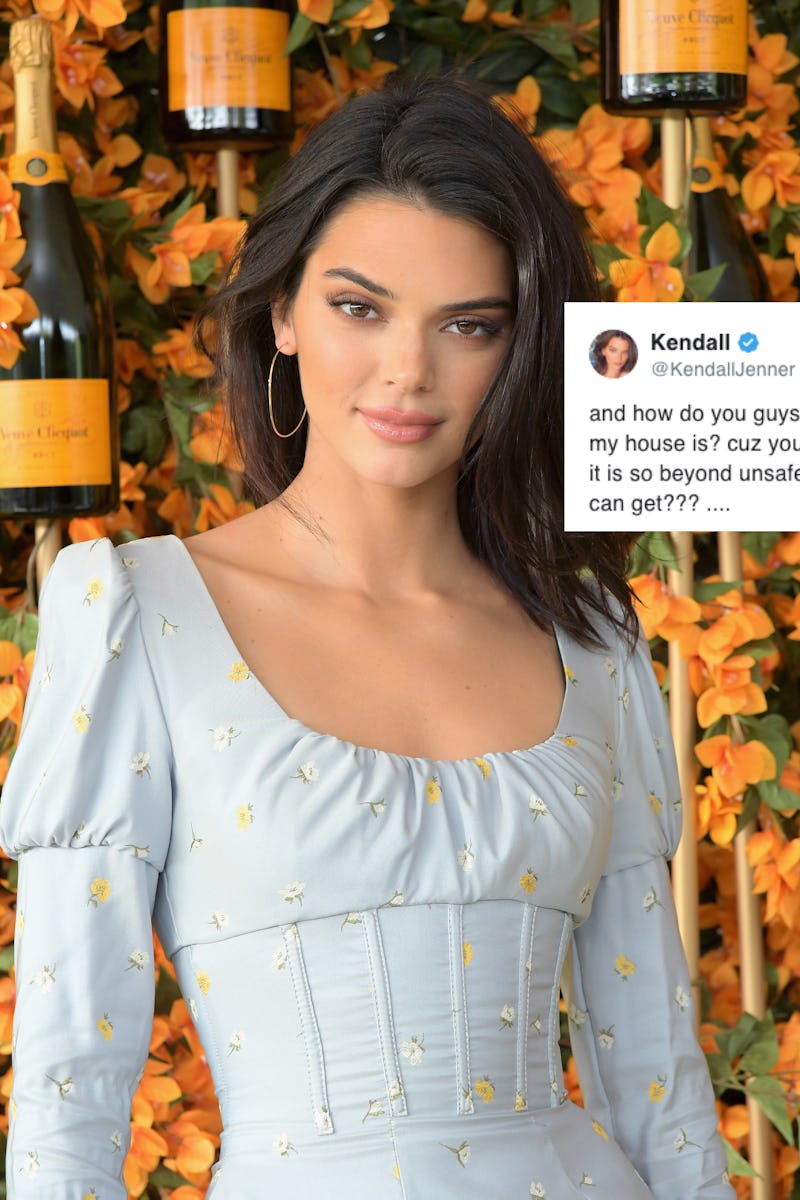 Charley Gallay/Getty Images Entertainment/Getty Images; Kendall Jenner/Twitter
Kendall Jenner may be one of the most famous faces around, but that doesn't mean the public should be entitled to her every move. On Oct. 18, the reality star even said as much. In response to a TMZ report on Twitter, Kendall Jenner highlighted how important her privacy is. And everyone, from news outlets to fans, should take note of her message.
Jenner's comments came in response to a report from TMZ that described how an alleged stalker appeared by her pool at her house, which is located in a gated community. Regarding the scary situation, the model responded on Twitter:
"and how do you guys think these terrifying people know where my house is? cuz you release not only photos but my location. it is so beyond unsafe. is this not our one ounce of privacy we can get???
She followed up that tweet with another message, where she acknowledged the fact that she's "signed up" for a life of fame by appearing on a TV series and working as a supermodel. But still, Jenner pointed out that her fame doesn't negate the fact that she deserves privacy, too. The Keeping Up With the Kardashians star said:
"i understand what i've signed up for but when you release the exact location to where i live THAT is when you're putting my life in danger. your home is your safe haven, but for me, cuz of outlets like you, my home is anything BUT. you should be ashamed of yourself."
In these tweets, Jenner brings up an incredibly important point regarding celebrities and privacy. Even though she's such a famous figure in the pop culture sphere — with her role on a prominent reality series and with various outlets covering so much of her daily life — that does not mean that people should have access to every part of her life, especially such a private one like the location of her home.
Naturally, fans are likely eager to see all kinds of updates on their favorite celebs. But like the KUWTK star said, her own safety and well-being should take precedence over anything else. Now, this may be an obvious point to many, but it's definitely one worth taking the time to truly highlight since it's become such a serious issue for many celebs, like Jenner.
This is a point that her sister Kourtney Kardashian co-signed, as she shared Jenner's tweets on her own Instagram Story and captioned them, "FACT," along with a few middle finger emojis.
Kourtney Kardashian/Instagram Story (screenshot)
Kourtney Kardashian/Instagram Story (screenshot)
In the past, Jenner has opened up about how important it is to still have her privacy, even though she's such a high-profile figure. She spoke to Harper's Bazaar in April 2017 and discussed how she strives to "feel as normal as I possibly can," even though with armed bodyguards following her, it can feel like anything but. When asked about her insistency on privacy, she said that she works at it "more than the rest of my family, I guess." Jenner continued to tell the publication,
"Just 'cause I think it's powerful. Plus, I think people always want what they can't have. It's nice to have some mystery."
Sure, Jenner noted in her tweets that she "signed up" for this life of increased attention. However, that is simply no excuse for major breeches of privacy, like someone breaking into her home. At the end of the day, the reality star is still a human being whose boundaries should be respected, especially as it concerns her personal safety and well-being. And that's something that everyone should be keen to keep in mind.