Kendrick Lamar's New Album Has A Name With A Deep Meaning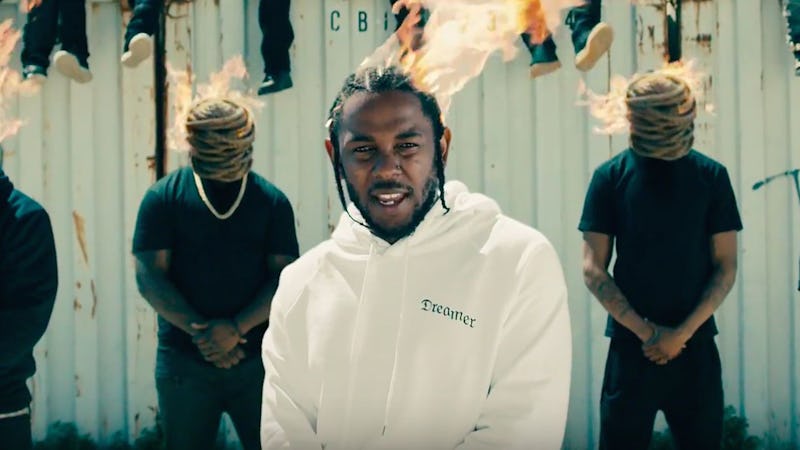 As if you weren't excited enough as it is for the imminent release of Kendrick Lamar's new album, the hip-hop artist has revealed some more details about it. And I hope you're comfortable, because, wow, guys, there's a lot going on here, and we need to talk about it. As well as revealing that the title of Lamar's latest album is Damn, the musician also shared the album artwork and track list for his latest release on Instagram. Rihanna and U2 are both guest artists on the album, and the artwork and track list seem to suggest that this may be an album full of personal and spiritual conflicts. As such, it might be an album with a significantly different tone and sound to Lamar's previous full length album, To Pimp A Butterfly.
The very fact that Lamar has chosen to call the album Damn immediately signifies that this might be an album with a specific religious focus, particularly focusing on the idea of being damned by God. That seems to be something reinforced by the song titles and artwork, which deal with ideas of sin, retribution, and of light and dark parallels.
It feels deliberate, for instance, that Lamar's recent single, "Humble" is listed on the track list right after a song called, "Pride." Just as it feels deliberate that a song by the title of "Lust" is followed by one titled "Love." In these track names, it seems clear that Lamar is making direct reference to two of the seven deadly sins ("Pride" and "Lust"), and then qualifying these songs immediately afterwards with parallel ideas for goodness and salvation from sin (being "Humble," and prioritizing "Love," over base desires of the flesh).
Considering the fact that there are 14 tracks on Damn, it could also be the case that the entire album is structured around the seven deadly sins in this same manner: delivering a song which addresses a sin, before following it up with a song that suggests the positive parallel state of that sin. Like the artwork of Damn, the songs may follow a structure of dark and light.
In March, during an interview with the New York Times style magazine, T, Lamar teased the idea that his new album may take on a spiritual direction, much different from the tone of To Pimp A Butterfly, saying:
I think now, how wayward things have gone within the past few months, my focus is ultimately going back to my community and the other communities around the world where they're doing the groundwork. To Pimp a Butterfly was addressing the problem. I'm in a space now where I'm not addressing the problem anymore. We're in a time where we exclude one major component out of this whole thing called life: God. Nobody speaks on it because it's almost in conflict with what's going on in the world when you talk about politics and government and the system.
Which is a powerful statement, one that seems to reveal that Lamar has been critically thinking about spirituality and religion in regards to the current political and social climate. For fans who have been following his music from the start, it won't be too surprising a move, since Lamar has always been outspoken about his Christianity and his faith. The musician even went so far as to say that he has "a greater purpose," to Complex magazine in 2014, explaining, "God put something in my heart to get across and that's what I'm going to focus on, using my voice as an instrument and doing what needs to be done." From the looks of things, this new album may have been created to do just that.
It's seems no accident that Lamar is releasing Damn on Friday April 14 — on Good Friday, the start of Easter — especially if the album is focused on the ideas of sin and suffering, and redemption from both. Whatever it all means, I can't wait to hear whatever he has in store for us, because you just know it's going to be nothing short of amazing.