Kendrick Lamar's Connection To His Emotions Is What Hip-Hop Needs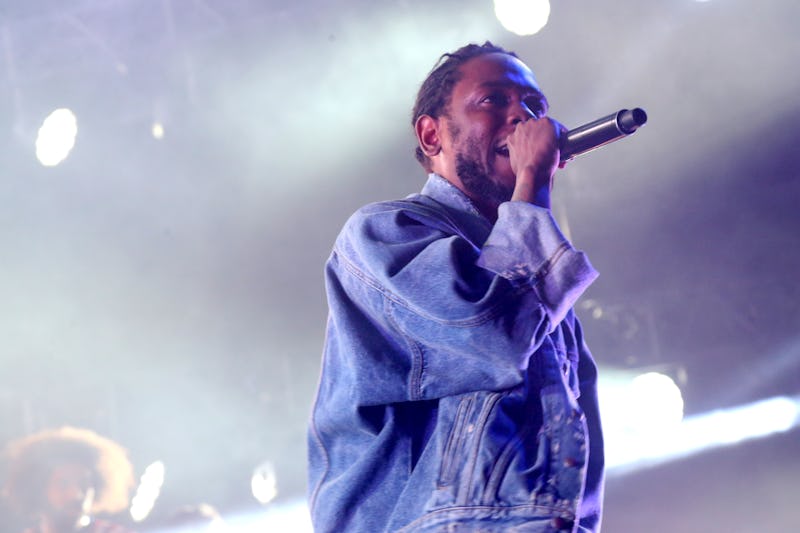 Bennett Raglin/Getty Images Entertainment/Getty Images
His third album DAMN. was certified double platinum in July. By August, Rolling Stone magazine dubbed him "the best rapper alive." But Kendrick Lamar is doing much more than collecting musical accolades. The Compton-born rapper is dismissing the hyper-masculine, emotionless image of hip-hop through his vulnerable lyrics and honesty. The shameless transparency that comes from Lamar's openness about his emotions is just what the genre needs these days.
In hip-hop, having everything from expensive cars to beautiful women is often what validates a rapper as a man. The status symbols show one is desired and successful. That he has it all. Yet Lamar has managed to become one of the biggest voices in hip-hop without flaunting his fortune or being seduced by fame. Instead, he is affirmed by having a sound mind and the confidence to voice his insecurities and pain.
By sharing his stories of growing up in Compton, witnessing murders as a young child, and watching friends go to jail, in a cerebral and unflinching way, Lamar is expanding the perception of rap. He not only discusses what made him into the man he is today, but also tells the story of his constant fight to maintain his composure after attaining the pinnacle of success. There is a life after making it in hip-hop — and it's not all private jets and exclusive parties. The 30-year-old told Rolling Stone, "Who you really are is when the lights cut off. It's about how much discipline you have."
When asked about his "sedate" lifestyle in contrast to most rappers, Lamar told the magazine that focusing on inspiring others has kept him on the track to success since childhood. In fact, the rapper credits his father as the first one to really tell him to "sit down" and "be humble."
Lamar told Rolling Stone,
"It taught me how to deal with [pauses] ... emotions. Better than a lot of my peers. When you see kids doing things that the world calls harmful or a threat, it's because they don't know how to deal with their emotions. When you have a father in your life, you do something, he'll look at you and say, "What the f*ck is you doing?" Putting you in your place. Making you feel this small. That was a privilege for me."
Lamar has translated these childhood lessons into his own form of therapy for his listeners. He stays true to himself and uplifts audiences by empathizing with their pain. Despite having the means to be flashy, he pushes himself to confront his emotions and trauma so much so that he told the magazine he even scares himself. "I do freak myself out, because you go somewhere emotionally and then you damn near become a robot to the emotion. You want to keep on doing takes over and over. That's when you really zone out and when you really connect with the audience."
Although the "LOYALTY." rapper also attributes his maturity to hanging out with an older crowd from a young age, his words prove that there is no shame in admitting when you need to check your ego and seek guidance.
Rather than resting on the success of his latest album, Lamar told the magazine his biggest vice is outdoing himself. He said he strives to avoid getting caught up in the typical rapper lifestyle. Instead, he leads by example by helping his listeners confront their issues much like his dad did for him. "Being on that stage, knowing that you're changing people's lives, that's a high," he said.
Music can be a fun, flashy form of escape for many people who just want to have a good time. For others, lyrics are therapy. Lamar's raps serve as a way to voice his pain and progress as a young black man in America. In his world, emotions, whether they are "FEAR.," "PRIDE.," or "LUST.", are powerful strengths that must be interpreted, understood, and most of all, heard.