This Kentucky Bill Would Let People Carry Concealed Weapons With No Permit Or Training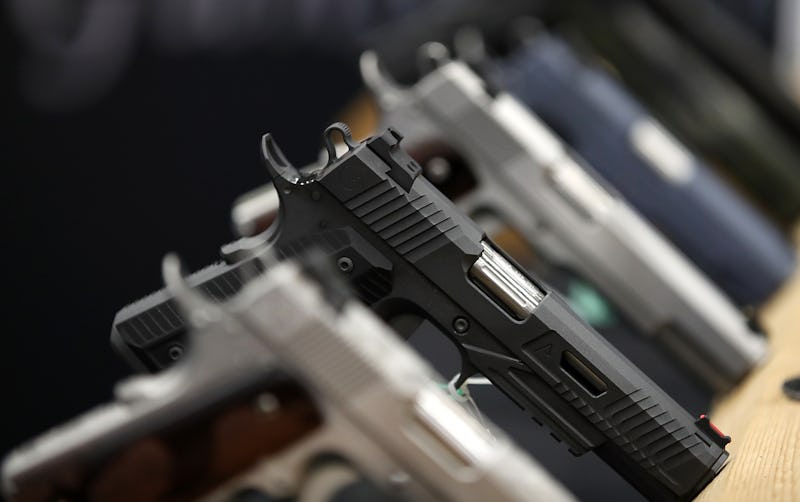 Justin Sullivan/Getty Images News/Getty Images
On the one-year anniversary of one of America's deadliest school shooting, state lawmakers in Kentucky advanced a bill that would legalize permitless carry. The bill, which passed the Kentucky state Senate 29-8 on Thursday, would allow those legally able to possess a gun to carry a concealed weapon without a permit or training.
"This is how our state decided to mark that anniversary of the deadliest high school shooting in our nation's history — pass more gun legislation, making it easier for people to carry weapons in our state," Connie Coartney, a member of Kentucky's Moms Demand Action for Gun Sense in America chapter, told The Lexington Herald-Leader.
If passed, the bill would reportedly make Kentucky the 15th state to have legalized permitless concealed carry, according to The Lexington Herald-Leader. In fact, as Kentucky state legislators were voting to advance Senate Bill 150 on Thursday, lawmakers in Oklahoma approved legislation legalizing concealed carry without a permit after a similar bill was vetoed by the state's then-governor last year. According to The Hill, Kevin Stitt, Oklahoma's new governor, is expected to sign the bill into law. A permitless carry law was also passed in South Dakota at the end of January, and is expected to go into effect in July, CNN has reported.
The bill's sponsors have argued that, as Kentucky residents can already legally open carry without a permit or training, their legislation is merely an attempt to make things fair. According to The Lexington Herald-Leader, one of the bill's sponsors, Republican state Sen. Brandon Smith, claimed it wasn't fair that wearing a gun under a coat requires a permit and training when wearing a gun outside of a coat does not.
"This bill decriminalizes wearing a coat in the state of Kentucky," The Lexington Herald-Leader reported Art Thomm, the Kentucky state director for the National Rifle Association (NRA) and another sponsor of the bill, said in a committee hearing.
According to the paper, Smith also argued the bill would benefit single working mothers by removing the training requirement and licensing fees for concealed carry, thus giving those low on time or money the ability to carry a concealed weapon. Currently, those looking to carry a concealed weapon in Kentucky must obtain a concealed deadly weapon (CCDW) license, according to the Kentucky State Police. To obtain such a license, an applicant must be 21 years of age and, among other things, successfully complete "a firearms safety or training course offered or approved by the Department of Criminal Justice Training."
But while an increasing number of states appear to be taking up NRA-supported bills regarding permitless carry, the Giffords Law Center to Prevent Gun Violence claims the majority of Americans oppose such legislation. According to the public interest law center, 87 percent of Americans said they "opposed allowing citizens to carry concealed handguns in public places if they don't have a permit" in a 2015 poll.
Kentucky's Senate Bill 150 will now head to the state's House of Representatives for a vote.