There May Be New Evidence In Kesha's Case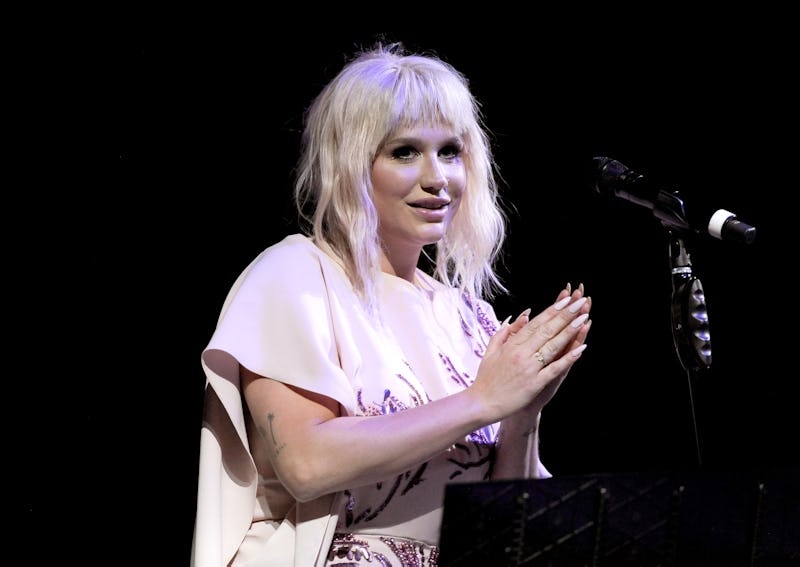 Angela Weiss/Getty Images Entertainment/Getty Images
For the past two years, Kesha has been trying to break ties with her longtime producer Dr. Luke, who she accused of assaulting her sexually, verbally, and physically. Dr. Luke has repeatedly denied these allegations throughout their legal battle, which has been at a standstill since late last year when a Manhattan judge ruled that Kesha could not be released from her recording contract, despite her claims of sexual abuse. In August, Kesha filed to drop her sexual assault lawsuit, but she continues to fight for control of her music career. Adding to that battle, Kesha has released a batch of emails that may show examples of the alleged abuse she suffered from the producer, according to The New York Post's Page Six.
Sony told Bustle they have no comment. Bustle also reached out to Dr. Luke's lawyer — as well as Kesha's lawyer, manager, and reps — for comment, but has not received responses at the time of publication. Update: Dr. Luke's lawyer released the following statement to Bustle on Thursday, February 16:
Kesha and her attorneys continue to mislead by refusing to disclose the larger record of evidence showing the bad faith of Kesha Sebert and her representatives which is greatly damaging to them. It also shows the tremendous support that Dr. Luke provided Kesha regarding artistic and personal issues, including Kesha's own concerns over her weight.
Rather than agree to a thorough disclosure, Kesha and her representatives improperly publicized, without Court permission, three out-of-context emails which do not present the full picture regarding the events they concern. For example, these emails do not show that the lyrics of "Crazy Kids" were, in fact, rewritten at Kesha's request.
Any claim by Kesha to the contrary is deceiving the public-just like her other meritless claims of wrongdoing by Dr. Luke. Dr. Luke looks forward to full vindication in Court.
Earlier: According to Page Six, the emails between Dr. Luke (real name Lukasz Gottwald) and Kesha's manager, Monica Cornia, include a 2012 message, in which the producer appears to be critical of the pop star's weight. "Nobody was calling anybody out," Gottwald reportedly wrote, according to a copy of the email published by Page Six. "We were having a discussion on how she can be more disciplined with her diet." Gottwald allegedly goes on to write, "many times we have all witnessed her breaking her diet plan." This time, he reportedly wrote, "it happened to be [D]iet [C]oke and turkey while on an all juice fast."
According to Page Six, Cornia allegedly replied by telling Gottwald he needs to be more supportive of Kesha, since she's "a human and not a machine." In reply, he reportedly wrote, "If she were a machine that would be way cool and we could do whatever we want." This message reportedly came after Gottwald allegedly wrote Cornia, "A list songwriters and producers are reluctant to give Kesha their songs because of her weight."
Kesha has been open about her struggles with an eating disorder, claiming to the New York Times Magazine last year that Dr. Luke body-shamed her by once calling her a "fat f*cking refrigerator," something Gottwald has denied. "I was under immense pressure to starve myself," Kesha told the magazine. "And I tried to and almost killed myself in the process."
In 2014, Kesha entered a residential treatment center for an eating disorder and depression. There, she got a chance to work through her pain with art therapy and found herself writing letters to her fans about her alleged abuser, even mentioning Dr. Luke by name in one letter, according to Buzzfeed. After two months, she left the facility and immediately did two things: She removed the dollar sign from her name, and she filed a lawsuit against Dr. Luke. "I was taking back my strength, and I was taking back my voice, and taking back my power, taking back my body," Kesha told NYT Magazine. "I'm just taking back my [expletive] life."
Kesha seems to be doing that once again. Page Six reported that in court papers filed this week, Kesha's attorney said the pop star wants to "be free from her abuser and rebuild her physical, emotional, and mental health." Last month, Kesha took the initial steps by filing a new amendment to her original claim that would allow her to dissolve her working relationship with Dr. Luke before his contract with Sony is up in March.
Dr. Luke is also seeking to add an additional defamation claim against Kesha, according to Page Six. The producer is reportedly accusing Kesha of sending a text message to Lady Gaga, claiming that Gottwald had raped her and another unnamed artist. Gottwald's lawyer, Christine Lepera, told Bustle in a statement on Jan. 31, "Kesha's new proposed counterclaim simply repeats the meritless and untrue allegations that were set forth in her earlier pleadings and which Dr. Luke fully disputes."
Page Six reported that the two are scheduled for a telephone conference with the judge next week.