Keshia Knight Pulliam Explains Her Support Of Bill Cosby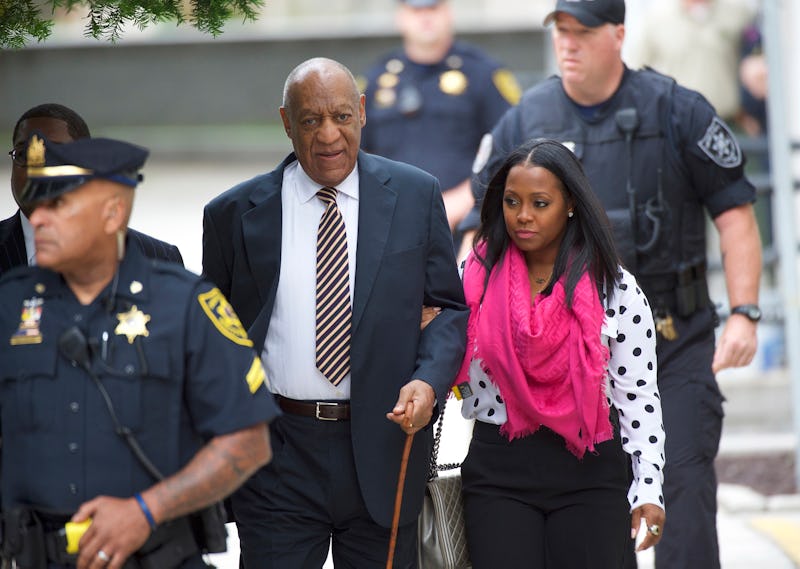 Mark Makela/Getty Images News/Getty Images
When Bill Cosby arrived at the courthouse in Pennsylvania on Monday, a familiar face was on his arm: Keshia Knight Pulliam, who played his TV daughter, Rudy, on The Cosby Show. This week began the sexual assault trial in which Cosby faces three charges of aggravated indecent assault brought against him by Andrea Constand, who accused him of drugging and assaulting her in 2005. After she shared her story in 2015, at least 50 other women came forward with similar stories. Cosby has denied all of these allegations and has sued some of the accusers for defamation. Now, Pulliam is explaining why she's supporting Cosby in court.
While talking to reporters as she was leaving on Monday, Pulliam said she wanted to be there so she could hear the facts and that only the jury can decide if Cosby is guilty or innocent.
According to E! News, she said:
"I came to support [Cosby] because this is where you hear the facts. This is where the truth happens. Ultimately, it's easy to support someone and to be in their corner when things are great. When things are good. But...true family, friendship, integrity is how people show up and support when things aren't looking so great, when they aren't shining."
Afterwards, Cosby shared a photo of himself and Pulliam together inside the courthouse on Twitter, thanking her for being there to support him that day.
Pulliam also told reporters that despite her appearance in court by Cosby's side, she doesn't take the charges made against him lightly: "I don't condone sexual assault in any way, shape, or form."
She said:
"My truth was to be here and to be supportive, and it's not always easy to do what you feel is truthful and what you feel is right when there's so much controversy. But ultimately, that's just how I've lived my life — in terms of being very genuine and authentic to who I am. And I can't stop doing that now. I just pray for all parties involved because this isn't a great situation. No matter what side of the coin you're on."
Cosby's trial will continue on Tuesday.