Kevin Hart's Homophobic Tweets Are Resurfacing & His Response Doesn't Offer An Apology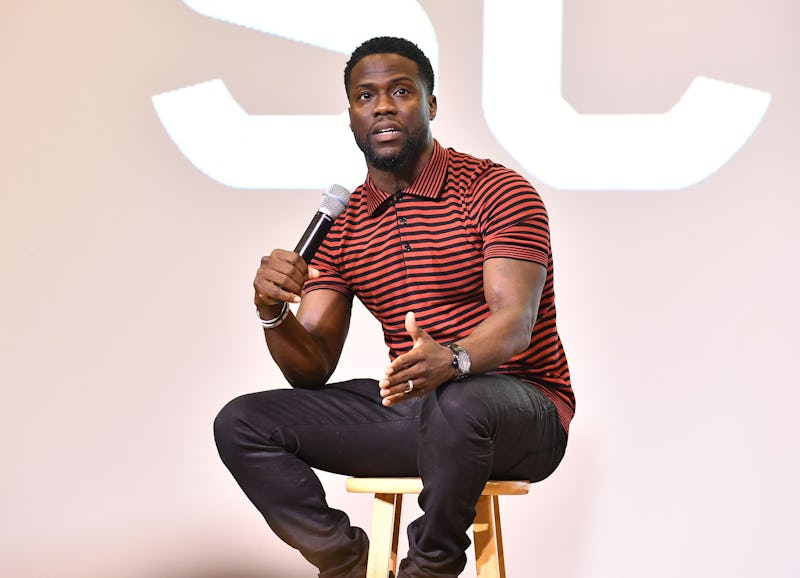 Paras Griffin/Getty Images Entertainment/Getty Images
Many are calling for the Oscars to replace its recently announced 2019 host after the comedian's homophobic tweets resurfaced on Thursday. In the face of this criticism, Kevin Hart's response to the Oscars backlash came in an Instagram post — and it didn't include an apology. Rather, Hart argued that Twitter haters should "take their negativity and put it in something constructive." In an attached Instagram video, Hart assured everyone that he was not going to go "crazy" over tweets he "did years ago."
Some of the tweets under fire were still on Hart's account as of Thursday, and others had been deleted. One of the still-active tweets was written in 2009 and read, "Lmao @ all of the woman asking me where the pic is, I'm not passing along a pic of a naked man!!! That would make me gay by association"
Another since-deleted tweet was written in 2011 and read, "Yo if my son comes home & try's 2 play with my daughters doll house I'm going 2 break it over his head & say n my voice 'stop that's gay'."
Still another quote came in the form of a Rolling Stone interview in 2015 in which Hart talks about a quote from a 2010 movie of his in which he says, "One of my biggest fears is my son growing up and being gay. That's a fear. Keep in mind, I'm not homophobic. . . . Be happy. Do what you want to do. But me, as a heterosexual male, if I can prevent my son from being gay, I will."
It's worth noting that Hart acknowledged this quote as potentially offensive and addressed that in the interview, saying, "The funny thing within that joke is it's me getting mad at my son because of my own insecurities — I panicked. It has nothing to do with him, it's about me...I wouldn't tell that joke today, because when I said it, the times weren't as sensitive as they are now."
"These things become public spectacles," Hart added, "So why set yourself up for failure?"
On Thursday, Hart faced exactly what he talked about three years ago: a spectacle of rage against his homophobic comments. In his Instagram post, Hart wrote in part, "If u want to search my history or past and anger yourselves with what you find that is fine with me. I'm almost 40 years old and I'm in love with the man I'm becoming. You LIVE and YOU LEARN & YOU GROW & YOU MATURE."
Then, in the attached video, Hart said something similar:
My team calls me: 'Oh my god, Kevin the world is upset about tweets you wrote eight years ago,'" he says. "If you don't believe people change, grow, evolve as they get older then I don't know what to tell you. If you want to hold people in a position where they always have to justify or explain their past, do you. I'm the wrong guy, man.
The Academy has not yet commented on the controversy; Hart remains the 2019 Oscars Host.