Kevin Spacey Allegedly Made Sexual Advances On An Actor Who Was Just 14 At The Time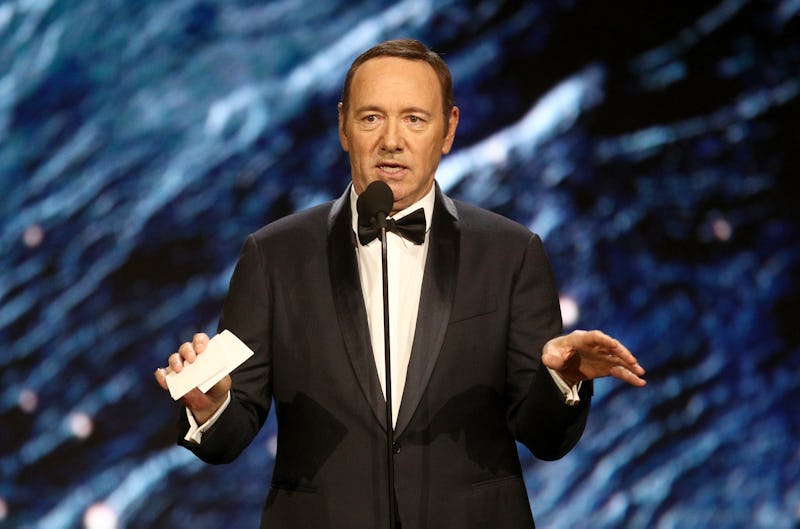 Frederick M. Brown/Getty Images Entertainment/Getty Images
In an interview with BuzzFeed on Sunday, Star Trek: Discovery actor Anthony Rapp claimed that Kevin Spacey allegedly made sexual advances toward him when he was a teenager. Several hours after the story was published, Spacey released a statement on Twitter:
I have a lot of respect and administration for Anthony Rapp as an actor. I am beyond horrified to hear his story. I honestly do not remember the encounter, it would have been over 30 years ago. But if I did behave then as he describes, I owe him the sincerest apology for what would have been deeply inappropriate drunken behavior. I am sorry for the feelings he has described carrying with him all these years.
Rapp told BuzzFeed that he had become friends with Spacey in the 1980s, when they were both performing on Broadway shows. Rapp reported that, in 1986, Spacey invited him over to his apartment to watch television with a group of people and, as the evening progressed, Rapp claimed he was eventually left alone with Spacey (at the time, Rapp was 14 and Spacey was 26). The actor reported that, at that point, Spacey allegedly made sexual advances toward him, allegedly picking him up and laying on top of him on a bed. As Rapp described to BuzzFeed,
[Spacey] sort of stood in the doorway, kind of swaying. My impression when he came in the room was that he was drunk ... He picked me up like a groom picks up the bride over the threshold. But I don't, like, squirm away initially, because I'm like, 'What's going on?' And then he lays down on top of me ... He was trying to seduce me ... I don't know if I would have used that language. But I was aware that he was trying to get with me sexually ...
Rapp added that he couldn't remember exactly how long Spacey stayed on top of him, but noted that he was able to "squirm" away after a short while. Rapp noted to BuzzFeed that he had never confronted Spacey about the alleged incident, though he had confided in friends about Spacey's alleged behavior. He also reportedly told a lawyer about the alleged incident, but was advised to not pursue a case.
After BuzzFeed published the story, Rapp released a statement to EW explaining why he believed it was important to speak out, saying,
I came forward with my story, standing on the shoulders of the many courageous women and men who have been speaking out, to shine a light and hopefully make a difference, as they have done for me. Everything I wanted to say about my experience is in that article, and I have no further comment about it at this time.
In addition to implying he was drunk at the time, Spacey, historically known for his privacy about his personal life, also revealed that he chooses to "live as a gay man" in his apology. Spacey added, "This story has encouraged me to address other things about my life. As those closest to me know, in my life I have had relationships with both men and women. I have loved and had romantic encounters with men throughout my life, and I choose now to live as a gay man. I want to deal with this openly and honestly and that starts with examining my own behaviour."
Many on Twitter took Spacey to task for coming out as gay in the same statement apologizing for his alleged past behavior, suggesting that the revelation deflects attention from the seriousness of these allegations. One Twitter user called Spacey's statement "infuriating," saying "So Kevin Spacey is gonna use a coming out narrative to deflect that this 'oopsie' moment happened with a FOURTEEN YEAR OLD. infuriating." Another user accused him of trying to "turn allegations into a heartwarming coming out story." Spacey has not commented on reactions to his statement.