KFC's New Hot Honey Chicken Tenders Are Served With PICKLES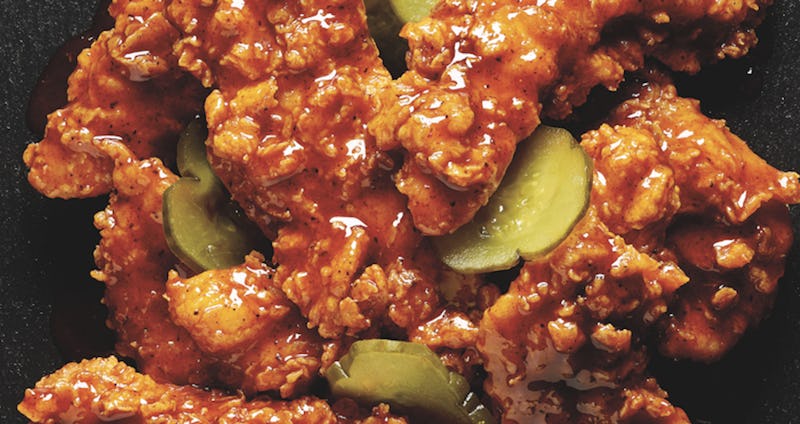 KFC
Few foods are deeply ingrained in U.S. culture like fried chicken. It can seem like every southern family has their own take on crafting the simple, delicious dish. With the addition of sauces the whole game changes. Of the most popular and successful fast food chains in the United States, two focus primarily on fried chicken. The debate over who comes out on top —Popeye's or KFC — is ongoing. But even fans of the spicy Louisiana-style fried chicken may want to switch loyalties for a little while, as KFC has just announced Hot Honey Fried Chicken — which is not only hot as the name suggests, but served with pickles.
The late-summer addition to the KFC menu draws inspiration from a classic, oxymoronic Southern flavor marriage. Sweet golden honey is blended with peppers to create the new flavor. According to KFC, the new flavor "adds an unexpectedly delicious burst of sweet honey with the spicy kick of pepper to KFC's fried chicken" — which is why the balance of adding those pickles is probably for the best. And the good news just keeps on getting better: the Hot Honey flavor can be added to a number of different menu items, including but not limited to the Crispy Colonel Sandwich, Extra Crispy Tenders, Chicken Littles, and Extra Crispy Chicken.
In a press release, Bob Das, the Head Chef of KFC U.S. offered some insight into the menu addition. "If you travel across the south, you'll find different recipes for sweet and spicy honey-based sauces. We went through many versions to find the combination of sweet and mild spice that perfectly complements our world-famous fried chicken... With summer coming to an end, people start to crave the soul-warming, comforting flavors that come with fall, so it's the perfect time to introduce our new Hot Honey fried chicken."
The release of Hot Honey marks the fourth regionally-inspired menu item at KFC. Customers can also snag some crispy Nashville Hot, Georgia Gold honey mustard BBQ and Smoky Mountain BBQ fried chicken.
Plus, what is a new menu addition without an equally-exciting advertising campaign to go along with it? Straying from its feathered namesake, KFC is getting audiences excited for the crispy sweet heat of Hot Honey chicken with the newest member of its team: Colonel Bear. BEARING a strikingly similar visage to longtime KFC spokesperson Colonel Sanders, Colonel Bear loves nothing more than the chain's fried chicken. His passion is so deep, sometimes it even spills out of him in the form of flames from the nozzle atop his head. Fans of the newest member of the KFC crew can enter to win their own Colonel bear here.
If you find yourself craving something equally hot and sweet during these last days of the sunny season, head on over to KFC for the perfect fuel for all your fall preparation; and if you need some inspo on staying feisty, turn to your new pal the Colonel Bear, who seems to have that on lock.