Some Of These Theories About Khloé's Baby Name Are Actually Pretty Reasonable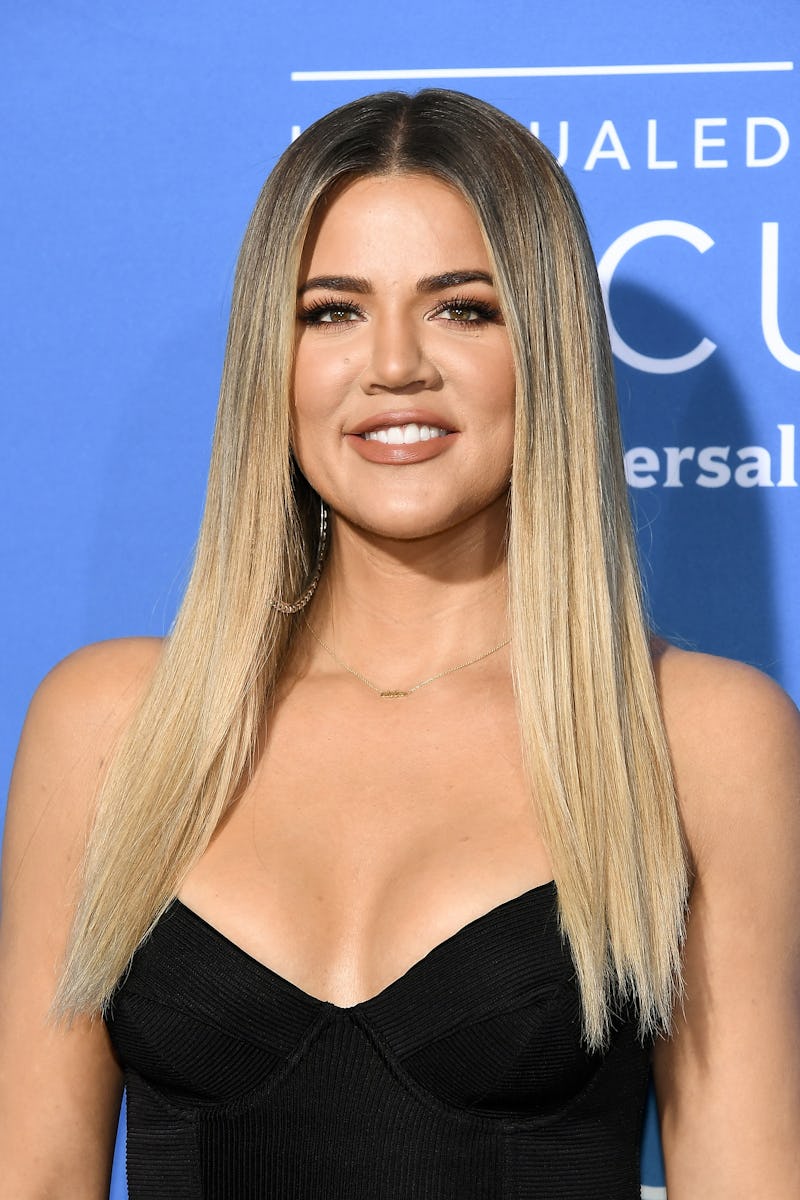 Dia Dipasupil/Getty Images Entertainment/Getty Images
Ever since she made her pregnancy public in December, it's been so much fun following along with Khloé Kardashian's long awaited journey to motherhood. And now that her baby's birth is getting closer and closer, so many questions are starting to come up... like what she's going to name her kid. There are already plenty of Khloé Kardashian baby name theories out there, because anything that has to do with this family involves tons of constant speculation.
Of course, it's a little hard to accurately guess what name Kardashian will choose being that she hasn't yet revealed her baby's sex, but don't worry — that's coming soon. Kardashian is due to announce whether she's having a boy or a girl on Sunday night's episode of Keeping Up With The Kardashians, but until then, it sounds like she's going to keep us guessing.
Here are all the current theories about Kardashian's baby's name. Some of them are a little ridiculous while others might actually be possible, even though ultimately, the only one who can actually answer the name question is Kardashian herself. But no matter what, it'll be unique and meaningful, just like the names the rest of her family have given the babies they've welcomed.
She'll Name Him After Tristan Thompson
This one isn't a theory so much as a fact, since it came straight from Kardashian herself. During an appearance on The Ellen DeGeneres Show in January, she revealed that while she's still thinking about girl names, she's got a boy name on lock. "I think if it's a boy I'll go with Junior — Tristan Jr.," she said.
The Name Will Start With A "K" Or A "T"
In the same interview, Kardashian also revealed that her baby girl name of choice will probably end up starting with a "K" or a "T", in reference to her or Thompson. Hmm... that leaves a lot of options.
She's Looking For A "Normal" Name
Even though her sisters have chosen unique names for their children — like Kylie Jenner's Stormi and Kim's North, Saint, and Chicago — reportedly, Kardashian plans to go in the opposite direction. An inside source told Hollywood Life:
"Khloé is leaning towards a more normal name for her child and is looking to Tristan for suggestions as well. It is a complete joint effort and they aren't worried about doing a weird celebrity child name. They don't want it to look like they are trying to compete with Kim in unique names. Normal is the trend they are leaning towards."
Who knows if this is actually true, but this doesn't exactly narrow it down. There are tons of "normal" names out there.
She'll Name The Baby After A Family Member
Being that Kardashian always speaks fondly about her late father, Robert Kardashian, there's a chance his name could inspire something — or maybe mom Kris Jenner will? Even better, it would be really sweet if Kardashian chose to include Mary Jo in this, too. And on Thompson's side, there are even more options. From what we've seen on KUWTK, he's seemed close with his mom — maybe Andrea is in the running?
She Wants Something Unique That She Can Trademark
According to what a supposed Kardashian insider told Hollywood Life, this mom-to-be is trying to find an unusual name for her baby that will work on social media. This totally conflicts with the other report from Hollywood Life, but it's still fun to think about. The source said:
"She doesn't want a K name because she wants her child to have its own identity but she also has to think of something unique that she can trademark and get on all the social media handles and all the other stuff most families don't have to worry about. So it's clearly still a headache thinking of a name."
Reserving your baby's name online before he or she is even old enough to use Twitter and Snapchat? That's... definitely a 2018 problem.
It's hard to guess exactly what name Kardashian and Thompson will pick out, but whatever it is, it'll surely be perfect for their new little one. Now, we just have to wait it out, as hard as that is. In the end, it'll be worth the wait.