Khloé Kardashian Clapped Back At A Fan Who Tried To Criticize True's Latest Baby Gift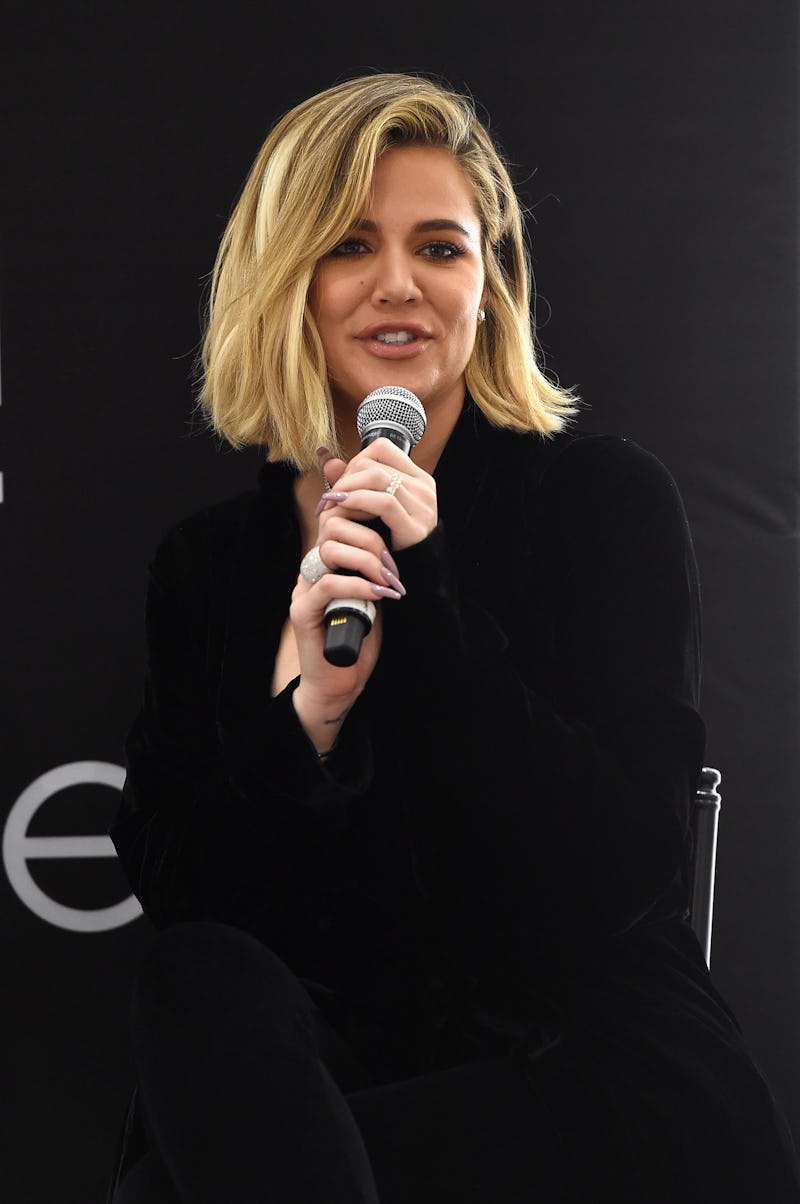 Jamie McCarthy/Getty Images Entertainment/Getty Images
Khloé Kardashian has had to deal with her fair share of "mommy-shamers" ever since she welcomed baby True Thompson in April. She even had to deal with one recently after they criticized a pretty cute gift her daughter received. As Marie Claire noted, Khloé Kardashian responded to criticism over her daughter's lavish present. And the reality star managed to do so in the most positive way possible.
On Aug. 23, Kardashian decided to show off the most adorable photo of baby True. In the Instagram pic, her little one can be seen posing in a mini Bentley, gifted by Kimora Lee Simmons, alongside a teddy bear. The Keeping Up With the Kardashians star wrote, "I'm not sure what's cuter, the teddy bear driving the Bentley truck or True's cheeks and smile." She's definitely not wrong, the snap is the definition of cute. The adorableness of the photo wasn't enough to prevent some negativity from popping up in the comments section, though.
One commenter wrote, "She should of receive a cross or a bible so this child grows closer to God as opposed to embedding materialism in her brain." However, the Revenge Body star wasn't going to let them rain on her parade, as evidenced by her amazing response. Kardashian replied, "we read children's bible stories everyday and we say prayers every single night but you should not pass judgement either way. Why be so negative if you are a child of God?"
She continued explaining that she was so excited to share the cute photo of her daughter and wasn't going to let the user's negative comment affect her. "She's a baby who received a beautiful sweet gift and I was SOOO excited to put her in it and take a picture! I am enjoying every single moment I can with my sweet angel," Kardashian wrote. It's unfortunate that she had to defend her decision to post such an adorable photo of her daughter at all. If she wants to post one of the cutest photos in the world, people should just let her live.
This isn't the first time that Kardashian has had to defend herself against "mommy-shamers." Recently, she took to Twitter to express her feelings over being shamed for leaving True at home to attend a charity event, according to Yahoo. The KUWTK star began her July 29 post with, "Mommy shamers [are] at a high right now." She continued to explain that she was pushing through a cold in order to be at a poker charity event for City of Hope, a cancer treatment center in Los Angeles, and that True's father, Tristan Thompson, was watching her at the time.
Kardashian ended her statement with, "what's wrong with a new mom letting daddy take over [for a] few hours?" She was not about to let those on social media get her down for leaving True at home for a night, especially since there was absolutely nothing out of the ordinary about the situation.
It's clear that Kardashian is not afraid fight back against any negative mommy-shamers out there. The reality star is simply going to live her life and post some truly adorable photos of her daughter along the way.