Khloé Posted Some Super Vague Quotes On Instagram & They MIGHT Be About Tristan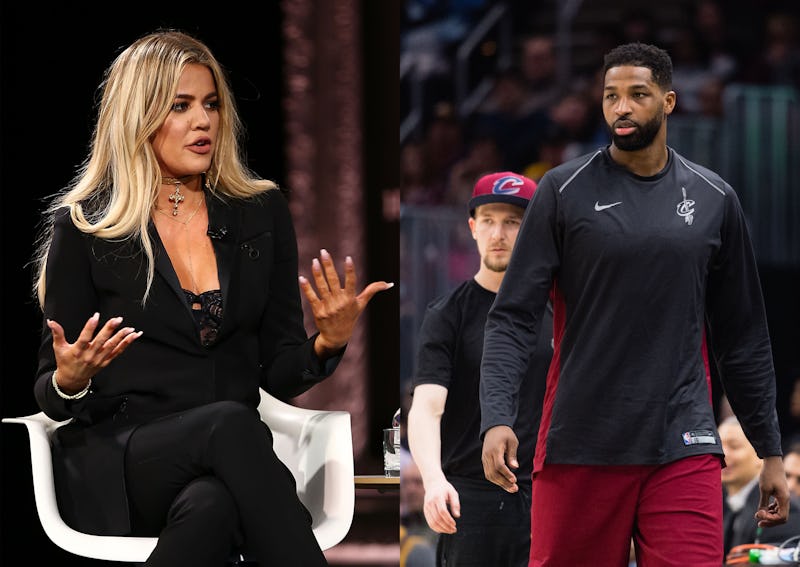 Joe Scarnici/Getty Images Entertainment/Getty Images; Jason Miller/Getty Images Sport/Getty Images
Has Khloé Kardashian put the past behind her when it comes to the Tristan Thompson cheating allegations? Possibly, if some interesting social media posts are any indication. As BuzzFeed noted, Khloé Kardashian and Tristan Thompson may still be together based on her recent Instagram activity. While there's some evidence that could point to their relationship still going strong, nothing has been confirmed from Kardashian specifically just yet.
Kardashian posted some very interesting quotes on her Instagram story starting on May 15. One quote reportedly read, "It's all about who you look for in a crowded room. That's where your hearts belongs to." Another quote she posted reportedly read, "Communicate. Even when it's uncomfortable or uneasy. One of the best ways to heal, is simply getting everything out." The Revenge Body star also reportedly posted a statement that showed that she was ready to let the negativity in her life go, according to BuzzFeed: "Being around negative people used to drain me. Now it makes me more appreciative of my life because they are examples of what not to do."
Could this all be in reference to Thompson? He was involved in a cheating scandal, the news of which emerged, courtesy of the Daily Mail, only days before Kardashian welcomed their daughter, True Thompson, on April 12. Maybe she's insinuating that she's putting all of that behind her and is forging ahead with the basketball player?
The messages weren't her only recent social media moves that raised questions. Some noticed, as early as May 6, that Kardashian disabled the comments on her recent Instagram photos with Thompson. However, one can still comment on the Insta pics that don't feature the Cleveland Cavaliers player.
While these actions could insinuate that the pair are still on, especially as it concerns her quote focusing on communication, it could be that while the scandal is "uncomfortable" to talk about, the two are pushing through the conversation so that they can get to a better place in their relationship. Although, it's also possible that this all has nothing to do with Thompson, at all, and she just wanted to share some inspirational quotes with her followers. There's just no way to know for sure until the reality star comments on her relationship status herself.
Ever since the news about Thompson allegedly cheating on Kardashian came to light on April 10, the star has been mum on the whole scandal. While her family members, Kris Jenner and Kim Kardashian, have commented on the allegations (with Kim even saying that the situation is "so f*cked up" on The Ellen DeGeneres Show), the new mom has not commented on the news or even addressed whether or not she's still together with the basketball star.
All of this comes on the heels of Kardashian and Thompson hanging out together in public on multiple occasions in Cleveland, where the reality star has been living ever since the birth of her daughter. They were spotted for the first time post-cheating scandal on May 4, where they were seen grabbing food with a group of friends, per TMZ. Days later, TMZ also reported that they were seen at the movies together on May 8. The publication said that during the outing they looked like they were a full-on couple once again.
This ties back in with a source who recently claimed that the couple were definitely "back together" after all of the drama. The source told Us Weekly, as seen in an article published on May 4, the same day they were spotted together again, that Kardashian and Thompson were "fully back together." They continued, "No one in her world is supporting Tristan and she's still in love with him." And based on the fan responses to the news about their possible reunion, they're not totally on board with it, either.
These recent outings, alongside her interesting Instagram activity, have definitely helped spark up those relationship rumors once again. But, until Kardashian definitively discusses her relationship status, fans will be left to simply speculate whether she's reunited with her boyfriend or not.