Khloe & Tristan's New Year's Eve Celebration Was Super Glamorous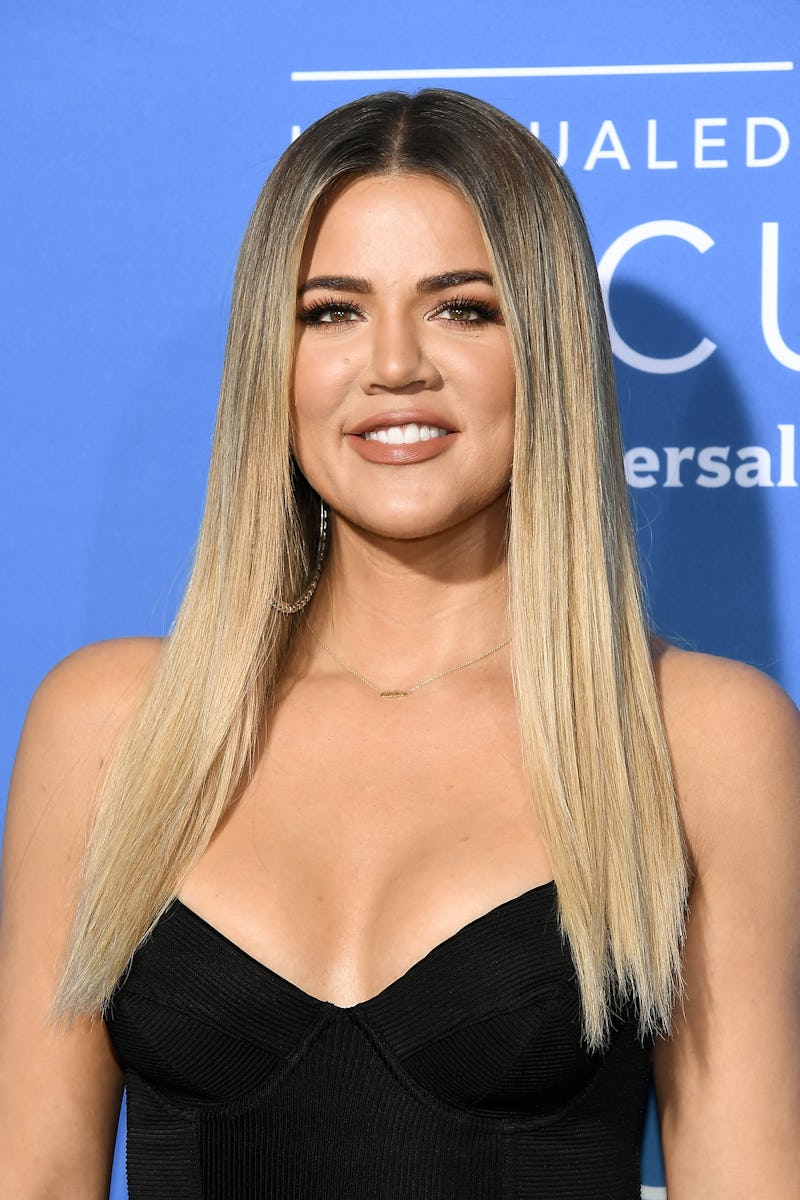 Dia Dipasupil/Getty Images Entertainment/Getty Images
The Kardashian family holiday festivities might be wrapping up, but Khloé Kardashian and Tristan Thompson New Year's Eve celebration looked so glamorous. This year was an eventful one for Kardashian, who is having her first child with Thompson and is six-months pregnant. The two weren't about to let the year end without some sparkle, and both dressed all the way up for the New Year's Eve festivities. Kardashian wore a black dress and extremely warm-looking fur coat, while Thompson dressed in a classic suit. The reality-star also posted about her hair and makeup on Instagram, describing it as a "fabulous and festive look". Her hair was set in loose curls, and she wore low-key glitter makeup for some of the quintessential New Year's Eve shimmer. The couple did not let the looks go to waste, and spent the evening at a party in Cleveland, Ohio, where Thompson is an NBA player for the Cavaliers.
Kardashian and Thompson both documented the evening on social media, sharing their glam looks and scenes from the party on both Snapchat and Instagram. Thompson can be seen dancing in several of the quick videos the couple shared, and Kardashian wrote "He's soooo handsome" over one post. Thompson was equally adoring, and in a video to his own Snapchat story can be heard telling Kardashian how good she looks and "For six months, you a fine six months, baby. I'll tell you that." When the clock finally hit midnight, the two also shared a video of the traditional New Year's Eve kiss under falling confetti.
The KUWTK star documented the whole evening in detail, and took full advantage of the exclusive New Year's Eve Snapchat filters. In addition to the Snapchat vids, she also shared a post of the couple sharing another kiss during the night on her Instagram early Monday morning. She wrote: "Day 1 of 2018". It will certainly be a big year for the two stars, who are expecting their first child together.
Kardashian was first rumored to be pregnant in September, and confirmed that she is expecting in an Instagram post on December 20th. The photo, which revealed her baby bump, was captioned: "My greatest dream realized! We are having a baby! I had been waiting and wondering but God had a plan all along. He knew what He was doing. I simply had to trust in Him and be patient. I still at times can't believe that our love created life!". The star has been open about her fertility struggles in the past, and revealed her desire to have kids and start a family with Thompson in August.
The couple's New Year's Eve festivities are the second time that Kardashian has appeared on social media since the announcement. On Christmas, she shared another glamorous holiday look, which was a silver jumpsuit with cutouts that showed off her baby bump. Kardashian's look for the beginning of the New Year was also festive, and in the videos she took throughout the evening Thompson can be heard complimenting everything from her hair to the jewelry. Kardashian is clearly starting her New Year off right with these style moments.
Thompson and Khloe have appeared on each other's social media accounts often since they began dating. The couple were first linked in September of 2016, and made their official public debut as a couple at a birthday party for Flo Rida that same month. The romance was rumored to be casual at first, but things seemed to be getting more serious when Kardashian introduced Thompson to the rest of the family on an episode of KUWTK in March. In an interview with YOU Magazine in August, she called the relationship the "the best I've ever been in" and discussed potentially starting a family with the NBA player, and the two have been going strong since.
The couple still seem super happy, and Kardashian flew from L.A. to Cleveland to meet Thompson for the holiday. "Khloé had the best Christmas in L.A., but was excited to go back to Cleveland and all the snow. She celebrated New Year's Eve with Tristan and friends," an unnamed source told People Magazine. "Everyone is commenting on how this is the happiest they have ever seen Khloé. She looks amazing and loves her life."
It was an undeniably glamorous evening for this star couple, and it's clear these two are crazy about each other. If how you spend New Year's Eve sets the tone for the rest of the year, Kardashian and Thompson might have their best yet.