Khloé & Tristan Are Very Supportive Of Each Other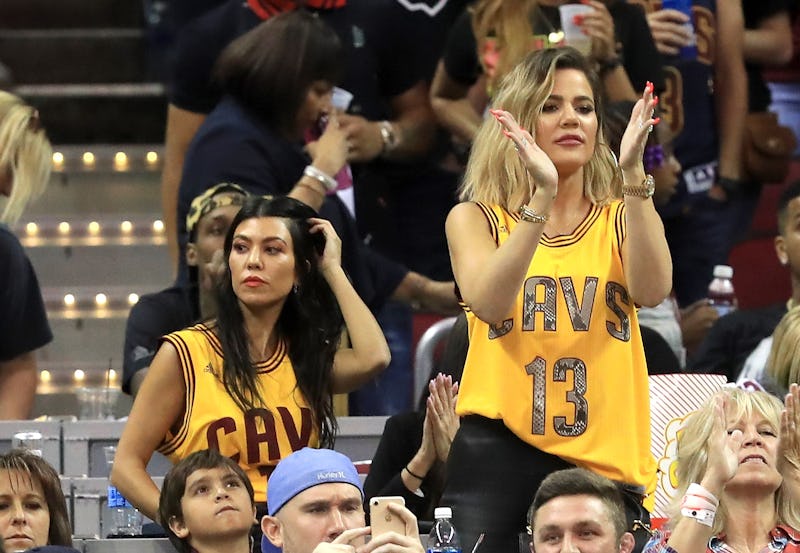 Ronald Martinez/Getty Images Sport/Getty Images
Last August, news started to spread that Khloé Kardashian and Tristan Thompson were Hollywood's newest hot couple. They were spotted partying together at trendy club, Bootsy Bellows, and not long after, they were already jetting off to a vacation in Cabo San Lucas, Mexico. Kardashian and Thompson's relationship seemed to have flourished very fast after they got together, and they are still going strong nearly a year later. Now that Thompson is playing in the NBA Finals with the Cleveland Cavaliers, his girlfriend has been cheering him on endlessly. In fact, Kardashian and Thompson's supportive moments show that they might just be perfect for each other.
These two seem to be very much in love. Kardashian has been the one to be more public about their relationship. Granted, she is a reality star and it kind of comes with the territory. That said, I do feel like her relationship with Thompson has been much less drama than her past relationships. There's just cute, sweet, and supportive love between them.
Recently, Kardashian, her sister Kourtney, mom Kris Jenner, her nephew Mason, and niece Penelope were in the stands fiercely cheering on Thompson and the Cavaliers during Game 4 of the Finals, looking very cute and happy:
Along with being in the stands to celebrate her man, Kardashian shared a plate of Cavaliers decorated cookies on her Snapchat toward the beginning of the series. Cookies are pretty much to key to success, am I right?
Kardashian also showed support to Thompson earlier on in the season. She posted an Instagram of herself and her sister watching a game even while they filmed Keeping Up With The Kardashians:
Looks like a true fan right there.
On the other hand, Thompson generally doesn't use his Instagram or social media to get too personal about his relationship with Kardashian, but he has shown it off a few times, letting the photos speak for themselves:
But even though he doesn't share too much on social media, during the finale of Season 13 of KUWTK, Thompson and Kardashian fans got some insight into their relationship. During the episode, older sister Kim approached Kardashian about the possibility of her being a surrogate for her next pregnancy. Kardashian said she would think about it, and Kim asked Thompson what he thought of it, too. He replied, "It's up to KoKo. Whatever she wants to do." What a sweetie — and totally the right answer.
Later on in the episode, Kim and Kardashian had lunch, and Kardashian confessed that she and Thompson had already spoken about having kids of their own. Thompson even gave her an idea that could help out her business if they do have kids. Kardashian said,
"He wants to have kids now. He said, 'I want to have kids with you, [and] if you get pregnant, you could make maternity jeans for [your clothing line] Good American."
Now, that is a man who wants his partner to thrive in any situation. And it's pretty obvious that Kardashian wants the same for him. I think these two have what it takes to make it.