Khloe Kardashian Shows Off Her Baby Bump At The Kardashian Christmas Party & You Need To See The Video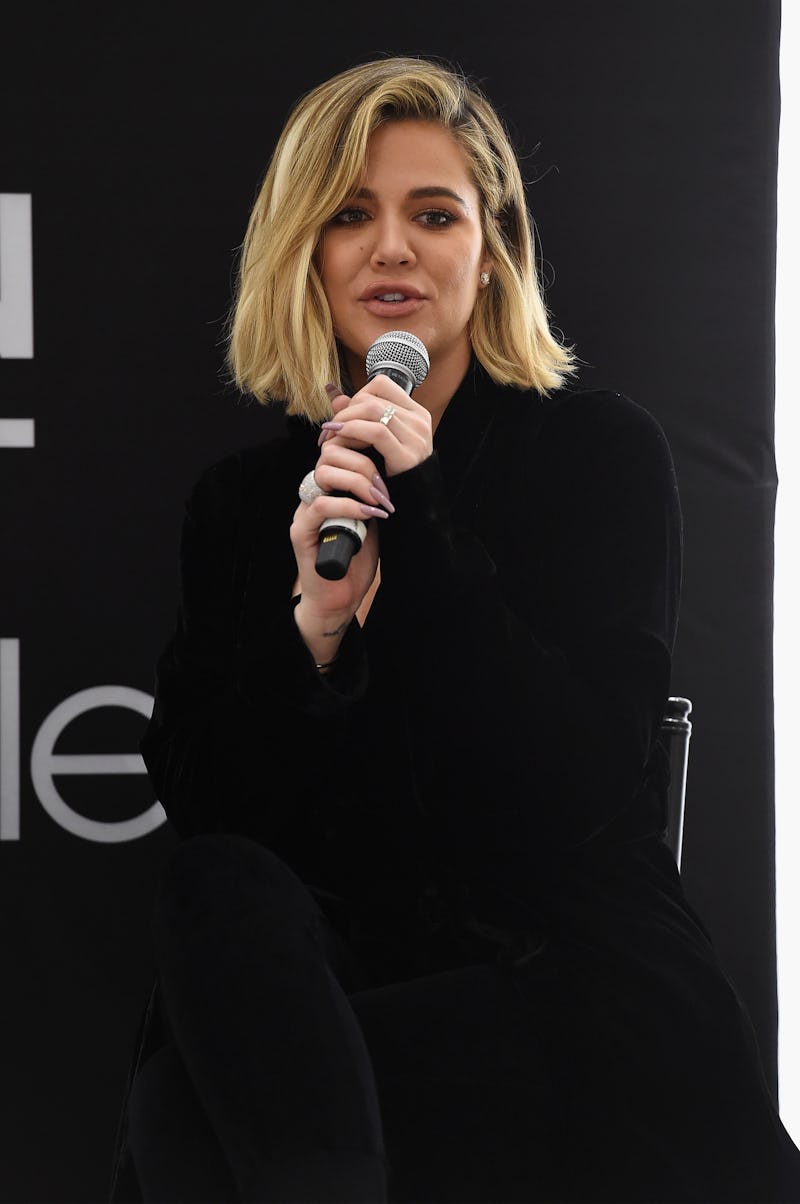 Jamie McCarthy/Getty Images Entertainment/Getty Images
Khloe Kardashian confirmed her pregnancy on Instagram on Wednesday, Dec. 20 to much celebration from the internet and Kardashian family alike. At the Kardashian Christmas Eve party on Sunday, Dec. 24, Kim helped Khloe Kardashian show off her baby bump at the Kardashian Christmas party via Snapchat. The cute snap from their mom Kris Jenner's annual party, held in Los Angeles, shows Kim and Khloe dressed to the nines smiling for the camera. "Christmas 2017 Christmas party," Kim says in the Snapchat. "I know what you guys really want to see." Likely realize what Kim is saying, Khloe looks at Kim and smiles in the snap.
In the next snap, Kim pans the camera phone down to show Khloe's baby bump, which she rubs lovingly through her glittery dress. Khloe is wearing a custom silver fringed jumpsuit by Yousef Al Jasmi. It's the first public appearance of Khloe's baby bump since she publicly confirmed her pregnancy with NBA basketball player Tristan Thompson on Dec. 20. In the Instagram announcement, Khloe included a photo of her and Thompson's hands caressing her pregnant belly. "My greatest dream realized! We are having a baby!" Khloe wrote in the caption of her announcement photo on Instagram. "I had been waiting and wondering but God had a plan all along." In the caption, she also thanked Thompson for being there for her and revealed why the couple kept the pregnancy a secret for months.
"I know we've been keeping this quiet but we wanted to enjoy this between our family and close friends as long as we could privately," Khloe wrote on Instagram. "To enjoy our first precious moments just us."
But now that her pregnancy is public, Khloe seemed to have had a blast at Kris' Christmas party — despite having to stay sober due to her pregnancy. In one of her own Snapchats, Khloe said, "Being sober at this party is a different vibe." Celebrity hairstylist Jen Atkin then came into frame and added: "I'm sober Khloe and I don't like it."
In another snap, Jen tells Khloe, "You used to be so fun," referring to Khloe's sobriety at the event. "Stop making fun of me," Khloe says to Jen. "I have a few more months of this."
According to People, Khloe revealed on her website and app that she flew to Los Angeles specifically for her mom Kris' Kardashian Christmas party. "This Christmas, I'll be celebrating early with Tristan in Cleveland since the [Cavaliers] will be on the road," she wrote. "Then, I'll fly back to [Los Angeles] a few days before my family's annual Christmas Eve party. My mom takes full control of Christmas Eve since she's been throwing the party for so long, so I let her do her thing!"
Aside from Khloe and Kim, the rest of the Kardashian family was in attendance at the big bash, including Kim's husband Kanye West, Chris Appleton, Christina Aguilera, Ryan Seacrest and Scott Disick, according to People. There were a few notable social media absences from the party, though. Disick's rumored girlfriend Sophia Richie did not appear in any snaps or posts from the party and neither did Kylie Jenner, who is rumored to be pregnant as well.
Kylie did, however, make an appearance in Snapchat with Khloe on Christmas Day morning on Monday, Dec. 25 to clear up the party confusion. In the snap, the half-sisters share the frame with the bunny filter and wish each other a Merry Christmas. Khloe is dressed in the traditional Kardashian holiday pajamas, but many fans noticed that Kylie was not. Then, Khloe says to Kylie, "People think you weren't there last night," referring to Kris' Christmas party. Kylie simply responds, "I was" before moving out of the frame. Khloe then says, "She's a secret little..." as the snap cuts off.
It looks like Khloe had a fun time with her family and friends on Christmas with her little one on the way soon.