People Are Calling Khloé Out For Traveling While Pregnant & She's Not Having It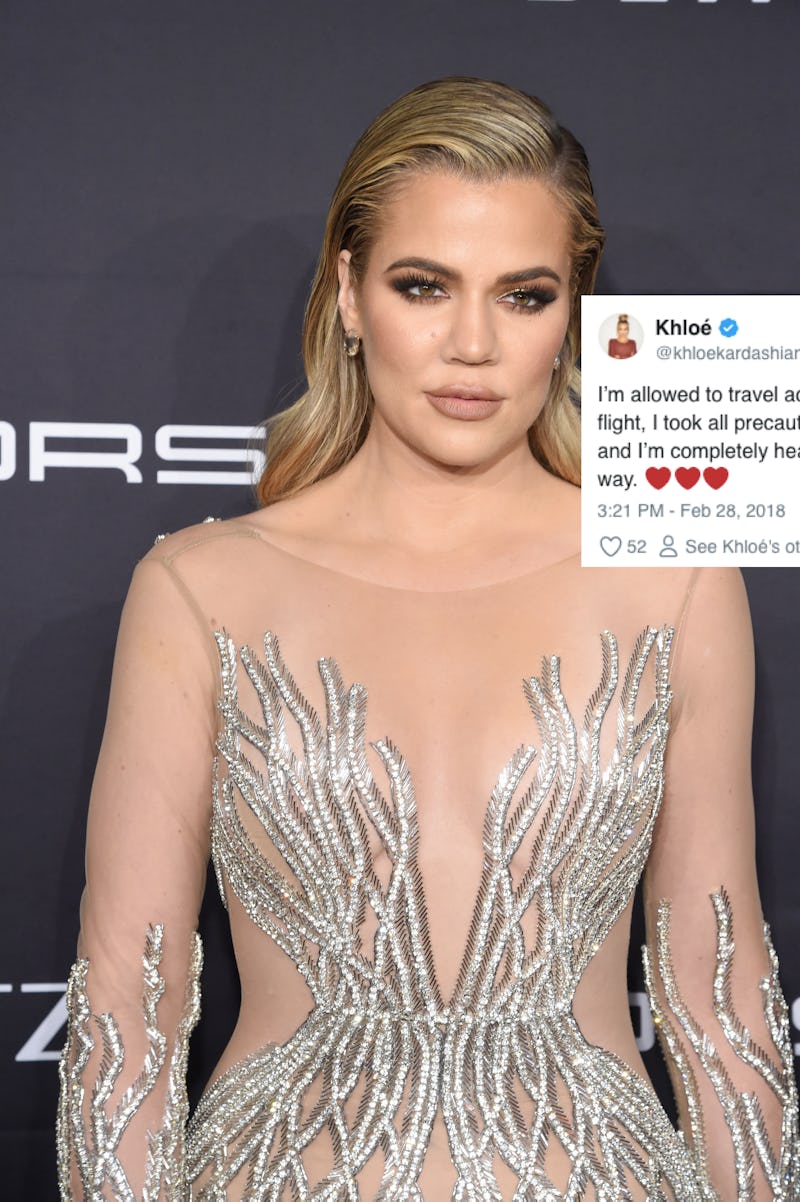 Jamie McCarthy/Getty Images Entertainment/Getty Images
If you're a member of the Kardashian-Jenner family, getting hate from strangers on the internet is kind of just par for the course. But this time, it's getting a little out of hand. Khloé Kardashian is being shamed for going to Japan while pregnant, mostly because many of her social media followers don't believe she should be traveling so far from home when she's this far along. But shaming someone for their decisions while pregnant is never OK, and Kardashian hasn't been afraid to let people know how she feels.
This week, Kardashian has been in Japan with her sisters, sharing photos of the sights she's seeing and food she's eating on Instagram and Snapchat. It seems like she's having a blast, and who wouldn't be? It's Japan, after all.
But then, when she tweeted she was experiencing some jet lag, all hell broke loose. Her followers started questioning why she thought traveling to Japan while she was pregnant was a good idea. And while People reports that a source close to the family said she really wanted "a last fun trip with her sisters before the baby arrives," all that really matters in the end is that Kardashian was comfortable with the choice to go.
The tweets ranged from simple shaming to even suggesting that boyfriend Tristan Thompson should have "put his foot down," which is a bit troubling since, after all, Thompson is her partner, not her parent, and Kardashian is an adult who can make decisions for herself.
But as it turns out, there's absolutely no cause for concern here, because according to Kardashian herself, this trip has been doctor-approved. Knowing her, it's not surprising that she didn't let these kinds of comments fly — even though she obviously shouldn't have to defend herself this way.
Being that Kardashian's pregnancy is so public, it makes sense that people are going to have opinions. With a reality show that's been on the air for over a decade, it's hard not to feel personally involved with what happens to her and her family. But when it comes to her pregnancy, only she and her doctor can make decisions like whether or not it's safe for her to travel, and it's not right to shame her for what she does in the end.
Oh, and another thing — don't even think of talking about how much Kardashian cradles her bump in photos, because she's not having that, either.
This is obviously a really important time in Kardashian's life, and — like she said in her tweet — it's also something she's been looking forward to for a very long time. It's good that it doesn't seem like she's letting anyone get her down, although it can't be easy seeing negative comments. Bottom line: whether someone is a celebrity or not, shaming them for the choices they make concerning their own body is never OK. Pregnancy can be a very personal thing, so maybe the best way fans can be supportive is just by cheering Kardashian on.
It's important to remember that Kardashian, despite the fact that she's in many of our living rooms every Sunday night when Keeping Up With The Kardashians is on, is both a real human and an adult. So far, she and her baby both seem healthy and safe, so there's no sense in worrying about the decisions she's making.
Kardashian's got this — and her sisters are right there with her if she needs any help. Besides, the photos and videos (and hopefully KUWTK footage) that comes of this Japan trip are going to be so much fun to see.