Kim Jong Un Says He's Got A Nuclear Launch Button On His Desk Now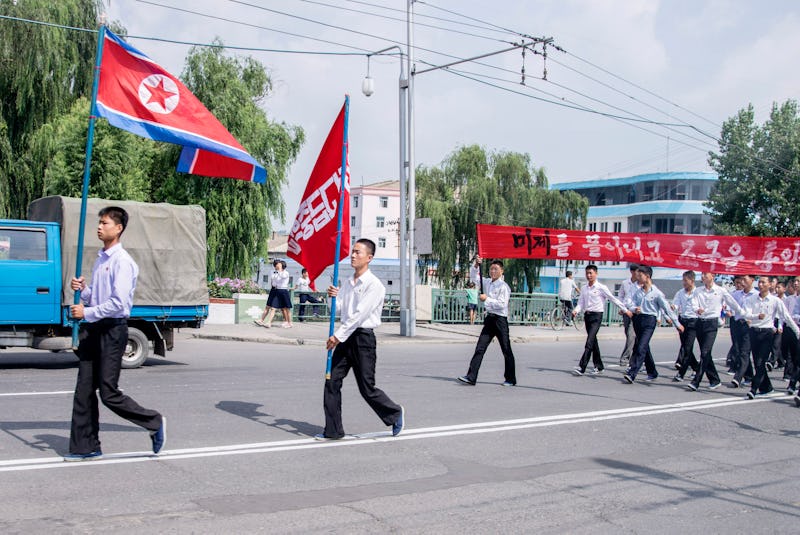 Getty Images/Getty Images News/Getty Images
There's long been evidence that North Korea and its idiosyncratic leader want to be seen as equals on the world stage with rivals like the United States. Now, in his 2018 New Year's speech, North Korean leader Kim Jong-un has made it very clear that he wants the U.S. to take him seriously in one very important regard.
"The entire mainland of the U.S. is within the range of our nuclear weapons and the nuclear button is always on the desk of my office. They should accurately be aware that this is not a threat but a reality," Kim said in his annual New Year's address, originally broadcasted on North Korean state television. "No matter how much America wants to attack us with their military might and nuclear power, they know that now we possess such great nuclear power and therefore they will not dare."
The development of North Korea's nuclear program has been a serious topic of discussion all year, as the hermit kingdom repeatedly shocked the world by testing various nuclear weapons that were both more successful and more technologically advanced than it previously had been able to build. Given that context, and the fact that President Trump frequently traded threats with Kim, 2017 left many worried about the prospect of nuclear war between the two nations going forward.
Former chairman of the Joint Chiefs of Staff Adm. Mike Mullen even said in the last week of 2017 that he believed the U.S. to be "closer to a nuclear war with North Korea" than ever before, basing this claim on the ever more aggressive rhetoric coming from both Kim and Trump. In a way, this speech was a departure from that — even though it did contain a claim that North Korea's nuclear program has now achieved what it set out to do. While Kim's speech certainly contain words of caution that some in America could take as veiled threats, he aimed to paint them in a different light. "We are a responsible nuclear nation that loves peace," Kim said in his speech. "As long as there's no aggression against us we do not intend to use nuclear powers."
In a very brief response to Kim's words, Trump decided not to escalate the conversation on New Year's Eve. In response to a reporter's question about Kim's claim of a "nuclear button" on his desk, Trump merely responded by saying "We'll see, we'll see."
Kim didn't stick to North Korea's nuclear program in his year-opening speech; there was also good news for his neighbors to the south. After South Korea's persistent attempts to open a diplomatic dialogue with the North, Kim finally suggested opening up discussions to smooth over the tense environment on the Korean Peninsula. This also came with a promise to send North Korean athletes to the upcoming Winter Olympics in Pyongchang, South Korea.
"I am willing to send a delegation and take necessary measures, and I believe that the authorities of the North and South can urgently meet to discuss the matter," Kim said, an agreement that the New York Times reports that the South Koreans have already accepted. "We sincerely hope that the South will successfully host the Olympics."
"Above all, we must ease the acute military tensions between the North and the South," Kim went on. "The North and the South should no longer do anything that would aggravate the situation, and must exert efforts to ease military tensions and create a peaceful environment."
President Trump has argued that diplomacy is useless in dealing with Kim Jong-un, an argument which South Korean officials have never accepted. Kim's offer of talks, and South Korea's acceptance of it, could prove to be a issue for the U.S.' relationship with its ally South Korea. However, in such a tense and potentially dangerous situation — if North Korea's nuclear arsenal is as highly developed as Kim claims — a step towards a diplomatic solution seems like a positive move for all involved.