Kim K Just Revealed The Next KKW Beauty Product & It's Totally Unexpected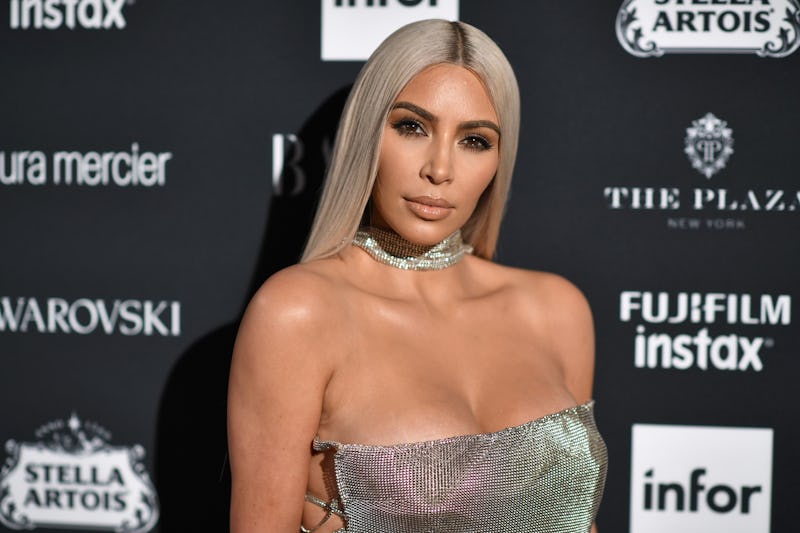 Dimitrios Kambouris/Getty Images Entertainment/Getty Images
If you thought Kim K. was stopping at contouring, think again. Kim Kardashian teased a new beauty product on her social media on Sept. 14, and it's not what you're expecting. The celeb-turned-beauty entrepreneur isn't not just sticking to makeup. Here's everything we know so far, so you can prepare yourself and your wallet for what's coming.
Kardashian could take on any makeup item and no one would be surprised. Instead, in true Kim K form, she's teasing what seems to be a fragrance. Yes, you read that right.
The social media star turned beauty boss posted a close-up photo of orchids to her Instagram page and tagged a brand new account — @kkwfragrance. If all that isn't mind boggling enough, the caption reads, "Gardenia." And, yes, that is an entirely different flower.
Although she has yet to make an official statement about the post or upload anything to the new Instagram account, all signs point to a new fragrance. It's possible that she also teased the flower combo that inspired the scent, too. Leave it up to Kardashian to kill two hints with one post.
It's not exactly clear if Kardashian is starting a new brand or just a new product. Considering that not all new launches get their own Instagram handle, it's possible that KKW Fragrance will be an offshoot of her KKW Beauty line.
You just never know what the Kardashians will do next, so it's hard to say.
Although it might catch people off-guard, Kardashian has been dropping hint about her new products for a while now. As Allure found, Kardashian said in an interview with the publication that there would be a fragrance coming sometime before the end of the year.
"There's definitely going to be a few other products coming out from the line pretty soon," Kardashian said in the interview. "It will kind of move fast."
She wasn't lying, either. KKW Beauty launched with its very first product on Sept. 6. On Aug. 22, the Contour Kits came out. So it would makes sense for Kardashian to keep on schedule and release — or at least tease — another product this month.
While this will be a first for KKW Beauty, it's not the first time that Kardashian has put her name behind a fragrance before. According to the website KardashianFragrance.com, this will be her fifth.
The website links to a YouTube page by LighthouseBeauty and the videos go back to 2013. According to the website, Kardashian has had four fragrance before — True Reflection, Glam, Gold, and Signature.
The KKW Fragrance that Kardashian is teasing, if actually a thing, will likely be completely different.
As far as the Instagram page goes, fans are slowly starting to follow the blank account. There is one hint that Kardashian might be messing with her fans though — she doesn't actually follow the site herself. But teasing a product and not delivering would be pretty cruel.
As of Sept. 14, a mere 12 hours after the social media post, the KKWFragrance account has a mere 400 followers. Kardashian and the rest of her social media star family aren't on that list. If it were a real page, surely she would follow, right?
Honestly, until Kardashian says for sure whether or not the mystery product is here, we'll just never know. Her entire family is filled with the masters of social media, so there's a good chance that there will be more hints to come.
One thing is for sure though. We'll only know as much as Kardashian wants us to — until she's ready to announce.