Kim K Addresses Surrogacy Rumors In A Simple But Pointed Way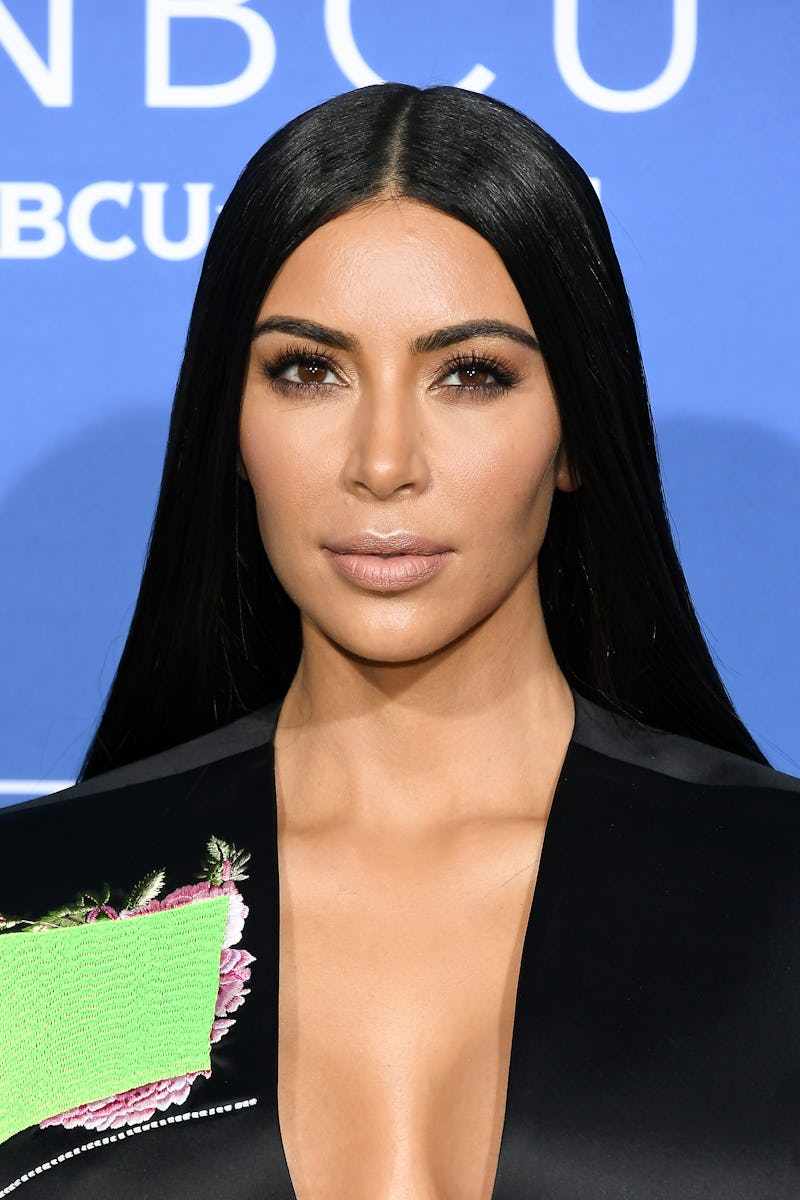 Dia Dipasupil/Getty Images Entertainment/Getty Images
In September, Keeping Up With The Kardashians will celebrate it's 10th anniversary. To commemorate the milestone, the Kardashian-Jenner family and producers on the show were interviewed by The Hollywood Reporter and discussed everything from the reality show's inception and how social media plays a role to the spinoff series and, of course, what they have been up to as of late. Kim Kardashian also addressed surrogacy rumors, and while she noted, again, that using a surrogate is a real option for her family, she made a point to say that she and husband Kanye West have not confirmed anything as far as if they are actually using one.
In July, Us Weekly reported that the couple had chosen a surrogate and that the surrogate was three months pregnant. (Bustle reached out to Kardashian's rep for comment on this report, but did not receive a response.) In the THR interview, Kardashian said of the possibility of having a third child, "There have been a lot of things said and Kanye and I have not confirmed anything. We're definitely trying. We are hoping so."
It's unclear if the THR interview was conducted before the July reports that a surrogate was three months pregnant or after. (UPDATE: THR confirmed to Bustle that the interviews were done recently, after the surrogacy reports.) But either way, Kardashian makes clear that fans will have to wait for her and West to confirm anything before they know for sure if the couple is expecting a new baby.
The report in July wasn't the first time the idea of Kardashian using a surrogate was talked about. The reality star has been extremely candid about her fertility struggles, and after realizing it might be impossible to conceive on her own, she opened up about pursuing other options on KUWTK. Surrogacy has been a topic of discussion since Kardashian first revealed her health difficulties, and over the past couple years, a few family and friends have been floated as potential options, including Khloé and Kourtney Kardashian and Chrissy Teigen. TMZ reported in July that the couple was using an agency.
One of the main topics of discussion throughout the THR interviews was how the stars decide what to share during the filming of KUWTK, and on social media. Every family member has drawn their own boundaries, and while most of them aren't afraid to share intense, personal moments, privacy is sacred, as well. It seems that, while Kardashian has been open and honest about her fertility struggles and desire for a family, she's keeping whatever is going on currently — if anything — strictly a family matter for now.
This wouldn't be the first time that Kardashian held off on sharing personal news. After the robbery in Paris, she took plenty of time to process and take stock of the trauma before opening up. Even then, she was hesitant to share the story, and but ultimately decided to discuss the incident herself, so the story would not be warped.
"Everyone was calling for a sit-down interview and I was like why would I do an interview about something I was just traumatized from?" she told THR. "But I felt really comfortable to tell my story on my show, because it wasn't going to get twisted. I needed time off, but I was going to talk about it."
Her fertility struggles, which are now documented on the show, remained personal information for a long time, as well. While it may seem like Kardashian and the rest of the family share everything right away, it isn't necessarily true. If she wants to, Kardashian can keep personal news private until she is ready to share it on her own terms.